The Brew Estate opens its 7th outlet in Mohali: The country's leading brewery chain – The Brew Estate opened its 7th Brew Café on the most sought-after and approachable location of Airport Road in Sector 80 on Friday while promising a diverse range of multi-cuisine menu of comfort food and brews.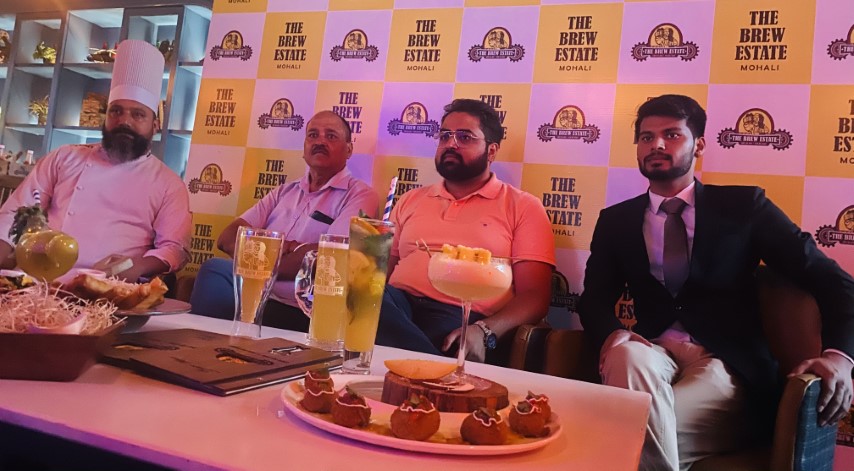 Inspired by the survey done on its residents, The Brew Estate enters Mohali after the massive success of its cafes opened in Sector 26 & Elante Mall, Chandigarh, Shimla, Ludhiana, Panchkula, and Patiala. Spread over an area of about 7000 square feet, this cafe is being catered on two levels, wherein the guests can spend their happy moments inside and on the Rooftop Cafe.
With a capacity of around 220 seats, the décor of this cafe is exclusively hand-crafted and inspired by the Mediterranean theme so that the guests get a pleasant feel of the popular holiday destinations like Goa and Maldives.
The guest home brews at the cafe include Craft Beers, Seasonal Beers as well as Signature Cocktails, Fresh Fruits Cocktails, Classic Cocktails, Shots, T-Totaller, Milk Shakes, and Coffee & Tea. One can savour Dimsums, Wings, Soups, Salads, Barbecue, Starters, Smoky Tandoors, Platters, Burgers, Wraps, Italian Sandwiches, Pasta, Pizza as well as main courses are included in the multi-cuisine menu at the cafe.
"The idea behind TBE, Mohali was conceived in response to a great demand as well as a careful survey done on the food palette preferences of Mohali's residents. We are sure that this will be the next party capital of Tricity," says Varun Singla, Director, TBE.
"TBE believes in great food, great drinks, and great ambience which will be reflected in the latest TBE outlet in Mohali. The Tricity residents will be attracted to this outlet for its hand-crafted Mediterranean décor,"  says Naveen Dubey, Marketing Head, TBE.