Release date of Punjabi film 'Saka – The Martyrs of Nankana Sahib' announced
NewZNew (Jalandhar) : On 20th February, 1921 some people gave their lives to save the Nankana Sahib Gurudwara from the control of Mahants and Britishers. The upcoming Punjabi film 'Saka – The Martyrs of Nankana Sahib' is based on their martyrdom and now ready for the release. Today, film's release date was announced in the presence of Director and Writer of the film Jagmeet Singh Samundri, Co-producer Harvinderjeet Singh Sandhar and actors Oshin Brar and Mahabir Bhullar. The film is a Sukhbir Sandhar Films Pvt. Ltd. presentation and releasing on April 8th this year.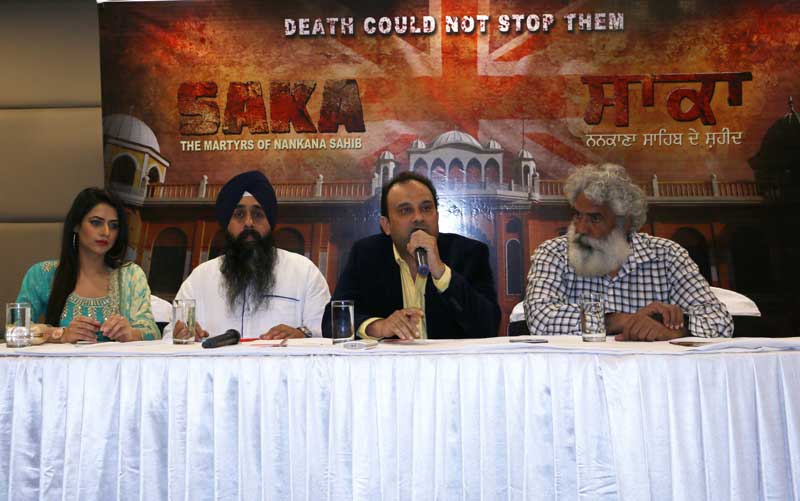 Director Jagmeet told the media about the massive set which was put up near Phagwara. He told, "Making a period film was not easy. We put up a huge set of Gurudwara at Ucha Pind near Phagwara for which our art director from Mumbai, Sunil Pandit made the arrangements. Inspite of heavy rains during the shoot, the set stood strong and we continued the job. It was nothing less than a miracle."
Oshin Brar is doing good films and is quite optimistic about Saka too. She said, "For a new actor like me, doing a period film is nothing less than an achievement. The film is enriched with historic facts and the audience will get to see meaningful cinema." Actor Mahabir Bhullar is playing a negative character in the film and seems quite excited. He said, "This story from the history is very important for everyone to know. Especially the youth of today will get an idea how their ancestors had a diehard attitude towards their tradition and faith."
Co-producer of the film Harvinderjeet Singh Sandhar told, "We faced many challenges while making the film. Even the script took good two year time as a lot of research had to be done. We haven't compromised on anything and given our full energy, commitment and dedication to this project. We promise to give something important to Punjabi cinema."
International actor Stass Klassen has also worked in the film. There are many international films to his credit. He will be seen playing the British governor of Lahore.