NewZNew (Chandigarh) : After the successful conduct of the Second Edition of Chandigarh Children's Literature Festival (CCLF) last year, Dikshant Global School, in association with the Adab Foundation, is bringing top Children's Literature Authors from different parts of India, on a single platform at CCLF 2016, from Jan 29th through 31st at Dikshant Global School, Savitry Greens, VIP Road, Zirakpur . This was announced by Festival Director, Chatura Rao, a prolific Children's Book writer who has authored books like 'Nabiya' (Tulika Books),'Growing up in Pandupur'(Young Zubaan)and 'A case of Disappearing Colour'(Scholastic), apart from writing Children's Literature, she has also penned 'Meanwhile ,Upriver' for adults. Said Chatura at a Press Meet organised to announce CCLF,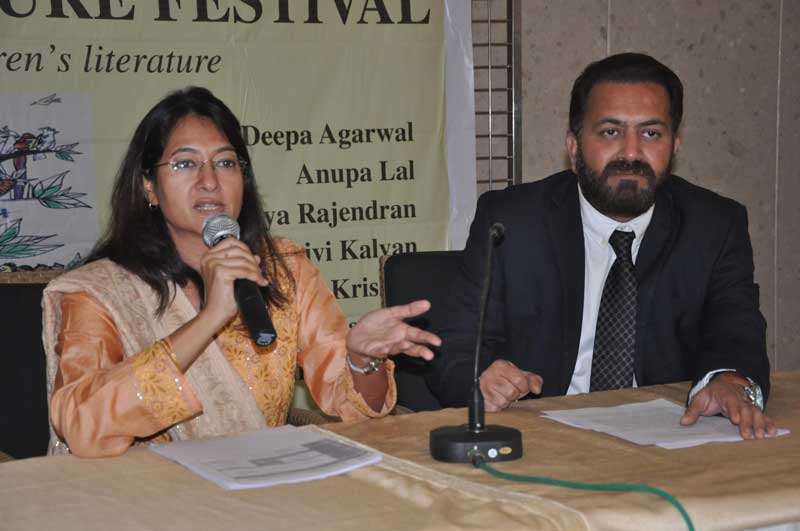 "We want to popularize book reading in children who have too much of digital technology being bombarded at them thus leaving very little time & inclination for inculcating the healthy habit of reading books. This objective will be met well by CCLF's Third Edition. The children literature authors who will attend the Festival will include award winning writers, illustrators, animators and storytellers who will talk about their literary offerings as children will have chance of interacting with them on a one on one basis. I am sure that the festival will enhance their capability to think both creatively & critically."
The list of Children;'s Authors who will be participating is enviable. Children, parents & educators will be able to listen to the celebrated children's literature author Anupa Lal who has 20 books in her kitty, she will share her take on her book 'Retelling of the Ramayana'. Ramender Kumar, a national award winning writer for children & writer author of 30 books for children will be in attendance. It is noteworthy that six of his books have been recommended by CBSE as supplementary readers. His book 'Paplu and The Giant' was selected to mark the International Literacy Day in September, 2013. Payal Kapadia will delve into her book 'Horrid High'. She is the recipient of the 2013 Crossword Book Award (Children's Literature) for Wisha Wozzariter. The versatile Lovleen Mishra who wears many hats –story teller, writer & actress will be conducting  drama and storytelling workshops, which she is an expert at.
A pre festival competition — 'The Budding Writers' for school students was also announced at the press meet. "This competition will be for two Age Groups: Group I  for students in the age bracket of 10- 13 Years and Group II for those who fall in the age group of 14-16 Years. The young writers will be given a chance to pen stories in any of these genres — Short Story, Humour, Poetry, Science Fiction / Fantasy & Personal Essay / Memoir. We have made arrangements of compiling & publishing the best writings. Two Writers in each age group would be chosen as the Best-in-Grade and will be awarded. The entries can be sent at [email protected]" Said Mitul Dikshit, Chairman, Adab Foundation & Dikshant Group of Schools.
CCLF-16 will on the one hand see talks & readings from books by famous Children's writers while on the other workshops & sessions on creative writing, bookmaking, book reviews, popularizing mother tongue, theatre,  art/craft and pottery  will be held. Mitul Dikshit, sums up, "There will be a variety of activities to increase participation from not just children but also their parents. CCLF 16 will have a focus alos on on Comic Books & Graphic Novels.  The motive is simple: to enthuse children to develop an interest in reading books who knows some young gun might become a celebrated author later on in his or her life."