newznew (Chandigarh) : Experts from across the country today deliberated on the various facets of how to tackle social stress. They were speaking at the three-day Annual National Conference of Professional Social Work on theme of the conference "Social Stress, Resilience and Mental Health". Department of Psychiatry, Government Medical College and Hospital, Sector-32, Chandigarh is organizing the conference from February 9 to 11.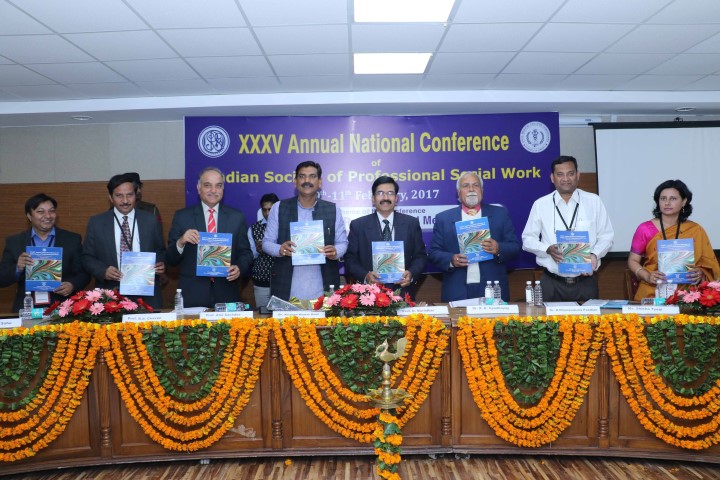 The three day event was inaugurated by Krishan Kumar Bedi, Minister of social justice and empowerment, Government of Haryana, accompanied by Dr. Atul Sachdeva, Director Principal, GMCH and Patron, Organising Committee, Prof. B.S Chavan, Organising Chairperson, Dr. Murlidhar, President of ISPSW, Dr. R K Upadhyaya, founder of ISPSW, Dr. R. Dhanaseker Pandian, Honorary General Secretary Dr. Kamlesh Sahu, convenor, Ms. Shikha Tyagi, Organising Secretary.
Speaking on the occasion, Prof. B.S Chavan, Organising Chairperson, said, "In the current social milieu, social stressors have become part and parcel of individual life cycle. It is impossible for anyone to live a life that is free from stress. As per stress vulnerability model, stress in the environment can worsen biological vulnerability, worsen symptoms, and cause relapses in a person having mental health problems. It has been recognized that developing resilience is one key factor in preventing mental health problems and is also one of the key components of promoting good mental health. In a country like India where more than 90% of persons of persons suffering from mental disorders do not seek treatment, the increase in community resilience will not only decrease the burden of families but it can reduce the chances of aggression and violence as well."
The organizing secretary Ms. Shikha Tyagi got the souvenir released from Chief Guest, Krishan Kumar Bedi. ISPSW has tradition of recognizing contribution of senior fellows and today two of the eminent persons Prof. R.K. Upadhaya and Prof. Arun Mishra were felicitated by Prof. M. Rangnathan and Dr. K. Sekar respectively.
Dr. Atul Sachdeva, GMCH Director Principal presented a memento to Chief Guest Shri Krishan Kumar Bedi. Dr. Kamlesh K. Sahu, convenor ISPSW proposed vote of thanks which was followed by the national anthem.
Following this, sessions of the eminent professionals from mental health were quite stimulatory with Mr R.K.Upadhyay, founder of ISPSW, orating about the inception of ISPSW and contemporary change, Concept of well-being in Psychiatry and Social Practice, Placement of Individuals Intellectual Disabilities on Job/Employment and Meandering through the thickets: Homelessness in Mental Illness and Impact of mental illness on rural population including farmers' suicide etc.
1st plenary lecture of the conference was delivered by Mr. Ranganathan talking about Indian perspective of developments in psychiatric rehabilitation which was chaired by Dr. Sekar, Registrar NIMHANS and Dr. Murlidhar, Head of Department of Psychiatric Social Work at NIMHANS.
Mr. Larry Brendto from UK shared his experience on development of children in different cultures. He focused on the basic parenting and renounced that early development of children across culture and generation is same. He emphasised that the basic ingredient in child development imparted by the parents include belongingness, independence, generosity and social values. He further said that with advancement in science and technology the focus in core values is diminishing and thus the children are becoming stress prone due to decreased resilience.
A symposium was presented by Dr. B.S. Chavan, Prof& Head, Department of Psychiatry GMCH, Ms. Vani Ratnam, prinicipal of GRIID, Dr. Wasim and Ms. Nazli from GRIID. Workshop was also conducted on The Resilience Revolution by Dr. Samuel Mammen and there were poster presentations by students and faculty from different parts of India.