Time Travels: Exploring Pierre Jeanneret's Chandigarh Narratives: Diving into Pierre Jeanneret & Chandigarh is like stepping into a time capsule curated by author Shivdatt Sharma. With utmost eloquence and thought, the book resurrects Jeanneret's days in Chandigarh, showcasing not just architectural brilliance, but also the soulful humility that defined him.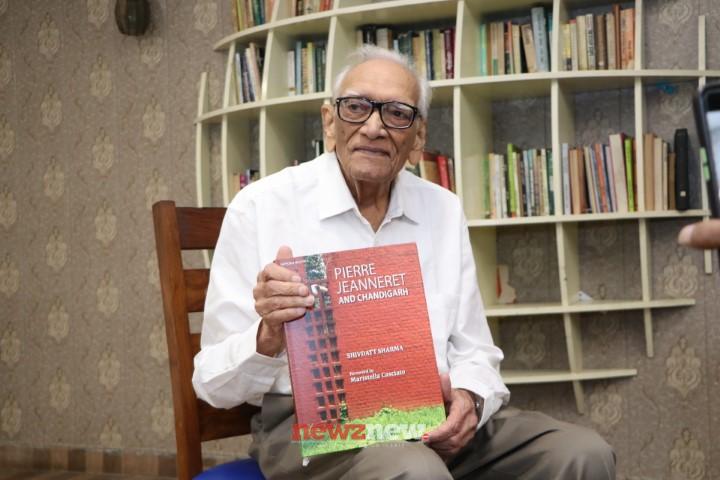 Through its pages, we witness dedication that sculpted a timeless architectural legacy.
The book's debut, graced by Punjab Governor cum UT Administrator, Banwarilal Purohit at Punjab Raj Bhawan, recently marked a historic moment where past and present converge.
Chandigarh is a dream city that got its character from the fascinating work of two gifted Swiss-French architects- Charles-Édouard Jeanneret, better known as Le Corbusier and Pierre Jeanneret. The vision and approach of these two cousins, both masters of modernism, helped Chandigarh emerge as a beautiful, planned city.
Over the years, however, it has been Le Corbusier who has been largely talked about and, unfortunately. Pierre Jeanneret's amazing contribution in shaping this city remained unknown. It is this gap that the book Pierre Jeanneret and Chandigarh aims to fill for the author, Le Corbusier was the dreamer and Pierre Jeanneret was the implementer and it is their partnership that created the 'City Beautiful, as Chandigarh is known.
Pierre Jeanneret designed housing for government employees and buildings for health and education services, including the sprawling Panjab University campus. He arrived in India in 1951 and left Chandigarh in 1965, with the expressed desire that his ashes be submerged in Sukhna Lake, as he wanted to stay with his creation even after his death.
Sharma while elaborating on the motivation behind writing this book said, "My relationship with Jeanneret was that of a guru-shishya. I was motivated to write about my mentor, teacher and guide, Monsieur Pierre Jeanneret, who was a rare combination of a great architect and an equally great human being. He was capable of creating architecture with a unique art of infusing life in the smallest of objects with timelessness."
Giving details about his key learning from Pierre Jeanneret, he said, "Pierre Jeanneret has a very specific and significant mark in the world of architecture. He had a very different approach when it came to different kinds of materials, and created a new dimension maintaining the dignity and simplicity of a material."Commenting on his favourite building by Pierre Jeanneret, Sharma said, "I really admire the Gandhi Bhawan in Panjab University, as it stands like a sculpture in space".
Published by Niyogi Books, the book is priced at Rs 2500 and is available on Amazon.
Know More About the Author
Shivdatt Sharma assisted Le Corbusier and Pierre Jeanneret on various projects in Chandigarh and was described as an "architect of rare qualities who understands deeply the meaning of built environment" by the latter. After working at the Architects' Office for a decade, he joined the Indian Space Research Organisation and was the Chief Architect at the Department of Space, Bengaluru (1973-80). He designed major campuses in different parts of the country.
On returning to Chandigarh, Sharma set up his own practice and has designed a diverse range of projects, ranging from a small bamboo museum to massive science and health institutes. He has received several prestigious awards, including the Babu Rao Mhatre Gold Medal Award 2001 and the Lifetime Achievement Award 2022, presented by the Indian Concrete Institute. He was facilitated by the IIA northern regional chapter as the living legend for his contribution to architecture.