newznew(New Zealand) : Planning a visit to New Zealand?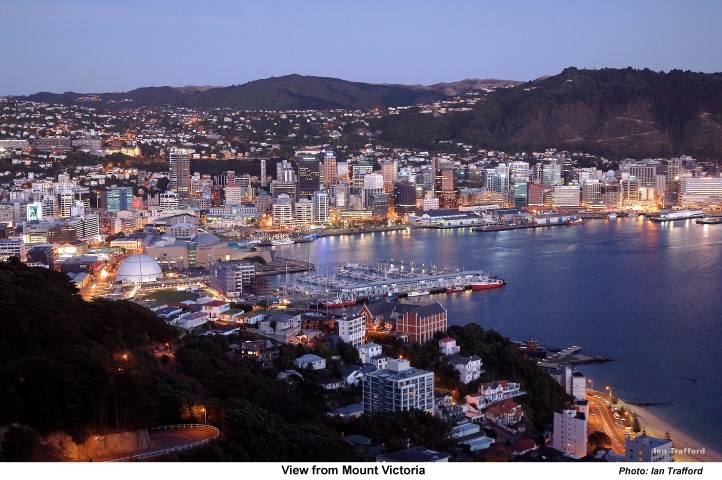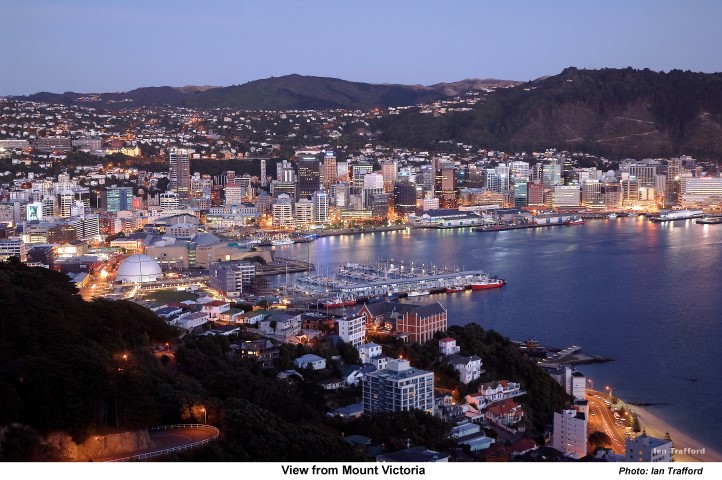 Here are recommendations for top five (& bonus others) of Wellington attractions:
Te Papa, Museum of New Zealand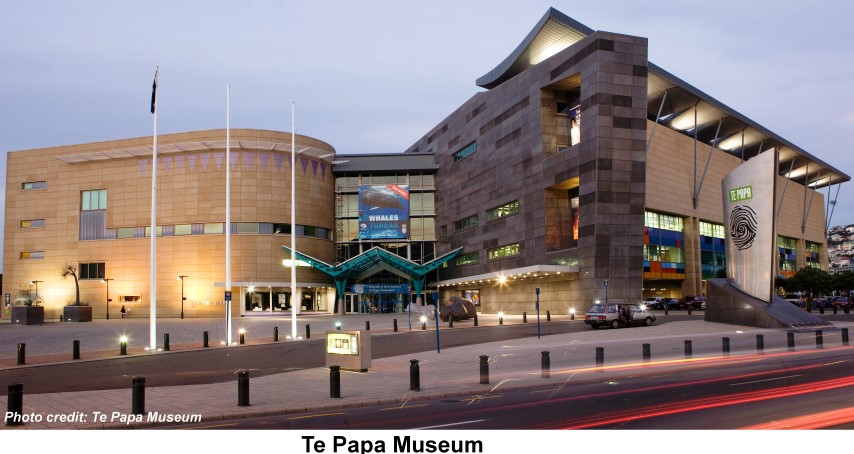 Te Papa Tongarewa, New Zealand's national museum & art gallery is Wellington's 'must-see' attraction.
Centrally located on the Wellington waterfront and within walking distance of CBD hotels, Te Papa is spread on six floors and is a landmark building with spectacular views of the harbour. Its collection includes precious treasures of New Zealand's history, science and art and is presented in a very innovative and interactive way.
With a combination of the latest technology and classic story-telling, Te Papa educates, entertains and inspires visitors of all ages.
It is open every day of the week from 10am to 6pm. Entry is free.
Mount Victoria
One of Wellington's most iconic destinations is Mount Victoria,next to Wellington's downtown area. The 200 metre high hill gives its name to the surrounding suburb and is easily accessible from the city.
From the top you can enjoy the most spectacular panoramic views of Wellington city and sea. The stunning views will make you breathless.
Mount Victoria was used as a location for Peter Jackson's The Lord of the Rings movie trilogy. So, if you are lucky, you might be able to spot the odd Lord of the Rings film sites.
Wellington Waterfront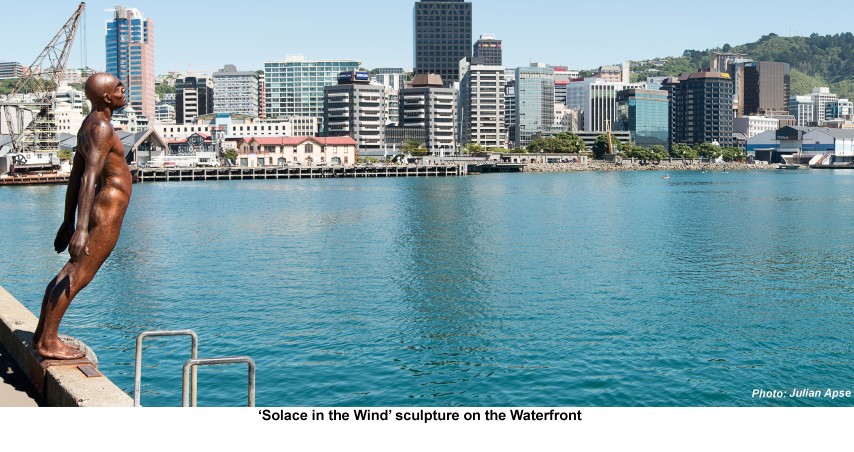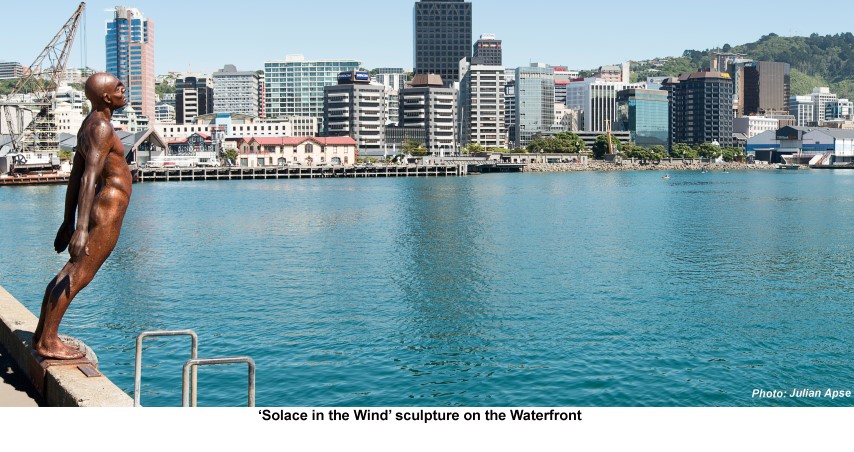 Wellington's waterfront is the central, most happening place and wandering along its beautiful natural harbour and is one the must-dos for locals and visitors.
Popular activities along the waterfront include skating, biking, paddle boats, kayaking. There are numerous artworks and sculptures to admire and heritage trails to walk along.
Soak up views and find a number of artistic and inspiring artworks dotted along the waterfront. Follow the trail of sculptures and poetic slabs of concrete that form the Writers Walk, as well as iconic Water Whirler and the famous Solace in the Wind sculpture.
Parliament Buildings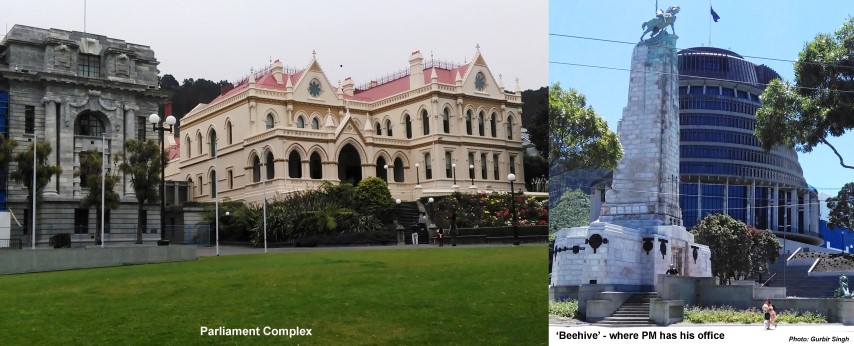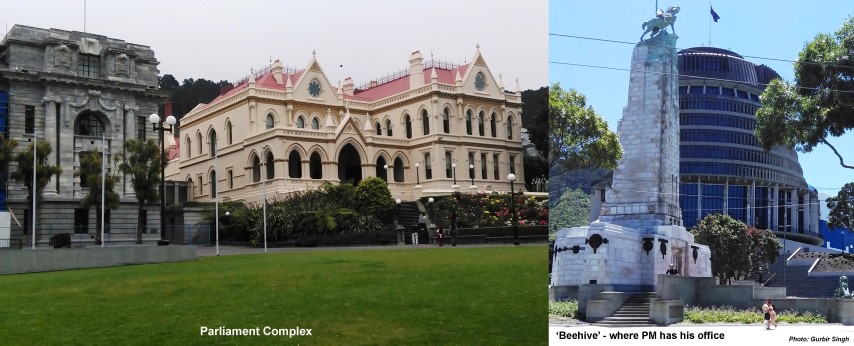 A visit to the capital city would not be complete without a visit to New Zealand's beautiful Parliament complex.
Parliament buildings are on a 45,000 square metre site  and the complex consist of three architecturally distinctive buildings – the Edwardian neo-classical Parliament House, the Victorian Gothic Parliamentary Library and the unique 1970's style Beehive building, and Bowen House.
Beehive is the popular name for the Executive Wing of the parliamentary complex because of the building's shape. This is where the Prime Minister and Cabinet Ministers have their offices.
The Public Gallery is open to the public at any time when Parliament is meeting.
Entry is free and guided tours operate every hour.
Wellington Cable Car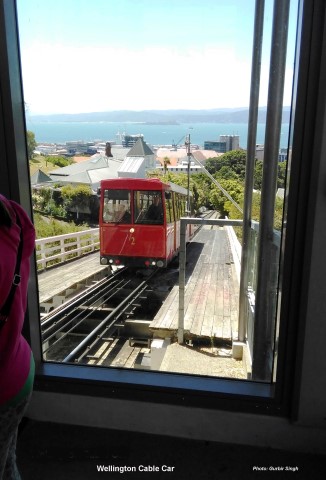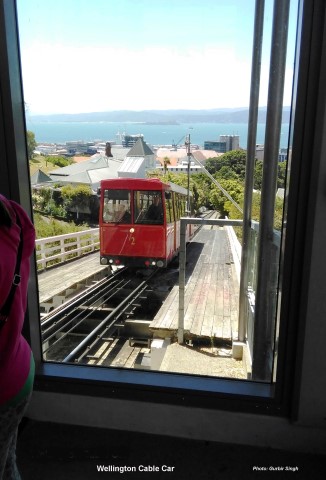 Take this 5-minute ride from the heart of city centre, up through the picturesque, hillside terraced houses to the lookout perched high above the city for stunning panoramic views.
This is NZ's only funicular railway that has been running since 1898 and now over 10 lakh passengers use this unique transport annually.
Your ride takes you through the two 100 metre long tunnels that are surrounded by LED lights that flash on and off to create stunning patterns and imagery. Once you arrive at the top of the Cable Car, there are indoor or outdoor viewing platforms to enjoy the views.
Cable Cars operate every 10 minutes seven days a week and one way ticket costs $4.
You can return by cable car, or better enjoy the walk back down, stopping to visit the following additional spots:
– Cable Car Museum
Cable Car Museum is set over two levels and houses the original winding machinery for the cable car system which operated from 1902 until 1978. Visitors can also sit aboard Wellington's most iconic transport system. Admission is free.
– Botanic Garden
Botanic Garden covers over 25 hectares and is a unique landscape of protected native forest, exotic trees, specialised plant collections and colourful floral displays. Points of interest includes the Begonia House, Lady Norwood Rose Garden, Treehouse Visitors' Centre, Children's play area and the Duck pond.
The downhill path back into the city is marked with Pohutukawa flower tiles. Admission is free
– Space Place, Carter Observatory
Space Place at Carter Observatory is located two minutes from the top of the Cable Car with multimedia exhibitions and some of New Zealand's most prestigious astronomical artefacts. You can enjoy the show in the digital full-done planetarium and explore the Southern skies.
– Zealandia Wildlife Sanctuary
Walk 20 minutes or take a free shuttle to this sanctuary. Spread over an area of 225 hectares, Zealandia is the world's first fully-fenced urban ecosanctuary,
Over 40 different species of native birds (24 of them are not found in any other country), dozens of reptile species, hundreds of plant species and thousands of kinds of invertebrates have made this beautiful sanctuary valley their home.
Adult ticket costs $18.50 and is valid for two days.
Gurbir Singh is a New Zealand-based feature writer & journalist
He can be reached at: [email protected]