~This partnership to provide world-class training to IELTS aspirants in Punjab~
newznew (Chandigarh) : A foreign degree today is not a far-fetched dream anymore for city youngsters. To provide world-class training to IELTS aspirants in Punjab, Touchstone Educationals, the undisputed leader in English Programmes space and Cambridge University Press, world's leading ELT Publisher today signed the'IELTS Partnership Programme'. As per the partnership programme, Touchstone Educationals has committed to use a variety of original and official Cambridge Preparation material for IELTS exam from Cambridge University Press.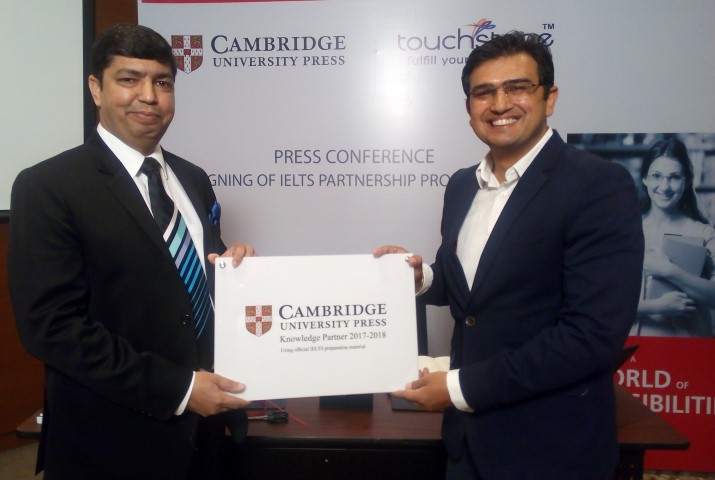 Speaking about the partnership, Ratnesh Kumar Jha, Managing Director, Cambridge University Press, South Asia said, "Punjab has developed a cosmopolitan culture and every other student wants to go overseas now to pursue a career there. We aim to develop English as a life skill which would help students and professionals move closer to their dream of pursuing higher studies and career abroad. We, at Cambridge University Press,support Touchstone Educationals by providing various online webinars and offline workshops for continuous professional development of their faculty. "
"The global necessity for English language skills is increasing each day and the challenge is to provide learners with accurate and meticulously researched material." Ashutosh Anand, Managing Director, Touchstone Educationals quotes. "Cambridge University Press has stepped into this space with us at Touchstone in order to deliver an effective learning experience to the students. We at Touchstone will be using the official and original preparation material from Cambridge University Press, the official publisher of IELTS preparation material, which will benefit our students largely.
With aspirations of students soaring, moving overseas for pursuing higher education has become the next step for many of them.This partnership programme willenable students prepare better for IELTS. As a part of the Programme, Cambridge University Press provides training sessions toall the counsellors and IELTS trainers at Touchstone Educationals, who then train students registering for the IELTS training classes. Touchstone Educationals has 14 centers with 24 branches across Haryana, Chandigarh and Punjab.