NewZNew (S A S Nagar) : Toyota Kirloskar Motor Pvt Ltd., in collaboration with its nationwide dealer network today announced the launch of its distinctive training model for Automotive Service Advisor under the Toyota Technical Education Program (T-TEP), at the Indo Global College of Engineering in Abhipur, Punjab. This is the first T-TEP in Service Advisor Category and fourth T-TEP in Punjab region.
The event witnessed the presence of:
Shri Rakesh Kumar Verma, IAS, Secretary, Dept. of Technical Education & Industrial Training, Punjab and Vice Chancellor, I.K Gujral Punjab Technical University
Shri Sukhdev Kumar Singla, Chairman, Indo Global Education Foundation
Mr. B. Padmanabha , Vice President, Customer Service Group, Toyota Kirloskar Motor
T-TEP, a special training module in which Toyota has tie up with industrial training institutes,was launched in 2006 in India. After a span of 10 years, TTEP is now associated with 47 training institutes under the program.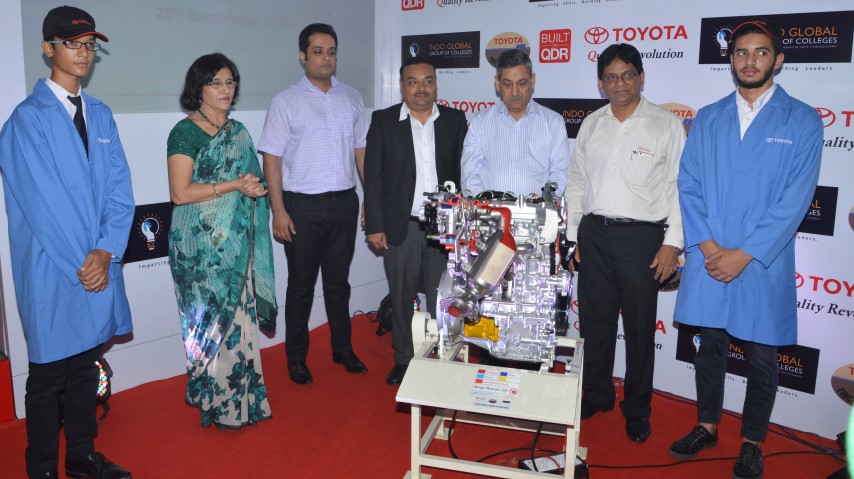 In its first year, the program was implemented in Delhi, Mumbai, Chennai and Hubli. The program was subsequently introduced in Bengaluru, Mysuru, Lalru, Pune, Cochin, Ahmedabad, Hyderabad, Ghaziabad, Kolkata, Jaipur, Jalandhar, Indore, Vizag, Ludhiana, Cuttack, Haldwani, Nalbari, Gurgaon, Satara ,Paramakudi , Chalakudy, Mangaluru, Calicut, Nashik& Chandigarh.
Till now more than5500 students have been trained under this training program and more than3500 studentshave been offered employment opportunities at Toyota Dealerships across India. The SA T-TEP, a 1 year syllabus, introduces students to Toyota's advanced technology and service techniques. It also includes, on-the-job training, at Toyota's dealerships. As a part of this program, TKM will also train institute instructors in the latest technology, used at Toyota and the automobile industry.
With this program, Toyota Kirloskar Motor intends to enhance the technical abilities and employability of Polytechnic/Diploma students in the age group of 16 to 18 years. The program will benefit Polytechnics in building skilfulService Advisors for the Indian Automotive Serviceindustry. Around 20 students of Automobile Diploma will undergo this training per year.
The event marked the launch of the 9thService Advisor TTEP Program, and the 47th T-TEP Institute in India.The syllabus imparts training on automotive skills and Service Advisor skills in addition to dealer specific requirement to students, thereby improving their knowledge of Automotive Service and facilitating the adoption of latest technology.
Present at the occasion, Mr. B Padmanabha Vice President – Customer Service Group, Toyota Kirloskar Motor Pvt Ltdsaid,"Through the TTEP Program, we intend to create a pool of skilled manpower for the Automobile Industry in India. The industry shows huge growth potential and will require skilled work force to grow sustainably. This initiative is in line with the India government's "Skill India" program, aiming at bridging the gap between the availability of skilled labour that is essential to keep up with the rapidly growing Indian automotive sector. We introduced TTEP in India, in 2006, and since then, have trained more than 5000 students and provided recruitment to around 65% students simultaneously providing skilled manpower for the industry. We are committed to providing the best training to the students with hands on experience that will in turn benefit the industry as a whole."
Acknowledging the association, Mr Sukhdev Kumar Singlasaid, "We are delighted to associate with Toyota Technical Education Program at Indo Global College of Engineering to support the need of skilled manpower in the burgeoning industrial sector. With the latest technology know how and advanced training modules from Toyota Kirloskar Motor and our world class education standards we will be able to generate best talents for the automotive sector which is growing rapidly"
T-TEP supports Toyota's comprehensive human resource development system that extends from training at T-TEP institutes to recruitment and development at Toyota dealerships.
T-TEP is widely recognized across the globe for its effectiveness. The program has been successfully introduced in 53 countries by Toyota, which includes USA, Australia, Italy, South Africa, China, Vietnam and India.