Scorching heat is a constant feature of Indian summer. Hence the attire should suit the climate and make you feel comfortable. When it comes to the choice of material, the best choice is pure cotton and silk. Their porous nature helps the skin breathe and thus keeps the body cool. So, if you want to enjoy this summer, then do visit "Weaves of India"Exhibition & Sale that has become a shoppers' paradise at Kisan Bhawan, Chandigarh Sector – 35A. The exhibition cum sale is open 22 June to 30th june 2018 from time 10:30 am to 8:30 pm.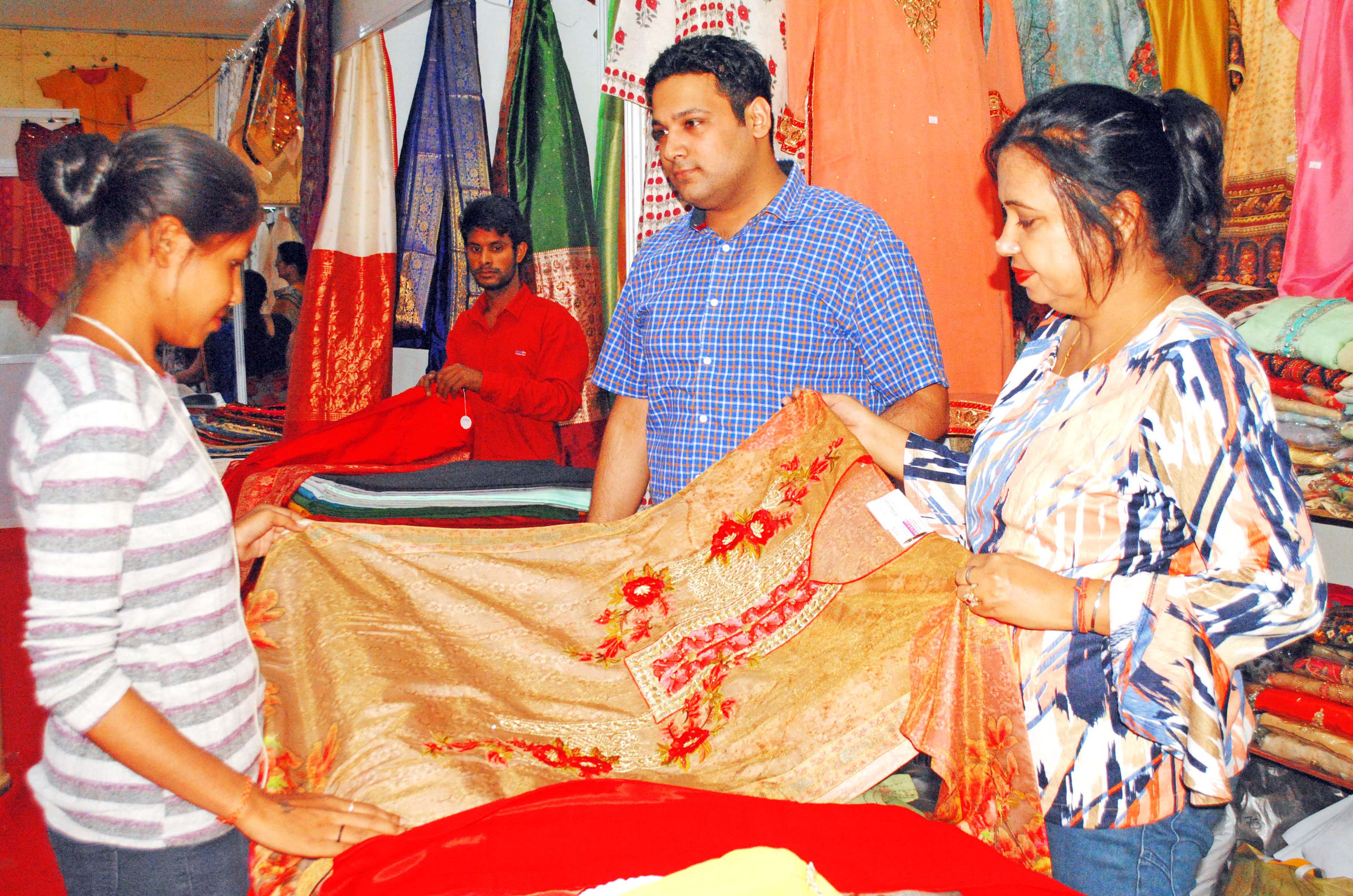 The expo, which will conclude on June 30, offers a new experience for the women who are looking for the latest designs and new fashions. The tie and dye, Dabu, Batik, Kutch, Kasuti and Kashida are some of the finest varieties in prints and embroideries that one can choose from this kaleidoscopic panorama.
The exhibition cum sale also features a large variety of silk and cotton fabric products from different parts of the country to cater to the needs of men, women, as well as children. You can also choose from an exotic collection of sarees and dress material such as Lucknawi chikan work from Uttar Pradesh, Chanderi, Maheshwari and Batik print from Madhya Pradesh, along with Kantha, Baluchari, Tangli from West Bengal.
The collection of Matka silk, woven with 'resham pallu' called 'byloom' saris, gives a peek into West Bengal's artistic finesse in creating handlooms of different kinds. If you have an affinity for softer silk, the stall from Madhya Pradesh has brought a pleasing collection of Mulberry silk. 'Chanderi' saris from Madhya Pradesh in 'patli pallu' and 'kalamkari' prints are one of the new collections here.
Saris at the Gujarati stall have the typical imprint of "Dandiya-playing women" along the border, while the handmade "Worli print" is the mainstay. The Bhagalpuri stall has saris made of Tussar, Kosa and Moonga silk.
Assam's famous 'Muga tassar' is available here in saris and dress materials. Apart from this, the exhibition has the traditional 'Kantha stitch' from Bengal, traditional silks of Uppada and Kancheepuram, a range of 'Ghicha' silk and dress material in a variety of fabrics.
The expo, which is being organised at Kisan Bhawan, Sector – 35A, showcases some classy silks which are ideal for party wears. Here you will also find Bandhej or Bandhini — the finely woven fabric knotted tightly and dyed to achieve a distinct design. The sarees, odhnis (veils) and turbans of Rajasthan are a medley of brilliant colours. The expo also lends you the opportunity to buy magnificent silk sarees of bright colours with silver or gold zari works from the temple towns like Kancheepuram.
Visitors can also soak in the wide range of Patola silk, Gajji silk saris and Uppada saris embellished with gold on display, as well as double-weave Ikkats and cottons. So, pick your choice from the myriad variety of options available for that draper look this season.