Nation wide strike by doctors
Massive Protest March in Delhi
newznew (Chandigarh) : In order to put pressure on Government for early resolution of a number of issues being faced by medical professionals, Indian Medical Association has given a call to it's 2.6 lakh members all over the country to observe strike on Tuesday, 6th June and gather at Rajghat, Delhi for a 'Dilli Chalo – IMA March'
In a press conference organized today in Chandigarh, Dr. Ajay Aggarwal, President, IMA Chandigarh chapter announced that doctors and hospitals of Chandigarh, along with Mohali and Panchkula will observe Half day bandh till 2 PM on 6th June. They will gather at IMA Complex, Sector 35, Chandigarh and hold a satyagraha to press their demands. However Emergency services will be exempted from strike. In addition, more than 100 doctors of this region will join around 5000 doctors at Rajghat, Delhi where a massive peaceful rally will be taken out and memorandum of demands and various issues being faced by medical professionals will be submitted to Ministry of Health and Family Welfare.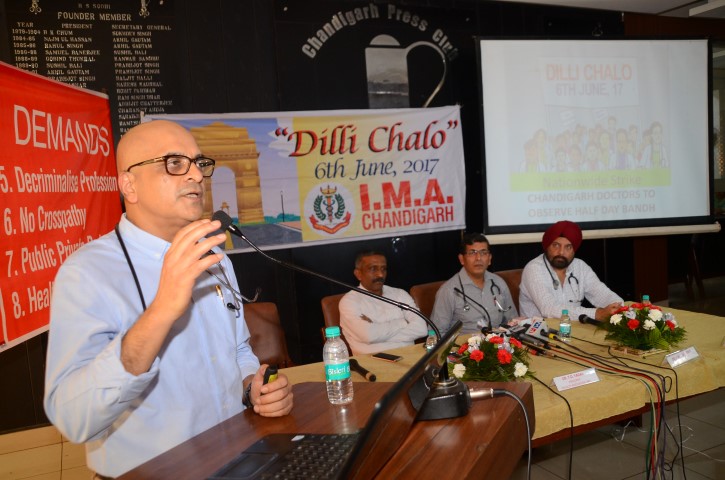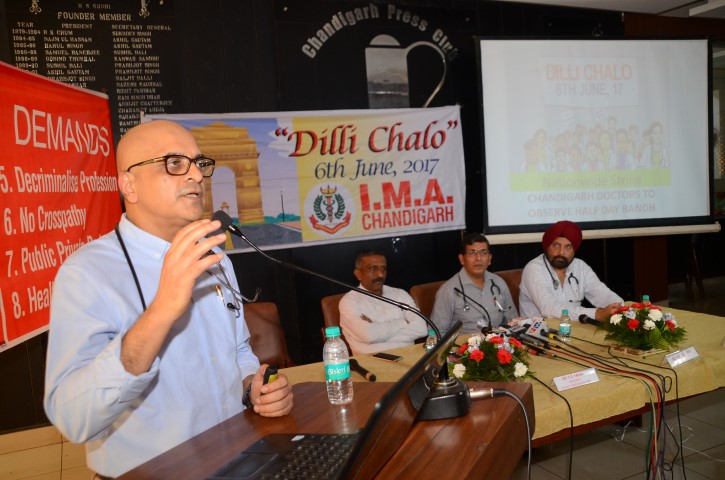 Highlighting the various issues faced by doctors, Dr Neeraj Kumar, President Elect of IMA said
"Incidence of violence and injustice against doctors are increasing at alarming rate, the pleas of individual doctors fall on deaf ears and authorities and police shy away from taking any stringent action. The 'Prevention of Violence against Medical Personnel and Establishment Act, 2009' has been implemented in almost 19 states, but very convictions have been done in last 6 – 7 years."
Dr. Neeraj Kumar demanded that a more stringent Central Act under IPC is required to act as a deterrent against these mindless violence.
Criminal Prosecution and arrest of doctors under sections 304 and 304A on patients' complains of medical negligence has become order of the day. Doctors are also being prosecuted for minor procedural lapses like incomplete forms, not wearing name plate or apron etc. This is despite repeated rulings by Supreme Court that doctors should be criminally prosecuted in rare of rare cases where a gross negligence has been proved by a competent medial board. Giving figures, Dr Kumar told that more than 70 doctors have been prosecuted in Punjab alone in last 4 years. Police and other authorities should be sensitised about this and strict action taken in case of non compliance.