NewZNew (Chandigarh) : After winning the Award for the Best Dental Clinic in North India, 'Dr Kochar's House of Smiles' has now announced to make the Best Dental facilities available for the residents of Tricity.
The new clinic, equipped with the ultra modern technology, is made with complete international standards. The founders, Dr Parag Kochar and Dr Manisha Kochar have personally attended courses in countries like USA, UK, Singapore, Switzerland to keep up the standards of 'Dr Kochar's House of Smiles' internationally. The duo have done their homework to finally accomplish their 18 years old dream of opening a perfect Dental Clinic in Chandigarh.
Dr Parag Kochar, founder director of 'Dr Kochar's House of Smiles' said, "We are known for giving honest advice, a legacy of 18 years, and have the blessings of over 1,20,000 happy patients. Our Dental clinic guarantees painless treatment with love and care."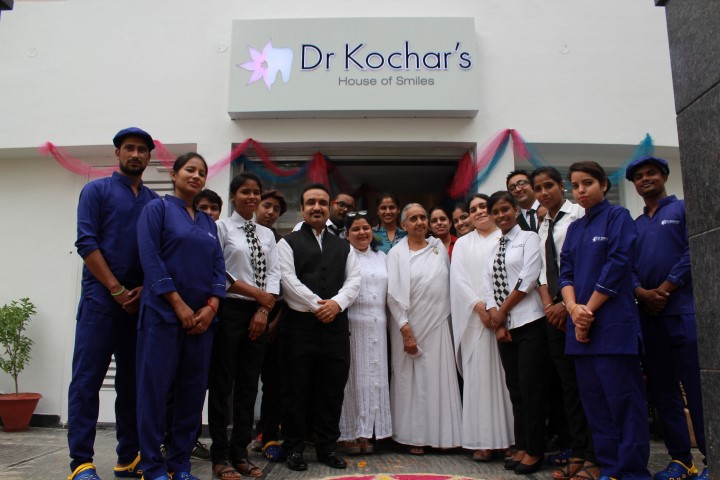 He further added that, "Biggest area in the clinic is covered by the Sterilization area. The sterilization happens in five different steps with latest and best technology like auto clave etc. There are different sections for sterilised and non sterilised equipment. The sterilisation area is open for the patients to see."
The three specialized chairs installed in the clinic are the best in their class. Each and every dental treatment can be done on each chair independently. There are large 43" LED screens installed in front of the chairs for a better understanding of the patient about their treatment. There are cameras installed at every chair to record the ongoing treatment.
Dr Manisha Kochar, co-founder, said, "Our's is the only clinic in city where all dental treatments are done by specialists under one roof. We have full time MDS qualified staff. There are two assistants with the doctor at the time of the treatment."
"Not only this, the patients' hospitality is always taken care of. The patients experience is planned from the moment he walks in till the moment he leaves the Clinic. As a unique experience, iPads are handed to the patients where they can listen to any music of their choice or play games or surf the internet on our wi-fi. The patient can carry it to their treatment and use it during the treatment". The Dream of giving the best service and making the patients' experience world class sums up Dr Kochar.
We follow effective and efficient infection control in this dental office to ensure the safety of patients.
we use single use disposable items wherever possible.3 pairs of gloves, glass for mouthwash, suction tip,3 pcs of patients bibs are used & disposed on each & every patient we check or treat
An appropriate process is followed for the segregation, cleaning and sterilization of instruments.
Firstly, instruments are prepared (thoroughly cleaned) prior to sterilization by washing with warm water & scrubbing with an antiseptic liquid. Then, the instruments are put in an ultrasonic tank for 10 min to remove everything & anything from them. Then they are packed in autoclavable pouches and are put in an autoclave.(we are proud  owners of b class autoclave which is the best in the world) Sterilization is achieved by steam under pressure for 30 min. and all the manufacturer's instructions related to this equipment are strictly followed.
Our cleaning and sterilization process meets the American Dental Association (ADA) and Centre for Disease Control (CDC) guidelines.
In today's busy dental practice, our main goal is "to increase productivity while ensuring that patient safety remains a top priority."