Tricity's first ever Stadium Run – Tuffman 24 hrs Stadium Run: Tricity concluded it's first ever 24 hour stadium run where many renowned elite Indian ultra runners & sports enthusiasts, doctors, lawyers, students, senior government officials of the country participated in the Tuffman 24 Hours Stadium Run, Chandigarh which is also affliated by Athletics Federation of India – a govt. body for athletes.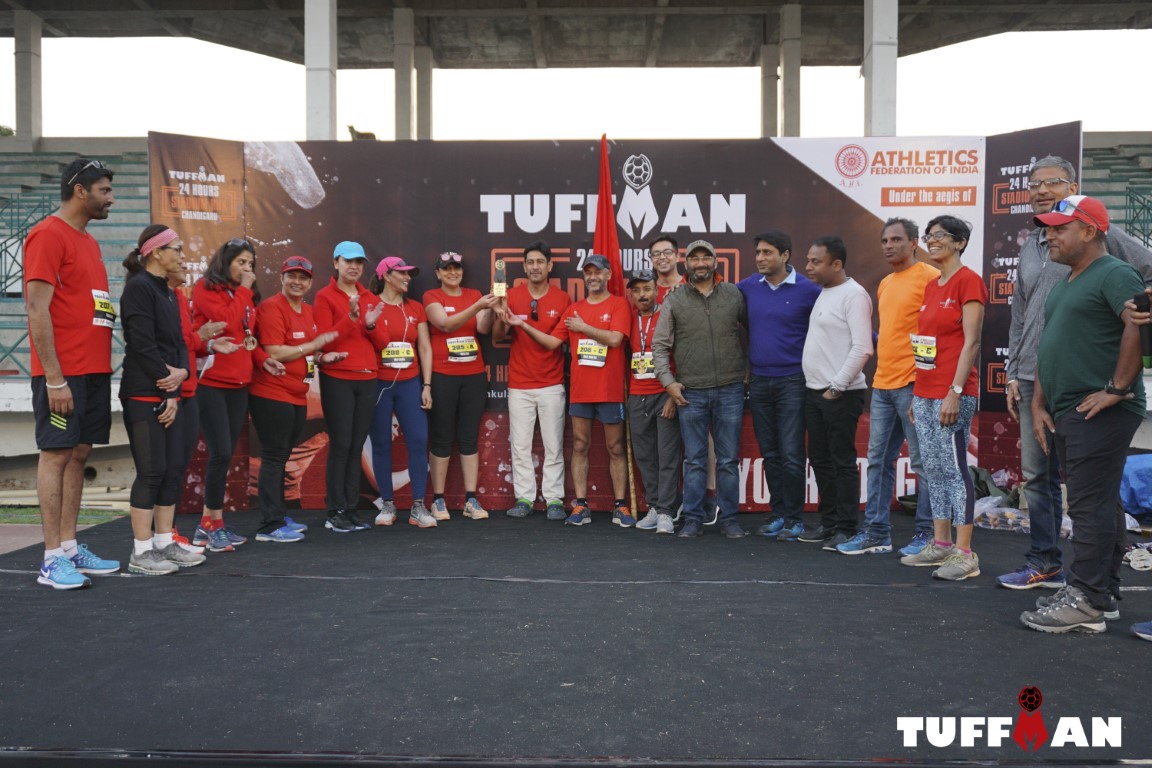 This kind of event is organised by Tuffman India for the first time and is a pan India body engaged in conducting ultra running and half marathon running races / foot races. The races have been recognized as one of the most toughest running races in India.
TUFFMAN is India's premiere endurance sports platform bringing Running, Cycling and Swimming events to sports enthusiasts.
It is also a sports community for people who want to challenge themselves, discover life and do those things that they are passionate about. Participating in Tuffman races and events will make one learn about yourself, about being a tough man that resides inside every one. They bring those tough people out of their body, implant that toughness in mind and help them discover their real tuff soul.
They have a very eminent personality involved in deciding the future of running as a sport in India.
All events are organized in various beautiful destinations and major cities in India, which everyone wishes to visit like Shimla (Mashobra), Leh, Goa, Kasauli, Jaisalmer, Andaman & Nicobar Manali, Gurugram, Chandigarh (Half Marathon, Triathlon, Stadium Run).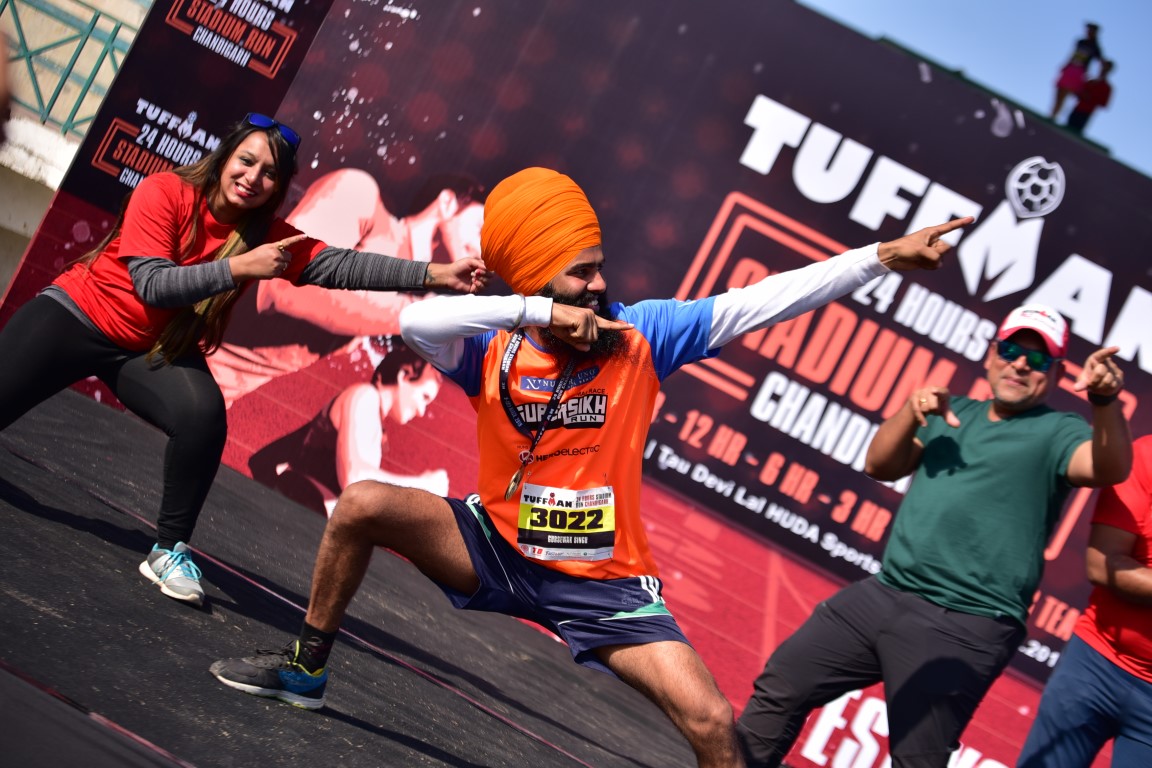 Binay Kumar Sah (Male) and Hemlata Saini (Female) resident of Uttarakhand and Bangalore respectively emerged victorious in 24 hours stadium run category, Lt Col Swaroop Singh Kuntal (Male) and Ashwini Ganapathi Bhat (Female) dominated the 12 hours stadium run category; Kannan Jain (Male) and Simrun Kochhar (Female) a resident of Delhi and Chandigarh respectively, stood first in 6 hours stadium run and Indian Record Holder for 12 Hours – Abhishek Rathor (Male) and Renu Mathpal Joshi (Female) resident of Delhi and Chandigarh respectively were the winners in 3 hour stadium run race category. Amar Chauhan was awarded as the senior most runner at the event. Winners were felicitated by Mrs. Rachana Singh, Joint Commissioner, IRS, Ludhiana and Mr. Arun Bhardwaj, the ultra – running god in India.
Over 250 of the best athletes from the country ran in this coveted event which has become one of the officially acclaimed stadium runs in India. Binay Sah clocked 546 laps in 24 hour stadium run, Suraj Chadha and Hemant completed 100 kms in 08:55:10 hrs and 09:44:46 hrs to create another Indian records on Indian Soil, which confirmed their entry to The 24H & 100K World Championship by IAU (International Association of Ultrarunners)
Runners in all categories were flanked by cheering crowds throughout the running track. The stadium was packed with supporters. The winners were welcomed by votaries of fitness and supporters amidst roaring cheers.
"The Tuffman 24 Hours Stadium Run Chandigarh was an amazing experience in itself. I appreciate incredible efforts of organisers for impeccable arrangements right from registration, event arrangements, goodies, bib distribution, hydration & nutrition support, the entire run experience, medal and award ceremony," said almost every participant, who took part in the stadium run.
The Tuffman 24 Hours Stadium Run Chandigarh recognised by the Athletic Federation of India, and is divided into six formats – 24 Hours Solo Run, 100 Kms, 12 Hours Solo Run, 6 Hours Solo Run, 3 Hours Solo Run, 6 Hours Team Relay
This stadium run bought together professional runners and novice runners to trigger their nomination to the 24 Hour & 100 Kms World Championship held by International Association of Ultrarunners (IAU) and for others to adapt ultra running as a lifestyle which helps create a positive impact on our society by keeping fit and healthy.
Abhinav Bindra Targeting Performance and Alchemist Hospital were the Recovery partner and Medical Partner respectively and around 8 teams of 3 runners each from The Run Club Chandigarh joined the run as the local running group from Tricity.
Lauding the efforts of participants of all categories, Joint Commissioner, IRS, Ms. Rachana Singh (who herself ran in the 3 hours category) said, "Running is not just about physical stamina but also needs mental strength and testing your 'tough'. I am happy to see the enthusiasm and participation from various parts of the country is just beautiful in itself to run 24 hours or 12 hours which is a testing task in itself." The run had a vision of fitness enthusiasts that year on year aims to promote healthy living and empowering the underprivileged. She herself came second in 3 Hours (Female) by covering 26.23 kms (61 laps). Take a close look at tuffman races by visiting www.tuffmanindia.com