Videocon Ups the Ante in Smart Home Concepts with Aryabot
Mr. Sanjeev Bakshi, COO, AC Division, Videocon and Mr. Akshay Dhoot, Head of Technology and Innovation, Videocon unveiling the mighty Aryabot.
Chandigarh, 16th February, 2016: Applying futuristic technology trends to reinvent the AC category in the world, Videocon, the leading Consumer Durable and Home Appliances brand, today unveiled the World's first Satellite AC, Aryabot. With the launch, Videocon aims to capture 15% of the AC market in India by end of FY 2016, and capture the growing Machine-to-Machine (M2M) communications and Internet of Things (IoT) related devices.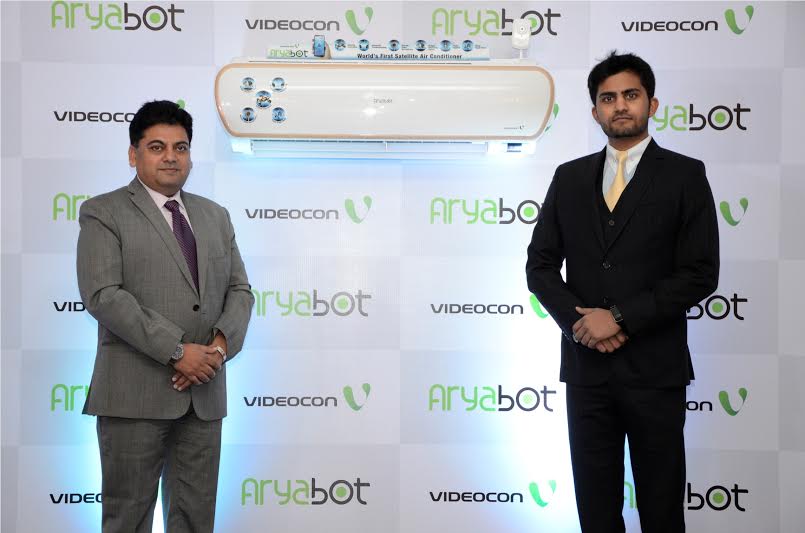 Aryabot is an intelligent device with futuristic features that are based on the IOT phenomenon. A class apart from a modern day AC, Aryabot runs on a platform that enables the device to align itself to one's usage patterns and preferences, surveillances home and office premises, talks out the commands to the AC, pairs up with smartwatches like the Apple Watch and Android Wear,and keeps check on power consumption, besides various other intelligent features like auto-trouble shooting and auto call-logging to the nearest service centre.
Stepping up the connected devices segment and unveiling the revolutionary offering, Mr. Akshay Dhoot, Head of Technology and Innovation, Videocon, said, "At Videocon it is our endeavor to present the most advanced technologies to our customers. Videocon has been working on this concept for over a year and Aryabot undoubtedly is one of our biggest creations. We value the response that we got from our customers forour previous ranges that has built the foundations of this strong product. It truly defines path breaking technology and stands class apart from any other AC in the world."
Aryabot is a revolution in air conditioning and can be easily paired up with smartphones and smartwatches, allowing GPS access through connectivity tomultiple satellites. The unique feature responds to the user's GPS position to switch off the AC when one leaves the house and switches it on before one enters the set radial distance using theGeo-Fence feature. In order to tackle security and intrusion issues, Aryabot comes with a dedicated USB slot for a web cam connection. The web cam streams live videoon the smartphone through the integrated application. Aryabot is easy on one's finances and keeps tab of powerconsumption. Through its budgeting feature, one can set electricity consumption limits which helps to plan the spending in advance, and also view daily, weekly and monthly energy consumptions and expenditures. With the added option of controlling the AC without touching any control buttons, Aryabot lets one dictate instructions with the embedded voice command feature. The Sleep Graph mode allows to set desired temperature levels for each hour of the night. One can set different temperatures for next 8 hours to ensure a sound sleep. And if the weatherman fails to forecast the temperature, Aryabot will sense the outside temperature and automatically adjust to set temperature inside. The AC also intelligently detects problem areas and suggests remedial actions basis its algorithms. It also has the ability to contact the service centre on its own and log in service requests. All these features and many more can be controlled using any Android and iOS based smartphones and smartwatches through an app.
Speaking about the launch, Mr. Sanjeev Bakshi, COO – AC Division, Videocon said, "The AC market is growing rapidly in the country driven by technology, infrastructural developments, and increase in the consumer spending. Videocon has been the forerunner in technology in the AC segment and it gives me immense pleasure that today we have launched the World's first Satellite AC, Aryabot. We believe Aryabot is the future of technology and it will be very well accepted by our patrons across markets. We are expecting to sell total 6,00,000 units this year and plan to increase our market share in the ACs segment to 15% from the current 10%."
Videocon has rolled out 8 new models in the Aryabot series that comes in a stylish curve indoor unit. All ACs in the range comply with BEE star ratings and possess 5 and 3 stars, reflecting its high energy efficiency capabilities. These are available across 1 ton and 1.5 ton.
Videocon will also be coming up with a special 360° advertising campaign that would be spread across all major media with a special focus on digital, to build top of mind recall for Aryabot. Videocon will also be crafting unique product displays for the Aryabot range. This will be further enhanced with a strong service support provided by the Videocon operations team. The Company will be offering a complete 5year warranty to the buyers on purchase of Aryabot.
Key Business Facts include:
The current market size for air conditioners (ACs) in India is around 4 million units. The industry is expected to grow at 15% CAGR with a penetration of about 3%
The market size of ACs in India is likely to reach 10 million units by 2020 with a penetration rate of 11%
AC market is dominated by split ACs, year-on-year Window AC market share is decreasing
Almost 90% of the market share in split AC category is held by 1 Ton & 1.5 Ton ACs
Videocon Wi-Fi AC range comprises of 8 split AC models, 1 to 1.5 ton. All models are 5 and 3 star BEE rated
Price range (MRP): Rs. 34,000 (1 ton) and Rs. 39,000 (1.5 ton)