FREE HEALTH CARE FACILITIES FOR MOTHER AND CHILD
CONCERNED SENIOR MEDICAL OFFICERS TO REVIEW THE FUNCTIONING OF VILLAGE HEALTH SANITATION NUTRITION COMMITTEES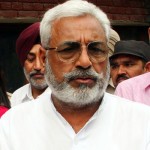 NewZNew (Chandigarh) : In order to strengthen the existing rural health infrastructure in Punjab, the state government would further strengthen the Village Health Sanitation and Nutrition Committees giving more powers and wider operational areas to these bodies. The concerned SMOs or Medical Officers have been asked to periodically review the functioning of these committees so that the rural masses to get the maximum benefit of health facilities.
Revealing this here today Health and Family Welfare Minister Punjab, Mr. Surjit Kumar Jayani said that prominent personalities, NGOs and elected Panchayat representatives of each village would be involved to ensure the effective implementation of the rural health  education and care, sanitation and nutritional plans envisaged especially for rural habitation.
To ensure active participation of each and every section of the society, he said that the committees would also have a woman panchayat member belonging to the scheduled castes as the chairperson, ASHA worker would be the Secretary, ANM, Anganwari worker and retired army personnel or academician would be the members. The committee would mainly ensure transmission and implementation of the government schemes and plans formulated for the rural areas of the state.
The Minister also said that the state government has allocated untied fund of Rs. 10,000 annually for the maintenance health and hygiene in the villages besides holding health camps and addressing other emergent needs. Mr. Jayani said that meeting once in a month was mandatory so that constant monitoring of the health facilities could be ensured at grass root levels. The Minister further said that the committees would also generate awareness amongst the women to fight back any violence against them.
Referring to the services being offered to the mother and infants in Punjab, the Minister said that Punjab government was extending complete health care to expectant mother and  child free of cost .  The minister further said that the Village Health Sanitation and Nutrition Committees would also be responsible for helping the government in devising the Annual Health Plan, organising the monthly health programmes, Bhagat Puran Singh Health Insurance Scheme, child care under RBSK, mother care under (JSSK) Janani Shishu Surkaya Karyakram, (JSY) Janani Surkya Yojna,  Mata Kaushlaya health Scheme etc. The state government was also giving complete health cover to the students of government schools and government approved schools against the major identified 30 diseases till the age of 18 years in all the empanelled hospitals The registered children in Anganwari Centres in the villages' would also be covered under this scheme said Mr. Jayani.