newznew (Chandigarh) : The penultimate day of CII's four-day event on AC, Refrigerators & ventilation, CII Coolex 2017, witnessed unending queues at the Himachal Bhavan, Sector 28, Chandigarh.
Brands on display included AO Smith, Blue Star, Carrier, Daikin, FLIR Systems, Godrej, Haier, Hitachi, IFB, LG, Lloyd, Maharaja Whiteline, McCoy, Mitashi, Mitsubishi Electric, O'General, Spherehot, Sidwal, Symphony, Usha, Uttam Overseas, Videocon, and Whirlpool.
Each of these brands has been throwing amazing deals to the thronging visitors at their stalls. It is a great experience to visit CII Coolex, exclaimed visitors from the Tricity and areas as far as Sirhind, Solan, Baddi, Shimla, Ludhiana, Patiala, Amritsar & Ambala. The option to see and compare products under one roof attracted them to come here.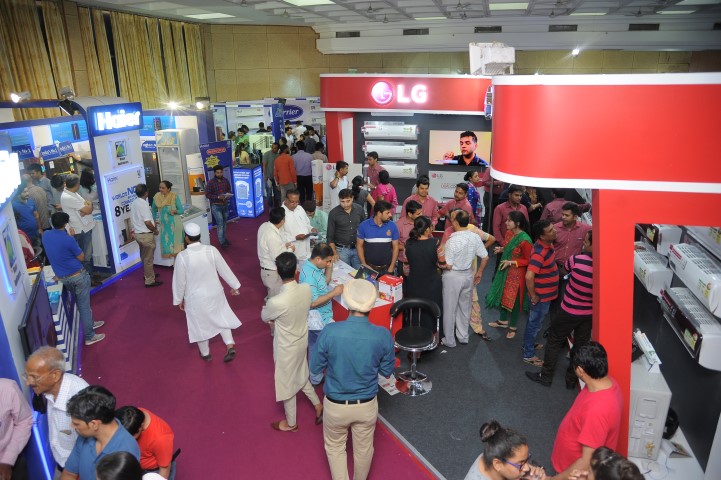 Energy efficiency is the main focus of the all equipments and companies have brought products to save 30-40% in the energy bill, especially in the wide range of inverter ACs. Attractive discounts, freebies and other amazing offers have resulted in a beeline at the event. There are a wide variety of options available for coolers and air purifiers, which is a first time for the event. The products are smart, intelligent with the use of latest technologies like controlling the ACs from far away through an app to BEE certified inverter technology that saves energy from 30-40%.
An exclusive & unique presentation of the CII Coolex is Thermal Imaging Systems & Cameras for troubleshooting HVAC related problems that has, so far, been the luxury of commercial & industrial, now comes to the rescue of the domestic segment. Reach-in Freezers, Deep Freezers and Mini Bars are some of the products for the commercial and industrial Units. Air Purifiers that has been launched from room size as low as 90 sqft to 250 sqft.
The Water Dispensers that comfort patients of rheumatic diseases to UV & RO systems, also with hot & cold facility and that too according to the hardness of the water supply in your locality. On the other hand, Water Coolers are also available with in-built RO systems. Hourly Temperature Control, setting up a pre-specified budget for consumption of energy, to running the AC according number of people in the room – the event offers it all to Educational institutions (Universities, Schools & Colleges), Hospitals, HORECA (Hotels, Restaurants & Cafeteria), Commercial complexes, Malls, Religious Buildings, Government Organisations, Industrial Enterprises and similar organisations to participate and contribute in Conservation of Energy on a massive scale.