Vivek Atray releases Alka Kansra's "Blue Eyed Ocean": Vivek Atray, former IAS, author, TEDx Speaker, released Alka Kansra's book of English poetry, "Blue Eyed Ocean" at the Chandigarh Press Club.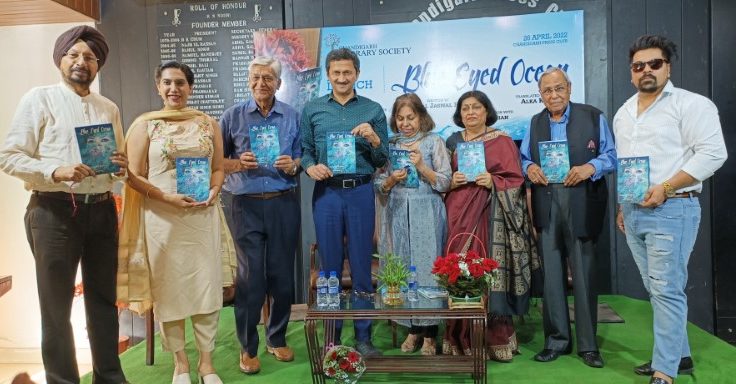 At the book launch function organised by Chandigarh Literary Society (CLS), Vivek Atray along with Dr Balram Gupta, Hindi writer Nirmal Jaswal Rana, Jas K Shan, CJ Singh, unveiled the book.
He complemented Prof Alka Kansra for immersing herself into writing after her retirement as head of the Chemistry Department in MCM DAV College, and bringing out brilliant works in Hindi and now in English.
Writing is a self-less activity that adds divinity to your life and where the process itself becomes a creative pursuit to spread happiness, he said.
'Blue Eyed Ocean' is English rendition of the Hindi poems by celebrated poet Dr Nirmal Jaswal Rana, and it had been a toughcalling to communicate the very essence of the emotions and reflections expressed in Hindi in an altogether different language, said Alka Kansra.
Dr Nirmal Jaswal said that Alka has done full justice to her poetry and this would help reach out to her readers in Canada where she spends more time.
Another renowned life coach and modern dance exponent Jas K Shan conversed with both the authors, Alka Kansra and Nirmal Jaswal and probed deep into their interpretation of life in its varied form of romance, love, pain, and longing.
Some of the city's dignitaries present on the occasion included legal luminary and author Dr Balram Gupta, Indian Express Resident Editor  Manraj Grewal, Jatin Salwan, Col D.S.Cheema, Shakuntla Devi, Lily Swaran,   well known Hindi writer Vijay Kapoor, Kailash Ahluwalia, Prem Vij,  Vinod Khanna, Parminder Soni, Renuka Salwan, CLS representative CJ Singh, Simran Kaur, Bharat Kansra, among others.