Viviana Mall, the Destination Mall, flagged off its signature campaign on 12th August 2018 to wish the Indian Asian games 2018 contingent the very best and promising them the full support of the nation. To grace the occasion former Indian hockey players J.M. Carvalho (Former National Hockey Coach, Olympian and Arjuna Awardee), Merwyn Fernandes (Olympic Gold Medalist and Arjuna Awardee), Dhananjay Mahadik (Commonwealth Games Silver Medalist) and Pooja Surve National and international Indian Gymnast and current coach and trainer of several national and internationally prominent Indian gymnasts prompted the signature campaign as a part of Viviana's Independence Day celebrations.
It is a matter of great pride that India will be sending close to an 800-strong contingent, including 575 athletes, to the Asian Games 2018. On the occasion of the campaign, Viviana Mall announced its support to 'I & G partners in Sports', a voluntary organization dedicated to promoting and raising the standards of sports particularly Hockey, Football, Athletics, Throwball etc. Viviana Mall has always been a source of motivation and has encouraged sports among the young players, they have a dedicated space for football and skateboard training.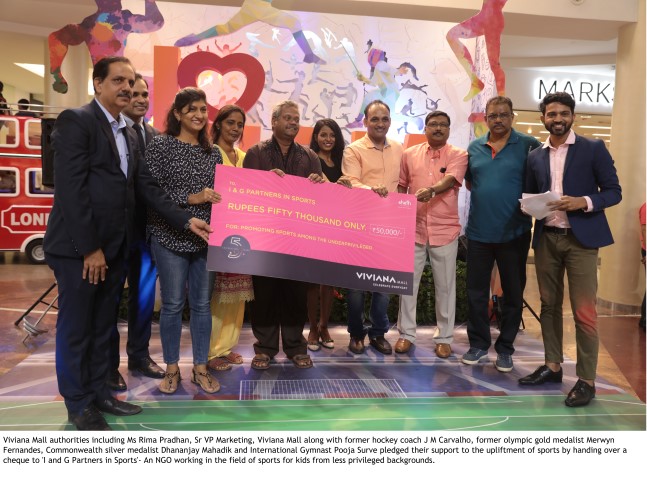 As part of Vision Viviana, which promotes the upliftment of the underprivileged, disabled and physically challenged, this initiative defines the values of the organization to contribute back to society. The mall has also always promoted physical fitness and has various initiatives that encourage both the young and old to keep and stay fit. Their football academy, skating rink, etc are shining examples of their vision to keep and make a fitter India
Commenting on this occasion, Rima Pradhan, Sr Vice President Marketing, Viviana Mall, said, "Our objective to initiate a signature campaign is to exhilarate Indian team. At Viviana Mall, we unflinchingly believe that sports need to be encouraged at all levels. This is a small contribution from our side to I & G partners in Sports, who provide quality coaching and training to kids who are looking forward to making a mark in sports. We hear stories about players starting their initial stage with broken sports equipment or limited means to train yet struggled to break through and won accolades internationally such achievements are possible when there is support and motivation."
As the Indian contingent prepares for the upcoming Asian Games 2018, the #cheerforindia campaign, kick-started by Viviana Mall is definitely going to be a morale booster for the Indian athletes. Viviana Mall calls out to every Indian to come and join the #cheerforindia campaign and showcase their support to the Indian Contingent.