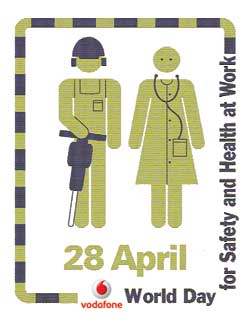 NewZNew (Chandigarh) : Vodafone India, a leading telecommunications service provider, is one of the pioneers in the service sector to observe the HSW (Health Safety and Wellness) Policy. As a value based organization, Vodafone India is passionate about people. We are committed to achieving the highest standards in HSW, with the aim of providing and maintaining a safe and healthy working environment for employees, associates, customers, partners, contractors, visitors and member of public. The goal of HSW programs is to foster a safe work environment.
The Company's HSW (Health, Safety and Well being) policies for employees are amongst the best in the industry. Absolutes Safety rules (ASR) has been developed for health & safety. These ASR rules are not only for health & safety at work place but also to be implemented at home. These rules primarily focus on three key risks- Electrical safety, Height Work & Road Safety.
8 Absolute Safety Rules
Always wear your seat belt while driving and ensure that your co-passengers wear it too
Never exceed speed limits
Never use your mobile phone while driving
Never drive under the influence of alcohol or illegal drugs
 Always wear a helmet while riding and ensure that the pillion rider wears a helmet
 Always use suitable Personal Protective Equipment and attach safety harnesses while working at heights
Electrical problems should only be fixed by qualified workers
Never undertake any street or underground work activities unless competent to do so
The rationale behind introducing these 'Absolute Safety Rules' is Vodafone India's belief that doing good for its employees, it's partners and society is not just good for the company, but also for business.
And that is the reason why there are many initiatives which ensure that every employee is cared for, not just at the workplace, but also at home….that every partner is made aware of, and encouraged to, adopt the similar policies and that awareness of the need to be safe and follow safety rules is heightened among the general public as well.
A safe and happy employee is what Vodafone wants
Some initiatives at the workplace include:
Employees are encouraged not to travel on business after dark, especially when travelling to another town. They have to stop at the nearest town and break journey for the night before resuming their travel the next day.
As a part of its policy, the company does not hire any vehicle which is more than 4 years old. Company has also taken initiatives like Flash Mob, distributing absolute safety rules fliers and Nukkad Nataks to educate people on the issue of Road Safety.
It does not permit its employees to travel in a car without fastening seat belts, even when they are sitting in the rear seat.
Vodafone does not permit its employees to ride a bike/car without a valid driving license and it does not permit its employees to ride a bike/car while talking on mobile phone. Vodafone makes it mandatory for not only the 2 wheeler rider but also the pillion rider to wear ISI approved full mask helmets.
Vodafone also ensures that all electrical problems at its establishments are fixed by qualified workers only.  Regular health checkups at work are organized to ensure that each employee is in the best of health.
Vodafone encourages all employees to leave office on every alternate Wednesday by 6 pm to have quality time with their friends & families to provide a healthy work life balance.
It also ensures that people who work at heights have to take permit for the same & wear proper safety harnesses.
Not just employees, but their families, too. Vodafone cares!
It is not just at the workplace that Vodafone cares for the health, safety and well being of its employees. Their loved ones in the family are also touched by Vodafone's concerns. Towards achieving this objective, Vodafone recently extended its HSW programme to employees' homes as well to ensure that awareness of the importance of health and safety spreads among families as well.
Vodafone sent a special delivery package to all employees' homes recently in the form of a box containing a safety kit.
The kit contains a pair of rubber gloves to act as protection against electrical hazards, an electric socket cover to prevent children accidentally putting their fingers into a live socket, a first aid kit, and a fridge magnet with a safety message as well as space to write down all emergency numbers (ambulance, doctor, police, fire brigade, electrician, plumber etc).
A fire proof folder to keep all valuable documents and popup books to educate children were some of the other items sent to employees' homes.
Vodafone: Doing its bit for society too!
India has one of the world's worst records as far as safety on the roads go. Here, too, Vodafone is taking steps to ensure that citizens are made aware of the need to practise greater safety while driving.
The company has associated with the traffic police departments in many cities to organize safety weeks, where Vodafone employees distribute safety related literature at key traffic signals. Helmets are also distributed to two wheeler drivers who are asked to be safe because they have some loved one waiting for their return home. Special help lines, vehicle check up camps are some of the other initiatives which Vodafone India has conducted across the country.