VR Punjab makes this Karva Chauth a special one for its women:  VR Punjab, the region's largest and most preferred shopping destination, provided an opportunity to its women patrons to be at their glamorous and beautiful best on the occasion of Karva Chauth by organizing a 'Beauty Makeover Workshop' for them as part of its fortnightly 'Women Wednesdays' activity.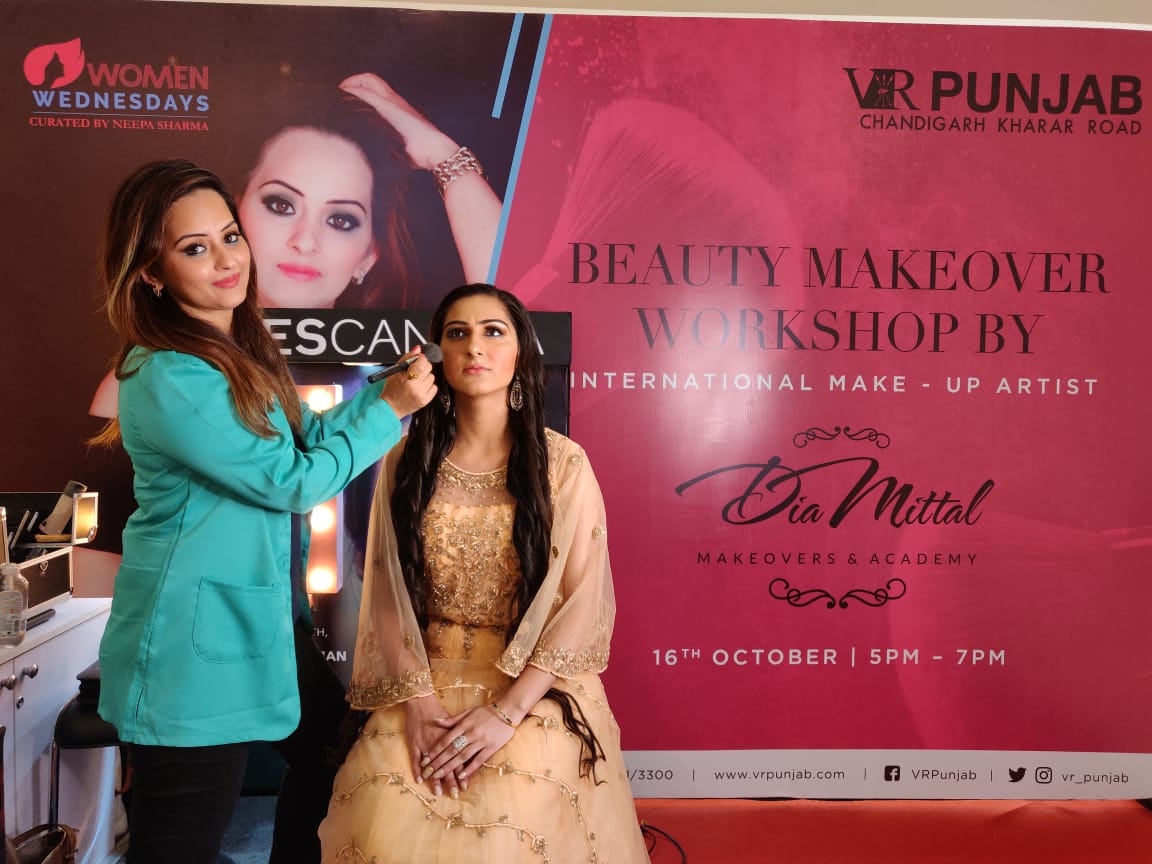 Organised in collaboration with international make-up artist Dia Mittal, the workshop was attended by over 100 women, who got useful make-up, skincare and beauty tips to don that 'oh-so-perfect diva look' for their hubbies on the festive occasion. VR Punjab created a pristine ambience associated with Karva Chauth by adding an unmistakably traditional touch to the festivities with special 'mehndi' counters at the workshop.
Lending a dash of chic consistent with the traditional getup symbolising the spirit of Karva Chauth, Dia began the workshop with a session on beauty tips and taught the women participants the correct techniques of applying make-up. Sharing some useful tips on donning an ethnic look that never goes out of fashion, Dia spoke about the critical do's and don'ts they should follow to get that perfect smoky or sun-kissed look. "The first and foremost is the primer, which should be used on squeaky clean skin just before applying foundation," she said.
The enthusiastic audience listened in rapt attention as the celebrated make-up artist elaborated on the correct use of primers and creams to get that vibrant Karva Chauth look. "The fusion look is in, and is well suited for festive occasions like Karva Chauth. If you have dry skin, you should use cream-based primer, or else gel-based primer works best. When it comes to foundation, always test it in natural light by applying it on your jaw," she advised.
This was followed by a session on skin care regime, where the participants were taught about the right ways to take care of their skin in the autumn months and the approaching winter season. "It is extremely important to choose the right kind of products depending upon your skin type," said Dia.
In the concluding session of the workshop, Dia taught the participants how to strike the perfect pose for the camera to capture that incredible Karva Chauth moment. Towards the end, she invited questions from the audience and patiently answered their queries.