Watch Ranjish Hi Sahi Web Series Full Episodes On Voot Select: Watch Ranjish Hi Sahi Series Online: Ranjish Hi Sahi is the latest web series written and directed by Pushpdeep Bhardwaj and it's set to premiere on Voot Select.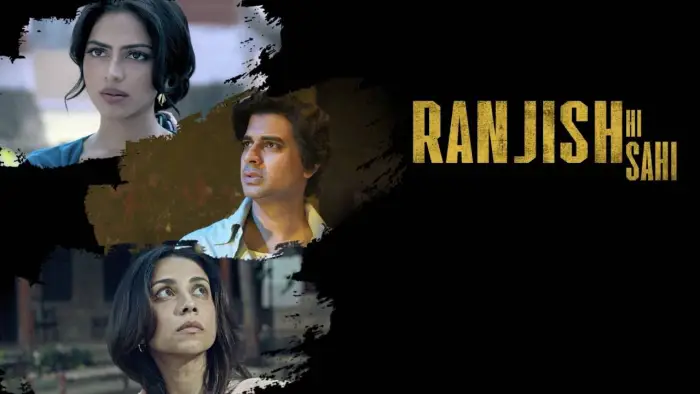 The series stars Tahir Raj, Amala Paul, Amrita Puri in the major roles. It is produced by Sakshi Bhatt. The plot is portrayed against the backdrop of the Bollywood 70's era.
Watch the full episodes of Ranjish Hi Sahi Web Series full episodes exclusively on Voot Select.
WATCH RANJISH HI SAHI WEB SERIES ONLINE ON VOOT SELECT
Ranjish Hi Sahi series revolves around a married director who falls for an A-listed Bollywood actress in a relationship, it turns out to be turmoil in the family and also cause the complicated triangle love story. After Kudi Yedamaithe's from the Aha platform, Amala Paul once again setbacks her career in the web series. In the Ranjish Hi Sahi, She is playing the role of Bollywood actress Diva Aamna.
Related: Yeh Kaali Kaali Ankhein
Ranjish Hi Sahi Web Series Cast
Check out the main cast for the upcoming Ranjish Hi Sahi Voot Series,
Tahir Raj Bhasin as Shankar
Amala Paul as Diva Aamna
Amrita Puri as Shankar's Wife Anju
Ranjish Hi Sahi Song
Watch the full video of Tham Sa Gaya song from Ranjish Hi Sahi
Ranjish Hi Sahi Series Details
Series Name: Ranjish Hi Sahi
Genre: Family Drama
Directed: Mahesh Bhatt
Available: Voot Select
Release: 2022
Language: Hindi