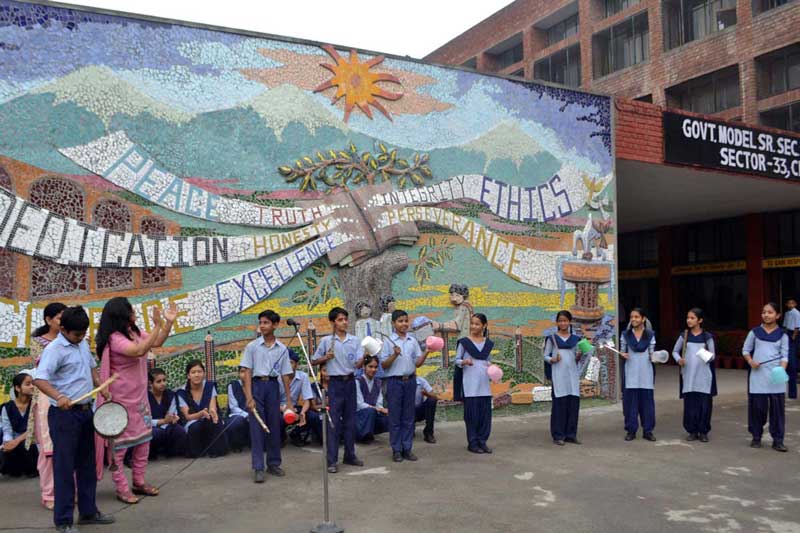 NewZNew (Chandigarh – Kulbir Singh Kalsi) : Today, Department of Environment, Chandigarh Administration and Yuvsatta-an NGO launched a 'Water Conservation Fortnight' in city Schools with organization of Poster making, slogan writing & declamation contests along with street play, group dance and a Pledge on 'Water
Conservation' at Government Model Sr. Sec. School, Sector 33D and Sri Guru Harkrishan Model Sr. Secondary School,, Sector 40C, Chandigarh.
Giving information about the initiative Santosh Kumar, Director, Department of Environment shared that "with onset of summers availability of water becomes scarce in almost cities and through such programmes, we aim to create awareness amongst students regarding water conservation and protection of all natural water resources to ensure the judicious utilization of water for a sustainable future." He further appealed to heads of local Schools to participate wholeheartedly in this 'Water Conservation Fortnight' and involve more and more of their students in such programmes.
"It's efforts like these, small in scale though they may be, which go a long way to tackling climate change and building a sustainable future for us all" added Pramod Sharma, Coordinator of Yuvsatta.
The enthusiastic students at Government Model Sr. Sec. School, Sector 33D under the guidance of School Principal Indira Beniwal also organized a play 'Jal hai to Kal hai' and a group dance on theme of 'Water-the elixir of life (Panni Jiwan ka shhrote)'.
At a progamme organized at Sri Guru Harkrishan Model Sr. Secondary School, Sector 40C, School Principal Preetinder Kaur administered an oath of 'Water Conservation' to over 500 School students. Who vowed to become water warriors to save even a single drop of water and at School. Famous cartoonist Sandeep Joshi was Chief Guest on the occasion.