What is Dasara, Dusshera or Dissehra? : Vijayadashami also known as Dasara, Dusshera or Dissehra is a Hindu festival celebrated at the end of Navratri every year remembering goddess Durga's victory over Mahishasura.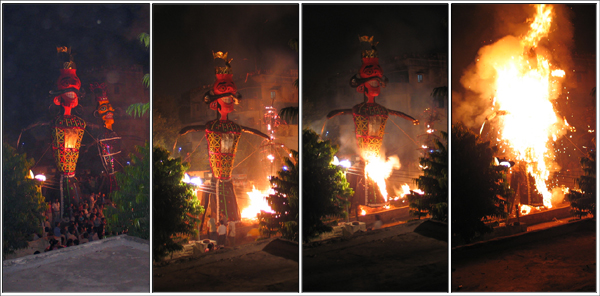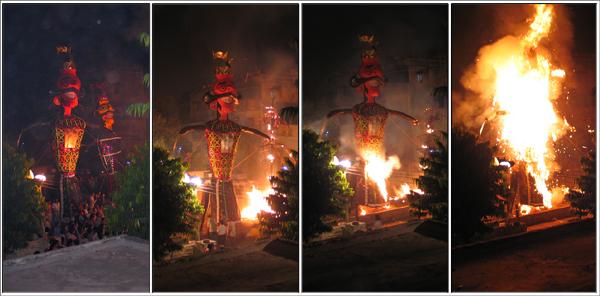 It falls in the seventh month of the Luni-Solar Calendar, Which typically are the Gregorian months of September and October.
On Dussehra, the towering effigies of Ravana are burnt with fireworks making evil's destruction.
Vijayadashami is observed for different reasons and celebrated differently in various parts of the Indian subcontinent. In the southern, eastern and northeastern states of India, Vijayadashami marks the end of Durga Puja, remembering goddess Durga's victory over the buffalo demon Mahishasura to help restore dharma. In the northern and western states, the festival is synonymously called Dussehra (also spelled Dasara, Dashahara).
In these regions, it marks the end of "Ramlila" and remembers God Rama's victory over the Ravana. On the very same occasion; Arjuna alone defeated entire Kaurava army consisting of 100,000s of soldiers, Bhishma, Drona, Karna, Ashwatthama, Kripa, Duryodhana, Dushyasana, Shakuni etc. – there by significantly quoting a natural example of victory of Good (Dharma) over evil (Adharma). Alternatively it marks a reverence for one of the aspects of goddess Devi such as Durga or Saraswati.
Vijayadashami celebrations include processions to a river or ocean front that carry clay statues of Durga, Lakshmi, Saraswati, Ganesha and Kartikeya, accompanied by music and chants, after which the images are immersed into the water for dissolution and a goodbye. Elsewhere, on Dasara, the towering effigies of Ravana symbolizing the evil are burnt with fireworks marking evil's destruction. The festival also starts the preparation for one of the most important and widely celebrated Diwali, the festival of lights, which is celebrated twenty days after the Vijayadashami.