When To Change Your 2017 Nissan Rogue Brake Pads and Rotors: Every system inside your Nissan Rogue is important. But its brakes are among the most critical. Without dependable stopping power, on- and off-road safety are compromised.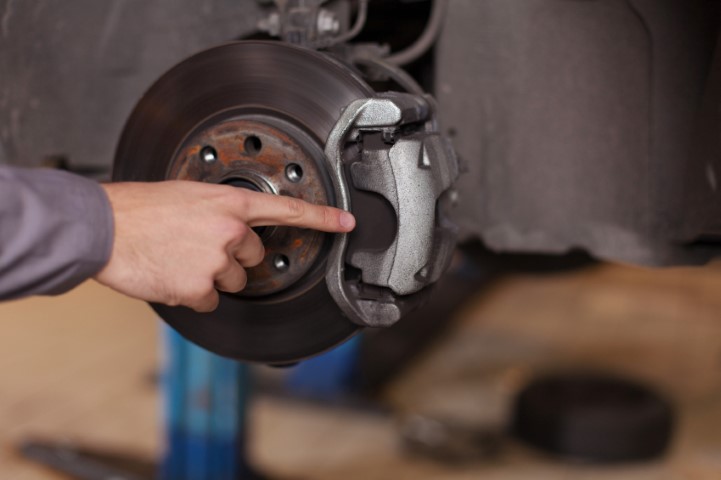 You want to keep your Rogue in top condition with proper maintenance and high-quality parts. This quick primer explains when to change your 2017 Nissan Datsun Rogue brake pads and rotors – plus the parts that deliver the best performance for your money.
What Brake Pads Do You Need?
Brake pads, rotors and calipers use friction to stop your vehicle. When your pads grip each rotor, the resulting friction generates a lot of heat. So every time you hit the brakes, that's at least 400 degrees Fahrenheit cooking around your pads and rotors. Aggressive braking can produce up to 1,000 degrees. That's why most experts recommend replacing your pads every 30,000 to 40,000 miles.
You'll see ceramic-carbon, ferro-carbon and para-aramid pads, but those are high-performance materials for racing. Consumer pads come in three different styles:
Organic – made from rubber, carbon, fiber or fiberglass bound with resin
Semi-metallic – iron, copper, steel or metal alloys with graphite lubricant
Ceramic – composed of ceramic particles with tiny copper threads
Organic pads don't produce much dust or noise and can handle typical braking patterns during commuter or leisure driving. They're also the least expensive, but they wear out quicker and tolerate less heat.
Semi-metallic Nissan Rogue brake pads conduct heat better, can handle higher temperatures and require less braking pressure to stop. They're more expensive and produce more noise and dust. But some semi-metallic pads, such as those made by Duralast, have feature likes corrosion-resistant powder-coated backing and single-layer steel shims to dampen noise.
Ceramic pads are the most costly, but they generate less dust and almost no noise. They hold up under a wide range of temperatures. On the downside, they can't absorb as much heat. This exerts more wear and tear on rotors due to heat passing into them and the rest of the braking system. But Duralast Gold pads overcome some of these obstacles. They're also equipped with corrosion-resistant backing and perform better than standard ceramic or OEM pads.
How Much Do New Rotors Cost?
Your brake rotors' quality should be the same as your pads. One great example is Duralast Gold Rotors, made with an anti-rust coating and higher carbon formulation to maximize heat dissipation. Paired with Duralast Gold brake pads, they provide superior stopping power and long-lasting performance. These and other consumer rotors typically cost between $40 and $70 each. As for brake pads, they usually run between $25 and $85 per box. Rotors should be replaced about every 70,000 miles.
Where Should You Buy Pads and Rotors?
When shopping for your pads and rotors, you should choose a trustworthy auto parts retailer. Besides stocking an impressive selection of parts, they offer other conveniences such as in-store pickup. Look for a dealer with friendly and knowledgeable customer service staff, including experts who can tell you how to replace rotors. Their help can be invaluable for getting your vehicle back on the road.