Usually, most of the people above 50 years are risk-averse and look for those investment options which can give them a regular income. As a result, fixed deposits find a place in the investment portfolio of most of them. However, fixed deposits (FDs) are not recommended for people over 50 years owing to the following reasons :
Income is fully taxable
While investing, look at the post-tax returns and not at the gross returns which are being offered to you. If the interest earned on fixed deposit exceeds Rs 10,000 in a year, it is taxed as per your individual tax slab, which curtails the overall returns. For instance, if an individual who falls in the 20% tax bracket accrues an interest of Rs 20,000 in a financial year, 20% of 20,000 and a 3% cess would be charged as a tax.
Remember, at the end of the day, you are making the government partner in your profits by investing in fixed deposits and paying tax.
Returns are not enough to beat inflation
Usually, people above 50 opt for fixed deposits as a means to support their post-retirement life. However, fixed deposit returns are not enough to beat the inflation impact in the long run. Over the last few years, the average inflation rate is varying between 8% and 10%, whereas, most fixed deposits give you returns between 6% and 7%. After tax, the fixed deposit rate can further go down, which is not apt to beat the inflation impact.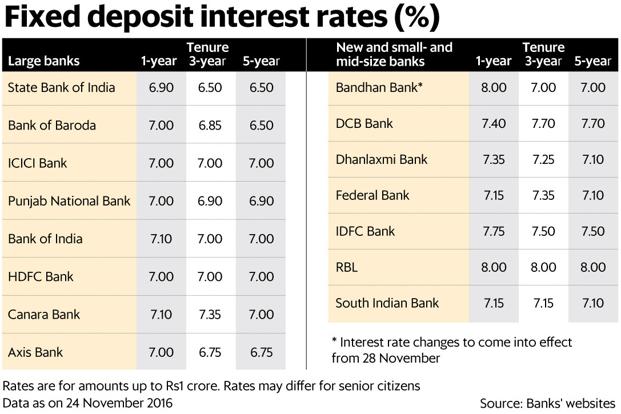 Source: Livemint.com
Penalty on withdrawal of money
There is no doubt that fixed deposits come with a liquidity feature, which means, they can be broken whenever there is a need for money. However, this liquidity feature comes at a cost. If you break your fixed deposits prematurely, you will not get the same interest rate, which is mentioned in the deposit certificate as withdrawal penalty charges between o.5% and 1% would be levied.
Even after 50, when you might be free from your major financial liabilities, like kid's education, marriage, etc.; you need to plan for your retirement as well. And, you can't plan your retirement by relying solely on fixed deposits.
You should go with an investment option that gives:
Tax-Free maturity: Why should you pay tax on returns that you have earned from investments? Go with an investment option that doesn't levy a tax on maturity amount.
High returns: What is the use of investing in that avenue which can give returns merely between 6% and 8%, when the inflation rate is hovering over 9%? Go with an investment option that produces returns more than the inflation
Liquidity without penalty: Life is uncertain and therefore, make sure that the investment option in which you are intending to invest, can meet this uncertainty. Go with an investment option that allows you to withdraw money to meet any urgent needs.
Various unit-linked insurance plans (ULIPs), including retirement plans, of life insurance companies not only generate enough returns to beat the inflation in the long-run, but they also give tax-free maturity.
The best thing about these ULIP plans is that they come with a capital guarantee feature. On the maturity, you will get assured benefit or fund value, whichever is higher. It means, in any case, you will not lose the amount which you have invested. It is a favourable option for those who choose fixed deposits due to their low-risk feature.
Moreover, after a tenure of five years, you can withdraw money to meet your any immediate needs.
In case of fixed deposits, even if the market performs well, you will get moderate returns as decided earlier. However, with ULIPs, you can reap the maximum benefits whenever the market is growing. Further, ULIPs come with life cover to secure your family after your death.
Conclusion
Fixed deposit is a tool to 'save money' and not for the wealth creation. So, while you are inclined towards fixed deposits due to their low-risk nature, their returns are low to keep you going in the long run. Recently, many banks have reduced fixed deposit interest rates and with the decline, the post-tax return on such deposits have gone down, and thus, they have become unviable for the long-run.
The Reserve Bank of India is likely to continue trimming interest rates around the year, and banks/corporates will have to adjust their fixed deposit rates accordingly, while the inflation rate is unlikely to fall.
So, it is essential to think beyond fixed deposits and choose other investment option to secure your life financially.