NewZNew (Chandigarh) : There's a prevalent attitude that women have it rough in the  startup world. Maybe, but they're also equipped with skills and experiences men don't always possess, and this fact can give them an edge when it comes to succeeding in business, and in life. Highlighting the same, fashion show titled "Women With An Edge" based on the buzzing theme women empowerment was organized in Chandigarh to give a strong and a definite message of Women Empowerment to the residents of city beautiful. The theme of the fashion show was to showcase women who hold power and have a remarkable balance managing their personal and professional lives with so much of an elan and ease
'Woman with an edge' was a great initiative which turned out  be one of its kind fashion show where talented females from different industry verticals  walk the ramp in their professional attire, giving a strong message of woman empowerment to the society. Fashion show, Women With An Edge, in Chandigarh was organized to acknowledge the work being done by women and to motivate others who want to stand on their own feet..
It was a trendsetting effort in order to inspire other women who still continue to grope in the dark to provide right balance to their home and workplace.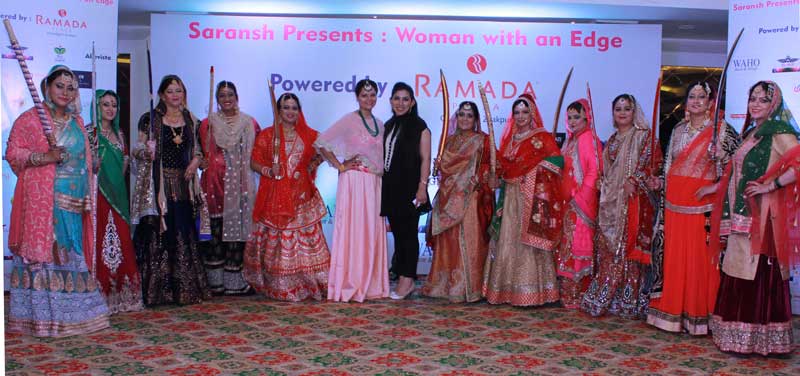 The participants from all walks of life like : – Entrepreneurs, Managers, Doctors, Professionals, Industrialists walked the ramp in order to celebrate womanhood
Women with an edge show is not about lean figures, beauty or fashion. This show in Chandigarh is being held with an emphasis on strong, optimistic and empowered women.
Team Behind Women With An Edge Show
The concept of 'Women with an edge' fashion show is the brain work of Sarab M. Singh and Anshika Gulati and was been organized by Saransh.
Speaking on the occasion Sarab M. Singh and Anshika Gulati said "We thank every body for making this initiative successful and it will be our constant endeavour to keep organizing such programs  in times to come to bring about a remarkable change in the lives of women"
The Notable contestants who participated in the event were;
Navneet Kaur, A Chef. (Owner at Ruby's Delight).
Ruchi Gill, Planning Officer, Punjab.
Dolly Sharma, Educationalist.
Baljinder Dhillon, Marketing Head.
Pragati Gupta, Partner at Pragati Steels.
Roohi Chadha, Teacher.
Neelu Singha, Owner, Precisemax Turners, Mohali.
Gunpreet Arora, Professor.
Sarab M Marwaha, SAC.
Charul Gagneja, Owner, Blitz & Glitz.
Anu Sharma, Owner, Right Concept Staffing Solutions.
Anshika Gulati, Makeup artist.
Sheetal, Fashion Designer.
Rimu Garg, Dentist.
Rupika Nitin Nayyar, Professional.