Xiaomi India partners with Reliance Jio to offer users a 'True 5G' experience: Xiaomi India, the country's No.1 smartphone brand, today announced its partnership with Reliance Jio to offer a 'True 5G' experience to their consumers.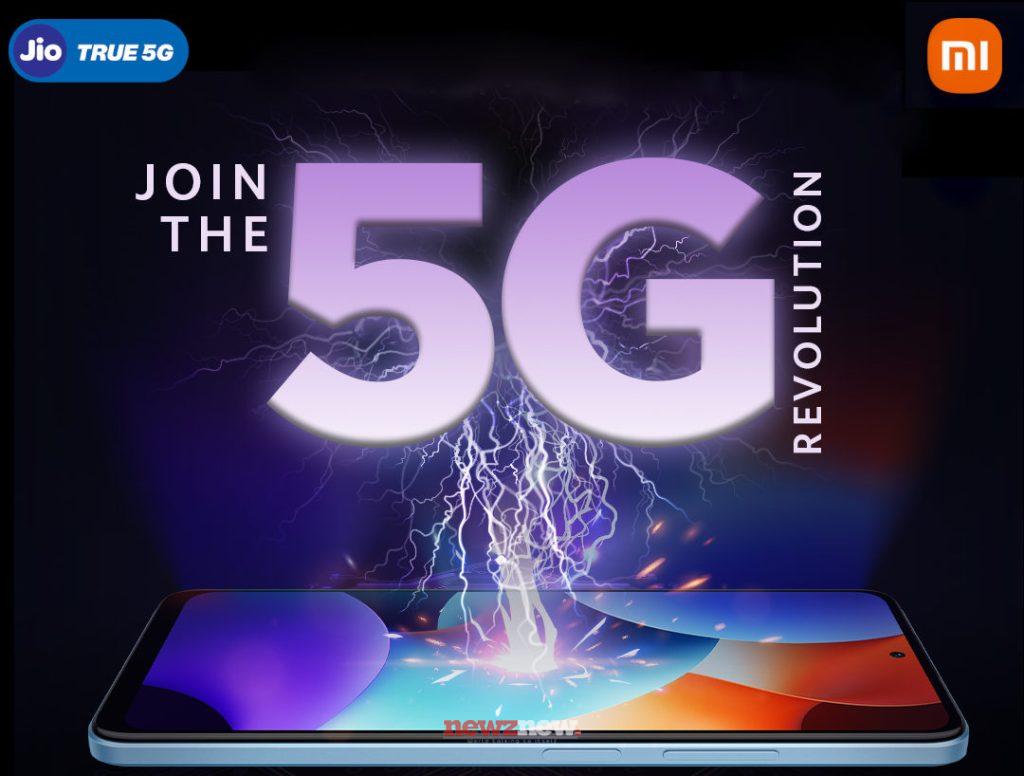 The association will enable Xiaomi and Redmi smartphone users to access seamless True 5G connectivity and stream uninterrupted videos, enjoy high-resolution video calls, and play low-latency gaming on their devices. Users just need to change the preferred network type to 5G in their Xiaomi and Redmi smartphone settings to access Jio's True 5G Standalone (SA) network.
Models supporting SA network have received software update to work seamlessly on Reliance Jio's True 5G SA network. The enabled devices include Mi 11 Ultra 5G, Xiaomi 12 Pro 5G, Xiaomi 11T Pro 5G, Redmi Note 11 Pro+ 5G, Xiaomi 11 Lite NE 5G, Redmi Note 11T 5G, Redmi 11 Prime 5G, Redmi Note 10T 5G, Mi 11X 5G,Mi 11X Pro 5G, Redmi K50i 5G, Xiaomi 11i 5G and Xiaomi 11i HyperCharge 5G.
India is at the cusp of witnessing the next generation of connected digital-first experiences, accentuated by the nationwide 5G. In the past few years, Xiaomi India and Reliance Jio have collaborated strategically and are coming together again to ensure the seamless adoption of 5G.
Xiaomi's smartphones like Redmi K50i and Redmi Note 11T 5G have undergone meticulous testing with Reliance Jio's True 5G network to ensure unhindered connectivity that can truly help elevate users' experience. Today, most 5G enabled devices from Xiaomi and Redmi work best with Reliance Jio's True 5G network.
Commenting on the partnership,Muralikrishnan B, President, Xiaomi India, said "Over the last two years, Xiaomi has been committed to making #IndiaReady5G. We have been spearheading the 5G revolution with smartphones providing a compelling 5G experience with top-of-the-line features at honest pricing. To further enhance consumer experience and connectivity, we are pleased to partner with Reliance Jio's True 5G network. We are hopeful that this will help consumers enjoy the best of 5G with Reliance Jio's True 5G experience on their Xiaomi and Redmi handsets."
Commenting on the partnership Sunil Dutt, President, Reliance Jio Infocomm Limited,"Xiaomi has been an industry pioneer to tap into new technologies and bring forth cutting-edge innovation into the hands of its consumers. With consumers at the centre of everything, enabling True 5G access to the public has been a constant mission for Jio and we are pleased to share that all upcoming Xiaomi 5G devices will feature SA connectivity out of the box, in addition to the existing ones that have been software-upgraded to support True 5G."
Jio True 5G has a three-fold advantage that makes it the only TRUE 5G network in India:
Stand-alone 5G architecture with advanced 5G network with Zero dependency on 4G network
The largest and best mix of 5G spectrum across 700 MHz, 3500 MHz, and 26 GHz bands
Carrier Aggregation that seamlessly combines these 5G frequencies into a single robust "data highway" using an advanced technology called Carrier Aggregation
We look forward to creating unprecedented user experiences with Xiaomi for our customers.
Know More About Reliance Jio Infocomm Limited:
Reliance Jio Infocomm Limited, a subsidiary of Jio Platforms Limited, has built a world class all-IP data strong future proof network with 4G LTE technology. The network is 5G ready with no legacy infrastructure and indigenous 5G stack. It is the only network conceived as a Mobile Video Network from the ground up.
It is future ready and can be easily upgraded to support even more data, as technologies advance on to 6G and beyond. Jio has brought transformational changes in the Indian digital services space to enable the vision of Digital India for 1.3 billion Indians and propel India into global leadership in the digital economy.
It has created an eco-system consisting of network, devices, applications and content, service experience and affordable tariffs for everyone to live the Jio Digital Life.
Know More About Xiaomi Corporation
Xiaomi Corporation ("Xiaomi") was founded in April 2010 and listed on the Main Board of the Hong Kong Stock Exchange on July 9, 2018 (1810.HK). Xiaomi is a consumer electronics and smart manufacturing company with smartphones and smart hardware connected by an IoT platform at its core.
Embracing our vision of "Make friends with users and be the coolest company in the users' hearts", Xiaomi continuously pursues innovations, high-quality user experience and operational efficiency. The company relentlessly builds amazing products with honest prices to let everyone in the world enjoy a better life through innovative technology. According to Canalys, the company's market share in terms of smartphone shipments ranked No. 3 globally in the second quarter of 2022.
The company has also established the world's leading consumer AIoT (AI+IoT) platform, with 526.9 million smart devices connected to its platform as of June 30, 2022, excluding smartphones, tablets and laptops. Xiaomi products are available in more than 100 countries and regions around the world. In August 2022, the company made the Fortune Global 500 list for the fourth time, ranking 266th, up 72 places compared to 2021.
Xiaomi is a constituent of the Hang Seng Index, Hang Seng China Enterprises Index, Hang Seng TECH Index and Hang Seng China 50 Index.
Xiaomi India is the number 1 smartphone player since Q3 2017 IDC Quarterly Mobile Phone Tracker report.
Xiaomi India is the number 1 Smart TV brand since Q2 2018 IDC Worldwide Quarterly Tracker.