'Yaar Anmulle Returns' is now streaming on Zee5: ZEE5 is back with yet another addition to its series of Punjabi content, bringing in 'Yaar Anmulle Returns' for its viewers, as part of the platform's Rajj Ke Vekho campaign.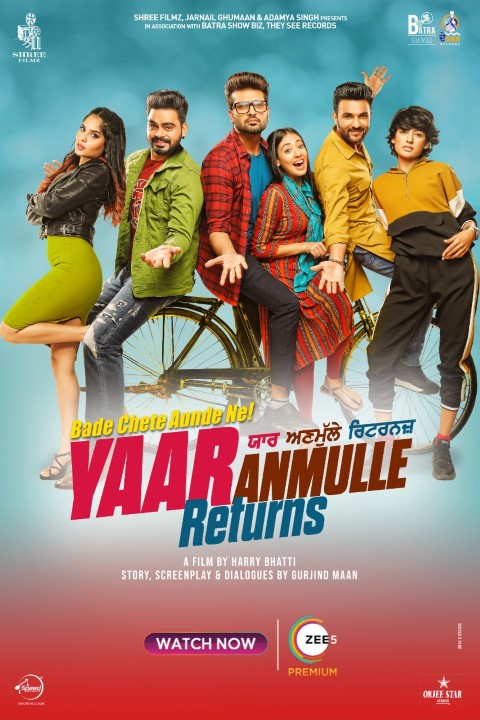 With an aim to bolster the slate of regional content, ZEE5 introduced successful titles namely Puaada, Jinne Jamme Saare Nikamme, Fuffadji, and Qismat 2 in a span of six months since October 2021 on ZEE5.
Yaar Anmulle Returns, a cult Punjabi movie now exclusively available on ZEE5 with a stellar star cast and superhit music is directed by filmmaker Harry Bhatti, while Gurjind Mann wrote the script, story, and dialogues. Harish Verma, Prabh Gill, Yuvraj Hans, Navpreet Banga, Nikeet Dhillon, Jasleen Slaich, Rana Jungbahadur, are other prominent personalities from the cast.
Set in the backdrop of a college drama 'Yaar Anmulle Returns' is a story of three friends, that comprises a tale of friendship, and an emotional rollercoaster that surrounds their lives, tested through varied situations. It is a family entertainer that covers a mix of emotional, and comedy elements. Following Guri, Tinka, and Deep's expeditions during their college days, the story will take the audience on a nostalgic journey to their college days.
Mr Manish Kalra, Chief Business Officer, ZEE5 India said, "Following the success of our Rajj Ke Vekkho campaign, we are seeing great demand for more Punjabi content from our audience. At ZEE5, we aim to enable regional content creators to access global audiences. With an aim to bolster ZEE5's position in the Punjabi market and ensure that we present the best of Punjabi content to our audiences, we have brought forth Yaar Anmulle Returns, one of the best cult movies that will take you on a nostalgic ride".
"I count it as a blessing that my character, Tinka, is receiving so much applause from the crowd and that they are now enjoying the movie with their families at home," says actor Harish Verma, who plays Tinka in Yaar Anmulle Returns. I'm glad the public watched it and is enjoying the film. I hope we receive even more love on OTT."
"The pandemic hindered the release of the film last year," Nikeet Dhillon, who plays alongside Yuvraj Hans in the film, said of her first big project in Pollywood. Thankfully, after theatres now the movie is available on OTT, and I can't thank God enough for all the praise I've received thus far. My character has been well received by the public, and I've received several messages of love and blessings from my fans."
Joining both the stars, the Singer/actor Prabh Gill also said, "We are immensely excited as a team to now present the movie to the audience on the OTT platform. After receiving abundant love from the audience in theatres, I hope the movie receives the same amount of love on OTT as well."
Subscribe to ZEE5 at Rs 499/- annually to watch 'Yaar Anmulle Returns' now streaming exclusively on ZEE5.
Know More About ZEE5
ZEE5 is India's youngest OTT platform and a Multilingual storyteller for millions of entertainment seekers. ZEE5 stems from the stable of ZEE Entertainment Enterprises Limited (ZEEL), a Global Content Powerhouse. An undisputed video streaming platform of choice for consumers; it offers an expansive and diverse library of content comprising over 150+ web series 3,500 films; 1,750 TV shows, 700 originals, and 5 lakhs+ hours of on-demand content.
The content offering spread across 12 languages (English, Hindi, Bengali, Malayalam, Tamil, Telugu, Kannada, Marathi, Oriya, Bhojpuri, Gujarati, and Punjabi) includes best of Originals, Indian and International Movies, TV Shows, Music, Kids shows, Edtech, Cineplays, News, Live TV, and Health & Lifestyle. A strong deep-tech stack, stemming from its partnerships with global tech disruptors, has enabled ZEE5 to offer a seamless and hyper-personalized content viewing experience in 11 navigational languages across multiple devices, ecosystems, and operating systems