YES BANK and SHEROES launch YES Essence Plus accelerator to support women entrepreneurs: YES BANK announced the launch of YES Essence Plus – a unique accelerator program to support women-led startups in partnership with SHEROES, the women-only social network.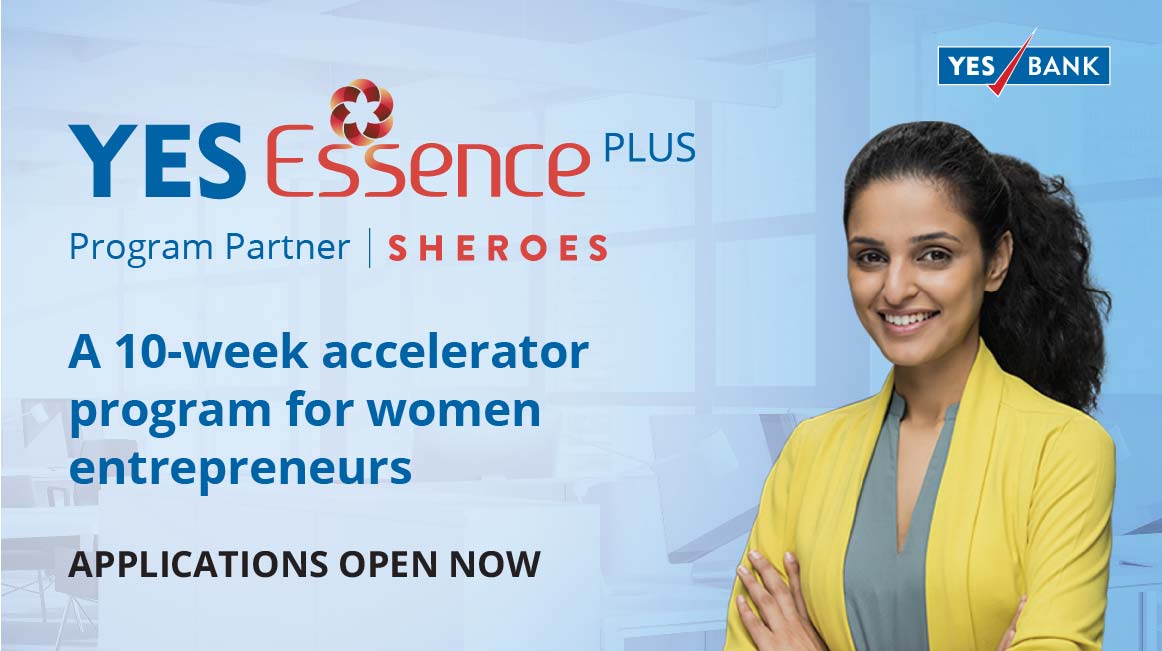 Over a 10-week period, the cohort startups will receive customised training through virtual workshops conducted by industry experts. The curriculum will focus on building skills such as financial management, legal, fundraising, marketing, and effective leadership.
The accelerator culminates with a final Demo Day, where the startups will then present their ideas to venture capital partners, Bharat Innovation Fund, CIIE A and 3one4 Capital. Leading accelerators like the GAIN, Strategy Garage and WSquare will support in outreach as ecosystem partners.
YES Essence Plus invites applications from women-led startups across India. The applications will be screened, and the shortlisted applicants will be interviewed by a committee comprising leaders from YES BANK and SHEROES, along with industry experts.
Speaking on the launch, Jasneet Bachal, Chief Marketing Officer, YES BANK, said, "We are delighted to partner with SHEROES and launch this unique accelerator that encourages and brings together ambitious women entrepreneurs. We aim to build this incredible community that enables women founders to build extraordinary businesses. This cohort of supportive mentors, coaches, corporates and investors will play a crucial role in empowering entrepreneurs through their expertise – right from initial product development, go to market to growth phase. We believe this will pave the way to further develop ideas, creativity and entrepreneurship – thereby accelerating women's growth in the startup ecosystem."
Sairee Chahal, Founder, CEO – SHEROES, said, "Investing in Indian women entrepreneurs is the key to accelerating India's GDP growth to 9 to 10%, and improving our gender indices. SHEROES has built a robust online ecosystem that offers mentorship, upskilling opportunities, network connections and community support over the last few years. With the launch of the YES Essence Plus Accelerator, we aim to nudge more women entrepreneurs into the league of successful, scalable, sustainable businesses."
Key benefits for women entrepreneurs:
Access to mentorship by a prominent group of founders, investors and industry leaders
Weekly curated sessions, online events and expert chats to help address the challenges and drive goals of the startups
Gain access to VCs and first-hand experience on how to pitch your start-up
Avail discounts on 25+ business solutions such as CRM, billing, GST, accounting and other relevant software through technology partner, Techjockey