Correspondent (Delhi) In line with the vision of our Hon'ble Prime Minister .Narendra Modi related to the growth potential of Indian tourism. ExperienceBharat was inaugurated at an event held at NCUI complex in presence of industry leaders including dignitaries from Cooperatives, Tourism, Bollywood, aviation amongst others. The launch saw a hooting response attended by around 120 delegates comprising bureaucrats, industry leaders, national cooperative federations, academia, and Chambers. Experience Bharat aims to promote and develop Indian Tourism for improvising lives of our countrymen by generating an additional million employment opportunities through increased tourism inflow, destination development and related skillset development initiatives.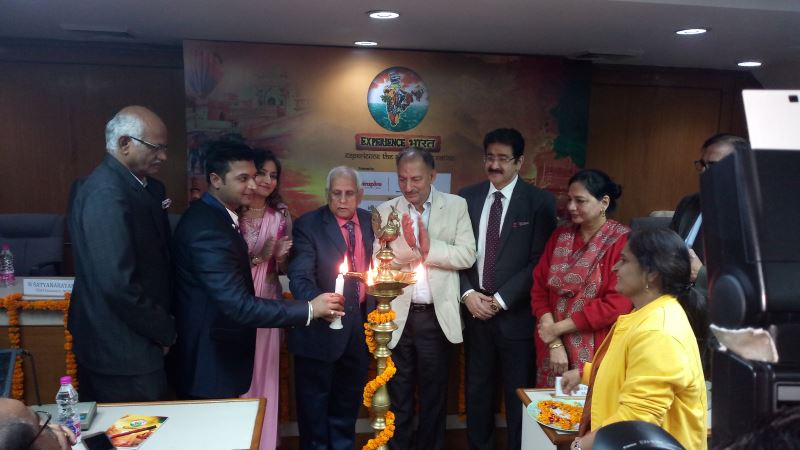 Tourism being one of the most labour intensive industry, people from different skilsets are required. Thereby by targeting increased tourism flow to the nation, the campaign enables the creation of employable skills among youth belonging to economically weaker sections of the society in the age group of 18- 35 years with the basic objective to reduce the skill gap affecting the hospitality and tourism sector and to ensure the spread of economic benefit of tourism to the poor. A pilot project was successfully driven in 2014 in alliance with the local authorities to develop Manila, a mountain hamlet located in Uttaranchal.
Initiated by Travinspire, Dubai based entrepreneurial venture in association with National Federation of Tourism and Transport Co-operatives of India Ltd., the campaign aims to position India as a numero-uno destination across the world.The event brought the requisite stakeholders onboard to discuss the challenges faced by Indian tourism along with the route map to overcome them.
"Film tourism have always been instrumental in promoting Tourism assets of the nation, ExperienceBharat gives a 360 degrees perspective to the overall mission" – as quoted by Mr.Sandeep Marwah, Founder, Noida Film City
"Let us join hands to reinstate the glory of Bharatvarsh while ensuring economic prosperity for our countrymen through the massive opportunity in Indian tourism"- as quoted by Mr.Gaurang Harit, Founder – ExperienceBharat.
"We want to make the world see the progressive side of modern India while alleviating poverty through employment generation in our great nation"- as quoted by Mr.Harish Saini, Chief Operating Officer – ExperienceBharat.