Youngsters on motor bikes spend time with dairy farmers at Rangarh Village : The group of sixteen bikers who have undertaken a trip from Jammu to Anand, passed through the fields of Punjab to halt at Rangarh Village Dairy Cooperative Society near Attari border, on Sunday morning.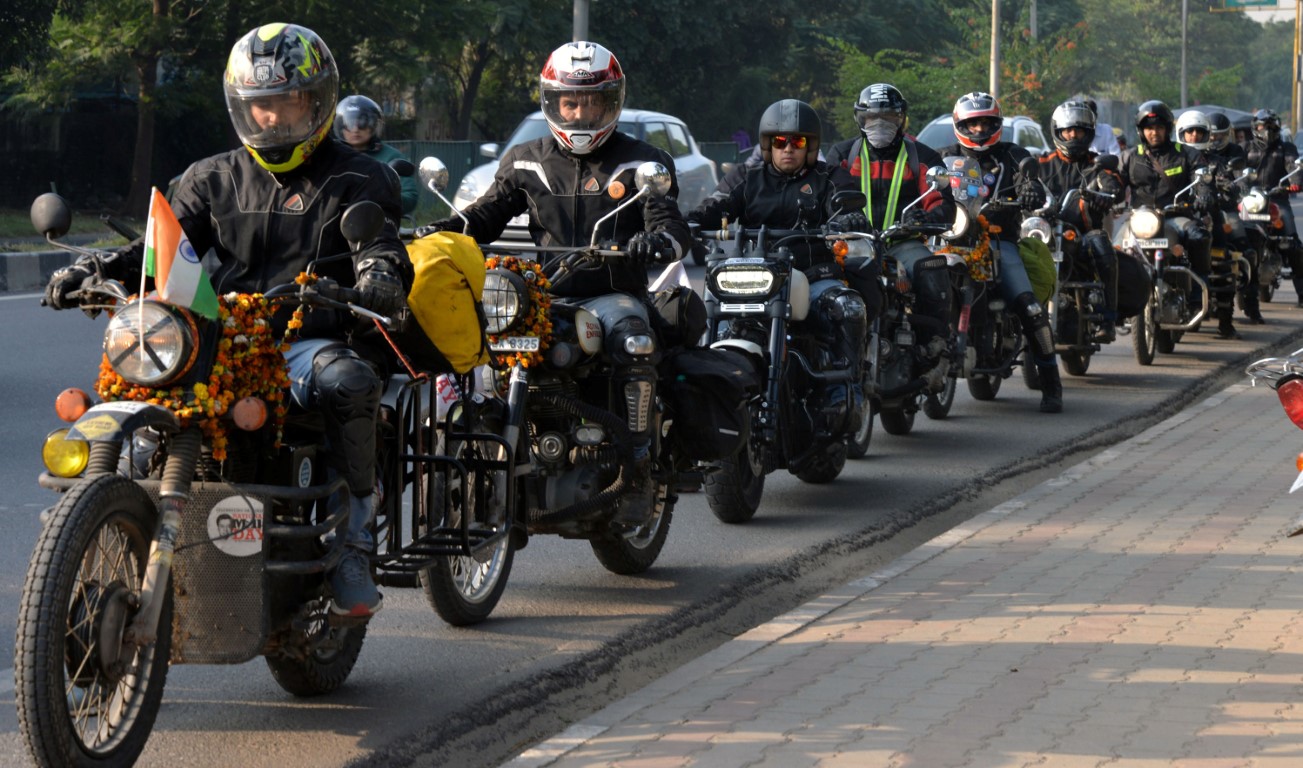 They were humbled by the hospitality extended by the dairy farmers who welcomed them with a ride on their tractors, followed by song and dance.
After a touching meet-and-greet with the farmers, Dr Kurien bike rally left for Wagah Border to salute the soldiers. As they gushed passed Amritsar-Delhi Highway, they were joined by Bhangra dance troupes who then escorted them to Ludhiana Branch of GCMMF Ltd. A traditional welcome with garlands, tilak and sweets was extended by the channel partners of the dairy gaint Amul.
The young group of bikers furthered their understanding about Dr VergheseKurien's contributions through the speech of Dr. A K Puniya [Dean, College of Dairy Sciences and Technology, Guru Angad Dev Veterinary and Animal Sciences University (GADVASU)]who was the Guest of Honour on the occasion.
In line with Dr Kurien's particularity with respect to cleanliness and hygiene, an 8-year old girl child spoke about the Swach Bharat Abhiyan. The dignitaries then flagged off the rally which will travel towards Chandigarh today. At Chandigarh, Punjab State Cooperative Milk Producers' Federation Limited, which markets the brand 'Verka' will welcomeDr.Kurien rally to its dairy at Mohali, Punjab. The Chief Guest on this occasion would be Shri Udham Singh(General Manager, Verka).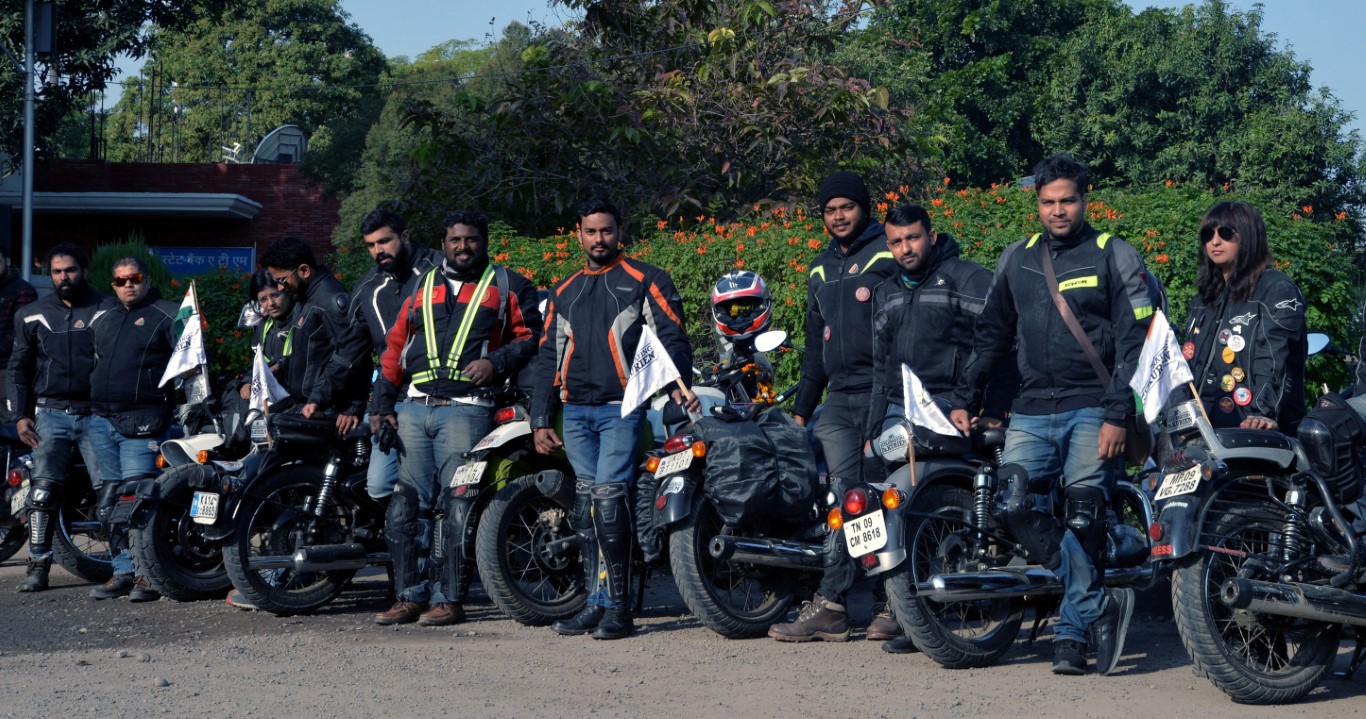 This 10-day motorbike rally spanning over 3000 kminvitesparticipants to join any of the 2 routes it would traverse. The first route would be from J&K to Anand, Gujarat, and the second would be in the heartland of Gujarat from Kutch to Anand. Throughout their journey, the bikers will meet people and visit institutions created and inspired by Dr Verghese Kurien. In a style that would attract the Indian youth, '#CelebratingDrKurien' will explore the life and work of the man who turned India from a milk deficient nation to one of the largest producers of milk in the world.
This interesting expedition titled'#CelebratingDrKurien' aims to keep afresh the value of Dr. Kurien's contributions in the minds of all, especially the youth. The idea is to cherish the legend by hearing his story directly from the people who he touched. Visits to the institutions that were inspired by him are tobring about a sense of deeper appreciation for the spirit of cooperation and the daily availability of milk that we take for granted.
A team of 50 bikers who started their ridefromthe paradisiacalJammu & Kashmirpassed through Amrisar and Ludhiana yesterday to reach Punjab this morning on Monday. From here, they will move towards the Capital of India – New Delhi and then go westwards through the royal state of Rajasthan, toculminate in a grand finale at Anand (Gujarat), the 'milk city' where Dr. Kurien spent a major portion of his life. Another team of bikers will navigate the heart of Gujarat as they traverse through Kutch – Rajkot – Porbandar – Junagadh – Amreli – Bhavnagar – Surendranagar – Godhra – Ahmedabad – Anand.
The Jammu team will enter Gujarat on November 25 where they will join the bikers of the 'Kutch to Anand' route at Ahmedabad. The 'Kutch to Anand' route of Dr. Kurien rally will flag off from Sarhad Dairy, Lakhond in Bhuj, on November 21. This route will be a treat for bikers who will traverse through the heart of Gujarat 6 days.
On 26th November, 2018, Dr. Kurien rally will culminate in his karmabhoomiAnand; Dr. Kurien's messengers will be welcomed in all splendour fitting to his contribution towards mankind.
State Milk Federations join hands
Various State Milk Marketing Federations who market popular brands like Snowcap, Verka, Vita, Mother Dairy, and Saras, will also join hands with GCMMF-marketed brand Amul – thus making for a fitting tribute to The Milkman who transformed the dairy industry in India.
In its first edition in 2017, Amul celebrated National Milk Day with a 7-day bike rally spanning 1800 kilometres from Dr. Kurien'sjanmabhoomi in Kozhikode, Kerala, to his karmabhoomi in Anand, Gujarat. The State Milk Marketing Federations which participated back then were Milma, Nandini, Goa Dairy, Gokul Dairy, Katraj Dairy. In the run-up to Dr. Verghese Kurien's centenary birth anniversary in 2021, brand Amul plans to augment these celebrations every year, inviting voluntary cooperation from various people and institutions – a fitting tribute to the legend who taught us the value of cooperation.