Shoolini University announces scholarships for wards of cancer survivors
Star Indian cricketer, entrepreneur and humanitarian, Yuvraj Singh today launched an offsite centre for his foundation – YouWeCan at the Solan based Shoolini University in collaboration with volunteer students who are supporting his foundation working towards cancer awareness. He was at the university to talk about his vision for YouWeCan and encourage the work done by the university students.
Shoolini University today also announced scholarships for wards of cancer survivors and MoU was signed on the occasion with regard to the Shoolini students who are already volunteering for the cause.
Yuvraj also addressed a packed gathering of students and staff at the 'Guru Series Lecture' of the university. In a candid conservation, he shared a number of anecdotes about his career, fight with cancer and his dream to spread awareness via his foundation – YouWeCan.
He shared how his mother has been a great support in his recovery, adding that the wishes of people of this country had helped a lot in his recovery. He said it is difficult to generate funds and hence would like more people to join the initiative.
Earlier that day, Yuvraj inaugurated the new cricket ground of the university named after him, which was followed by a Kashmir Willow tree plantation initiative. The plantation signified the country's love for cricket as the Kashmir Willow is used for making quality cricket bats.
The ace cricketer also interacted with Shoolini students who are volunteering with YouWeCan. The students, as part of their social project, have been working to spread awareness about cancer in Solan and surrounding villages for the past few years. They have also conducted cancer awareness and detection camps, rallies and street play to promote early detection of the diseases. Yuvraj also inaugurated the YouWeCan Shoolini Office at the university premises from where all the students' activities of the foundation at Shoolini will be coordinated.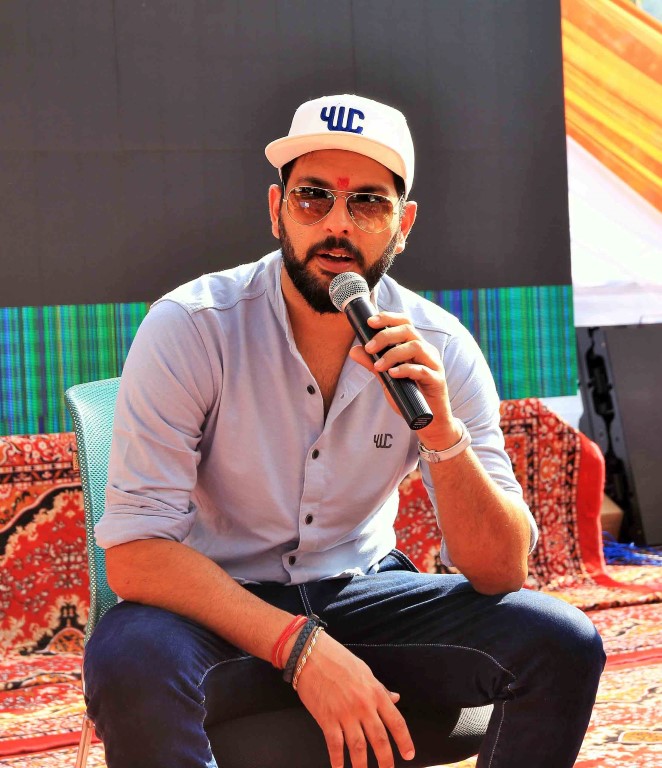 Speaking on the occasion, Yuvraj Singh said, "I am always the happiest being around young, energetic and positive minds. This is what I have witnessed here at Shoolini University today. The campus is brimming with talent and it is really heartening for me to see like-minded students who have taken up and shared my cause and passion associated with YouWeCan foundation. Together I believe we can achieve a lot for cancer awareness and work towards making the world a better place for cancer survivors."
In 2012, Yuvraj Singh started YouWeCan, an initiative to combat cancer by spreading awareness about the disease and fighting the stigma attached to it.
Expressing his gratitude, Prof PK Khosla, Vice Chancellor of Shoolini University, said that it was glorious day for the university, as a youth icon like Yuvraj had shared his experiences with the students and staff. He expressed hope that like Yuvraj, the students of the university would follow their passion and make the country proud.