NewZNew (S A S Nagar) : The Ambassador of Zimbabwe, Maxwell Ranga, arrived here today to meet seven children operated recently at Fortis Hospital Mohali under Rotary Club Chandigarh's Heartline programme.
Seven children had arrived fortnight back for free heart surgery at Fortis Hospital Mohali, which is one of the partner hospitals for Rotary Club of Chandigarh's Heartline Project.
The Zimbabwe Ambassador and past Rotary International President Rajendra K Saboo were received by the management of Fortis Hospital along with Dr T S Mahant, Executive Director, Cardiothoracic and Vascular Surgery and the team of heart surgeons who had successfully operated on the children.
Rotary Club of Chandigarh initiated the project of free-heart surgeries in 1999 with PGIMER and since 2006 with the Fortis Mohali, and since then has completed 620 surgeries of poor children from India, and quite a few from the developing world, said R K Saboo.
Mr Saboo said Rotary's fruitful partnership with Fortis Mohali had saved the lives of over 450 children since 2006.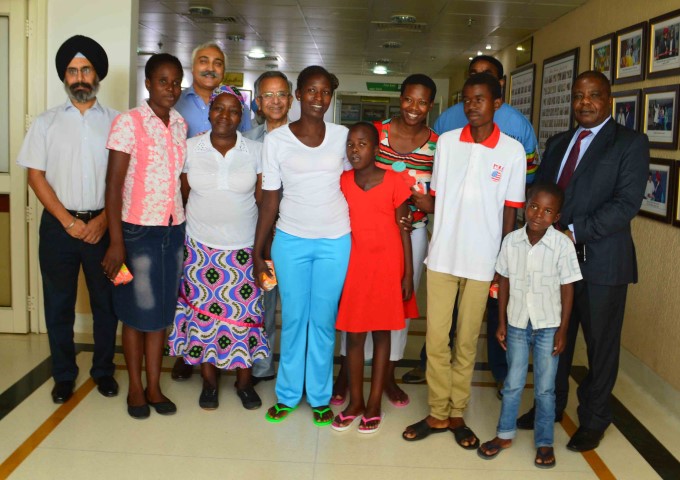 The Rotary Club of Chandigarh has been able to save lives of nearly 620 children since the inception of the project including 120 from children from Afghanistan, Nepal, Pakistan, Iraq, and African countries of Malawi, Nigeria, Uganda, Rwanda and Zimbabwe.
Zimbabwe's ambassador Maxwell Ranga commended the Rotarians and team of cardiologists from Fortis Hospital for their humanitarian work.
"It's a project that is very dear to our hearts as it reflects our commitment to the cause of quality, compassionate patient care and being a support system for the underprivileged and vulnerable sections of the society. It's a privilege to work with Rotary Club of Chandigarh and we specially thank Mr Saboo, who had started this project, for his tremendous efforts and support to the cause," Mr Abhijit Singh, Facility Director, Fortis Hospital, Mohali said.
Mr Saboo, who had been leading the medical missions to African countries, had been approached by the respective governments to help them save the lives of some of these children who are in need of heart surgery.  About 10 children from Zimbabwe, 10 from Malawi  and 20 from Rwanda were promised heart surgery who have been operated at Fortis Hospital, said President of Rotary Club of Chandigarh Neenu Vij. Five of the seven children were accompanied by their parent along with nurse Arnol Nyoni.