newznew (Chandigarh) : To mark 'Mothers Day', Max Super Speciality Hospital, Mohali organized an infotainment carnival with an aim of 'Pampering Motherhood' at a hotel here today.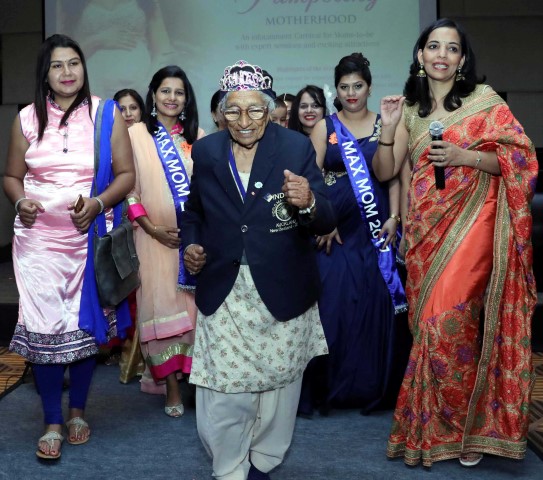 During occasion, a health awareness talks, talent show, interactive sessions and a specular 'Ramp Walk' were held where soon-mothers-to-be and mothers of kids less than of 2-year from tricity participated.
The star of show and chief guest was Man Kaur, a  famous 101-yr old international personality from Chandigarh who has been dubbed 'Miracle Mom from Chandigarh'  after winning 100-meter sprint at the World Masters Games in Auckland recently . The win was her 17th gold medal in her remarkable late-blooming athletic career.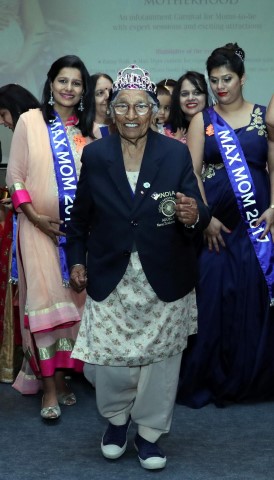 Narrating her journey, Man Kaur said she took up athletics only eight years ago at the tender age of 93, she had no prior supporting experience before her son suggested she join him in competing on the International Masters Games Circuit.
During occasion, Dr Seema Sharma Associate Director, Gynaecology said that pregnancy and childbirth are one of the most challenging milestones of a woman's life which takes its toll on her physical, emotional, mental & professional life.
Dr Sharma further revealed that she has launched a social networking group , 'Blessed  Moms'  which offer support services to mothers to combat this major health problem. The group which has over 300  mothers as members is a platform for mothers to get the desired support they need most during pregnancy & postpartum period.
The group includes gynecologists, child specialist, lactation experts, nutritionists and physiotherapist and of course the Mothers themselves who offer each other 24×7 support to cope up with health and child rearing issues.
Sandeep Dogra, senior vice president and zonal head of Max Hospitals, Punjab said that Max is committed to the cause of upliftment of women's health and safe Motherhood by organizing regular Antenatal workshops for expecting parents.
Meanwhile the programme started with felicitation of some well-known female personalities including Divya Khera an entrepreneur and a well-known fiction and non-fiction writer for television  and film industry. Divya was honoured as she has set an example by achieving this stature despite being a mother of 3 from a small town.
Rinku Malik, choreographer and Director Rhythm Dance Academy and Anju Sharma, winner of Max Mom Contest both young mothers, enchanted the audience with their performance during occasion.