10th City Gas Distribution (CGD) Bidding Round Roadshow held at Chandigarh : Petroleum and Natural Gas Regulatory Board (PNGRB) organized a roadshow for promoting 10th City Gas Distribution (CGD) bidding round at Hotel Taj.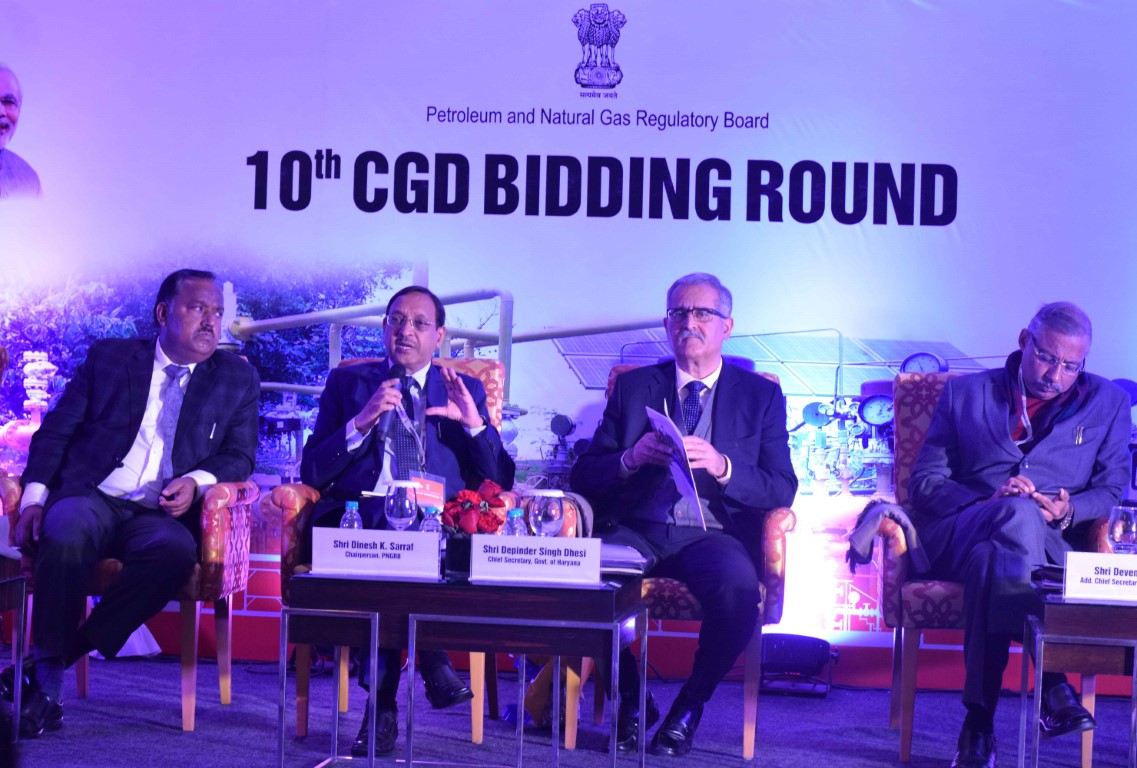 Petroleum and Natural Gas Regulatory Board (PNGRB) is the nodal agency for facilitating economic activities in natural gas distribution with the objective to promote competitive markets, create infrastructure and increase share of natural gas in country's energy mix.
PNGRB has so far successfully concluded 9 CGD Bidding Rounds for selection of authorised entities for development of City Gas Distribution (CGD) networks in their Geographical Areas (GAs).  The recently concluded 9th bidding round for 86 GAs covering 174 districts in 21 states/ UTs was a huge success attracting interest from investors in all offered GAs.
The 10th CGD Bidding Round offering 50 GAs was launched by Hon'ble Prime Minister, Shri Narendra Modi on 22nd November, 2018 at Vigyan Bhawan, New Delhi.  This roadshow is the 1st in a series of roadshows being planned across India by PNGRB over next 3 weeks and witnessed participation from the senior Government officials, oil and gas companies, industry and academia. Depinder Singh Dhesi, Chief Secretary, Govt. of Haryana was the Chief Guest.
"At present, CGD authorization has been given by PNGRB in 10 GAs in state of Punjab covering 13 districts namely SAS Nagar, Patiala, Sangrur, Ludhiana, Barnala, Moga, Jalandhar, Kapurthala, SBS Nagar, Amritsar, Bhatinda, Rupnagar, and Fatehgarh Sahib. In the 10th CGD bidding round, 3 GAs covering 6 districts- Mansa,, Ferozepur, Hoshiarpur ,Faridkot, Sri Muktsar Sahib and Gurdaspur are being offered".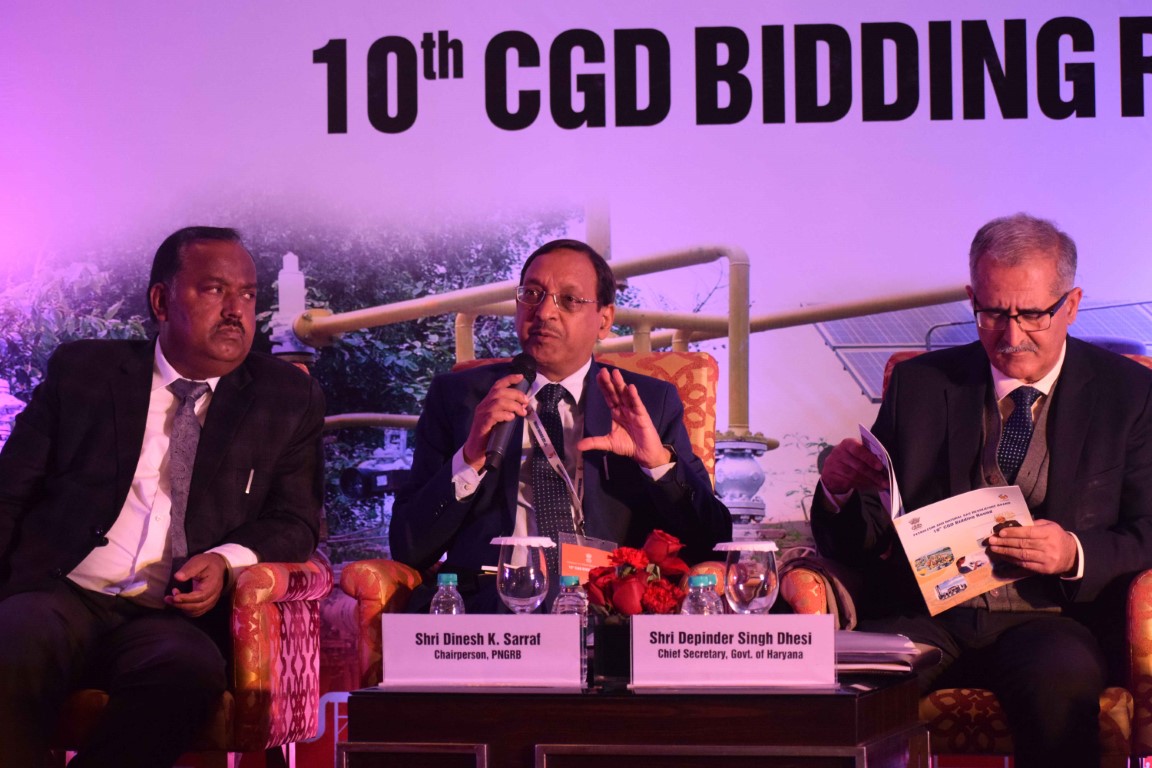 CGD authorization has been given by PNGRB in 13 GAs in state of Haryana covering 16 districts namely Sonipat , Panipat, Yamunanagar, Rewari, Rohtak, Karnal, Ambala, Kurukshetra, Panchkula, Bhiwani, Charkhi Dadri, Mahendragarh, Hisar, Jind, Nuh and Palwal. In the 10th CGD bidding round, 2 GAs covering 3 districts of Sirsa , Fatehabad and Kaithal are being offered. It may be noted that a total of 4 GAs are on offer for both the state combined with Sirsa, Fatehabad (Haryana) and Mansa (Punjab) Districts grouped in 1 GA.
After the 10th round, States of Punjab and Haryana and UT of Chandigarh would be fully authorized for development of CGD Networks.
This is a big initiative towards providing clean energy to the users in Haryana, Punjab and UT of Chandigarh. In the presentation on the 10th CGD bidding round, PNGRB highlighted the opportunities in the oil and gas sector in India and in the CGD business in particular. India's story in the natural gas sector, increasing domestic production and LNG imports to meet gas demand ; along with the country's commitments at COP21, has pushed the Indian government to bring in sweeping policy changes that are giving a boost to the domestic gas market.
The roadshow was marked by the presence of Shri Depinder Singh Dhesi, Chief Secretary, Govt. of Haryana. Mr. Dhesi mentioned that similar to transition from GSM to 4G, the Energy Sector is also in transition Phase from Petrol, Diesel to PNG. "Under the aspirational district program of Niti Ayog, Palwal and Nuh have been taken up as backward districts for focused intervention by various departments and I make a special request that roll out of scheme in district Nuh be taken up on priority.", he said. "PNGRB needs to be complimented for the proactive approach it has taken to roll out this program and I am confident that for the 10th round also, the industry would respond with great enthusiasm", he further added.  "This initiative by PNGRB would provide benefits to the people of Haryana, and the Government of Haryana would provide all the necessary support required to fructify this plan", he said.