Provides scholarships to 14 aspiring Engineers and Scientists
Opportunity for higher professional education in Japan
newznew (Chandigarh) : Honda Motor India Pvt. Ltd. (HMI) today presented the 10thEdition of the Young Engineer and Scientist's (Y-E-S) Awardfor 2016to 14 students from India's premium science and technology institutes, the IITs, across India.
The Y-E-S Award was instituted by Honda Foundation in India in the year 2007. In India it is facilitated by Honda Motor India to nurture young students who have excelled in the area of science and technology and aspire for higher academic achievement. With this program, HondaFoundation hopes to promote dissemination of eco-technology among the young generations. It also provides platform for Japanese & Indian students to interact and exchange ideas related to  science, technology and industry.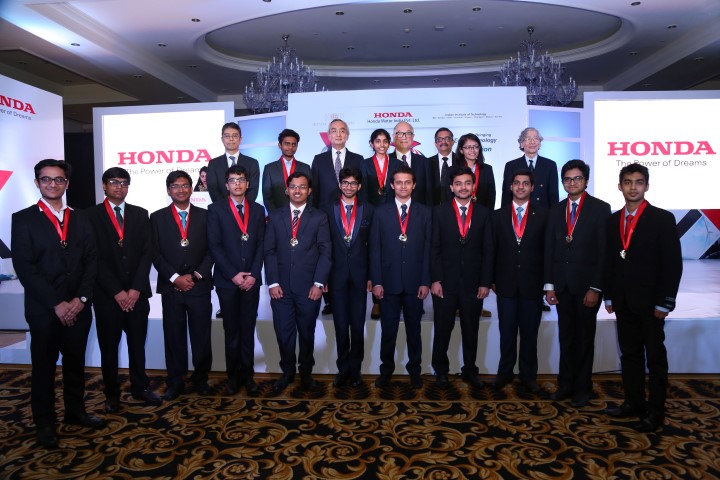 Y-E-S Award is being given every year to bright students of the IITs after a rigorous evaluation by a panel of senior Honda executives and prominent Indian scientists.
The Chief Guest H.E. Kenji Hiramatsu, Ambassador Extraordinary and Plenipotentiary, Embassy of Japan, presented the Award to the students in recognition of their outstanding all-round performance in academics.Also present on the occasion, was Hiroto Ishida, President, Honda Foundation who was the Guest of Honor. 
A scholarship of cash equivalent of US $3000 each, was presented to 14 students selected from eight IITs – Delhi, Bombay, Roorkee, Madras, Kharagpur, Kanpur, Guwahati and BHU on the basis of their Cumulative Grade Point Average (CGPA), Essays and 2 rounds of personal interviews with the selection committee of Honda Executives and ShirishGarud,Director- TERI, the chief assessor of the selection committee.
Talking about Y-E-S Award, Kenichi Takashima, President & CEO, Honda Motor India Pvt. Ltd.said,"We are very pleased to announce the 10th edition of Y-E-S Award. The journey has been phenomenal and we have received tremendous response and enthusiasm from the IIT students who put in their best efforts to showcase their work. So far we have awarded 126 such students in 10 years. Such platform encourages young professionals to involve in higher research in the field of technology. We want to provide them the opportunity with Y-E-S Award so that they can fulfill their dreams."
The awardees for Y-E-S Award 2016 in India are:
| | |
| --- | --- |
| Yashkhandelwal | IIT BHU |
| Nikhil VinayAgarwal | IIT BHU |
| Karan NareshChadha | IIT Bombay |
| ArunabhSaxena | IIT Bombay |
| AnshulBasia | IIT Delhi |
| Jithin Krishnan B | IIT Guwahati |
| KarttikeyaMangalam | IIT Kanpur |
| Abhineet Singh Rajput | IIT Kanpur |
| ChinmoySamant | IIT Kharagpur |
| Raghav Sanjay Sonavane | IIT Kharagpur |
| VedasriGodavarthi | IIT Madras |
| AjithkumarNarasimman | IIT Madras |
| SonaliSrijan | IIT Roorkee |
| ShethManthan Rajesh | IIT Roorkee |