A Spiritual gathering that aims for Inter Religious Peace & Harmony
newznew (Chandigarh) : The Ahmadiyya Muslim Community India is holding its 122nd Jalsa Salana (Annual Convention) in its country's headquarter, Qadian, District Gurdaspur, Punjab from 26th to 28th December 2016. Ahmadiyya Muslims from over 50 countries are expected to participate.
Before 125 years ago, in 1891 the founder of the Ahmadiyya Muslim Community Hazrat Mirza Ghulam Ahmad of Qadian, the Promised Messiah, by the command of God initiated this spiritual event to promote Inter-Religious Peace & Harmony. This year marks the 125th Anniversary of this Spiritual Jalsa.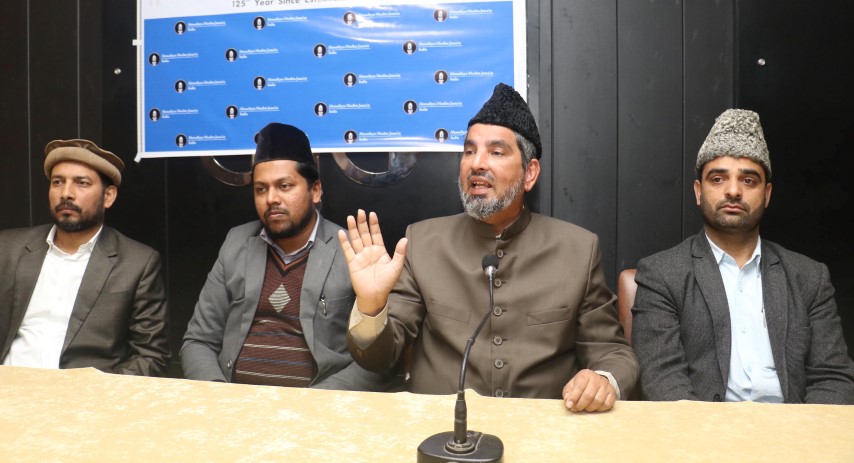 Tariq Ahmad K, spokesperson of Ahmadiyya Muslim Ja'amat India, in a press conference here said, "The Objective of this Jalsa is to present the pure, pristine and peaceful teachings of Islam. Likewise to call people towards their creator, to develop love, affection and compassion among the creations of God, to promote brotherhood are among the noble objectives of this Jalsa.
This Jalsa is totally a spiritual gathering in which people from all over the country put back their worldly interests and take part in this spiritual convention for the sake of God. The Ahmadiyya Muslim Community spans over 209 countries of the World. Members of the community from most of these countries participate in this Jalsa held at Qadian, he informed.
In this 3 day gathering a special "World Religions Session" is also conducted in which leaders and scholars of various religions present the beauty of their religions and express solutions for world problems in the light of their religious teachings to promote peace and harmony in today's turbulent times. All the speeches of this Jalsa shall be translated simultaneously in various Indian and world languages for the convenience of the participants.
The Key address of this Jalsa shall be delivered by the Worldwide Head of the Ahmadiyya Muslim Community, the Khalifa of Islam Hazrat Mirza Masroor Ahmad. His holiness shall address the gathering from London and his address will be telecasted live on the community's satellite channel Muslim Television Ahmadiyya (MTA).
The Message which the Ahmadiyya Muslim Community India conveys through this gathering is that Man should turn towards his creator and the principle "Love for All Hatred for None" should be followed and all men should unite together for the benefit and uplift of mankind.
Among prominent present included Shriaz Ahmad Additional Chief Secretary Ahmadiyya Muslim Community, Tariq Ahmad Ahmadiyya Spokesman, Shafiq Ahmed President Ahmadiyya Community New Delhi, Mujahid Ahmad Jalsa Press Coordinator, and Mujeeb Lone Ahmadiyya Missionary.