Big Chandigharh Marathon: over 15,000 run to raise environmental awareness
More than 15000 run for "A better future" in"BIG Chandigarh Marathon"
Over 1000 Participate in 21.1 Km Half Marathon & 15000 join hands in 5 km Fun Run
Mega Sports event of City Beautiful "Big Chandigarh Marathon season 6" was held today on the city roads in Association with  Green Lotus Saksham, an upcoming eco-friendly, green residential project of the Tricity.  The theme based marathon this year promoted the message of making Chandigarh a better place to live in with "Go For It. Run for a better future". The marathon was divided into two parts one for General Public 5km and other Half Marathon 21.1 kms for professional runners.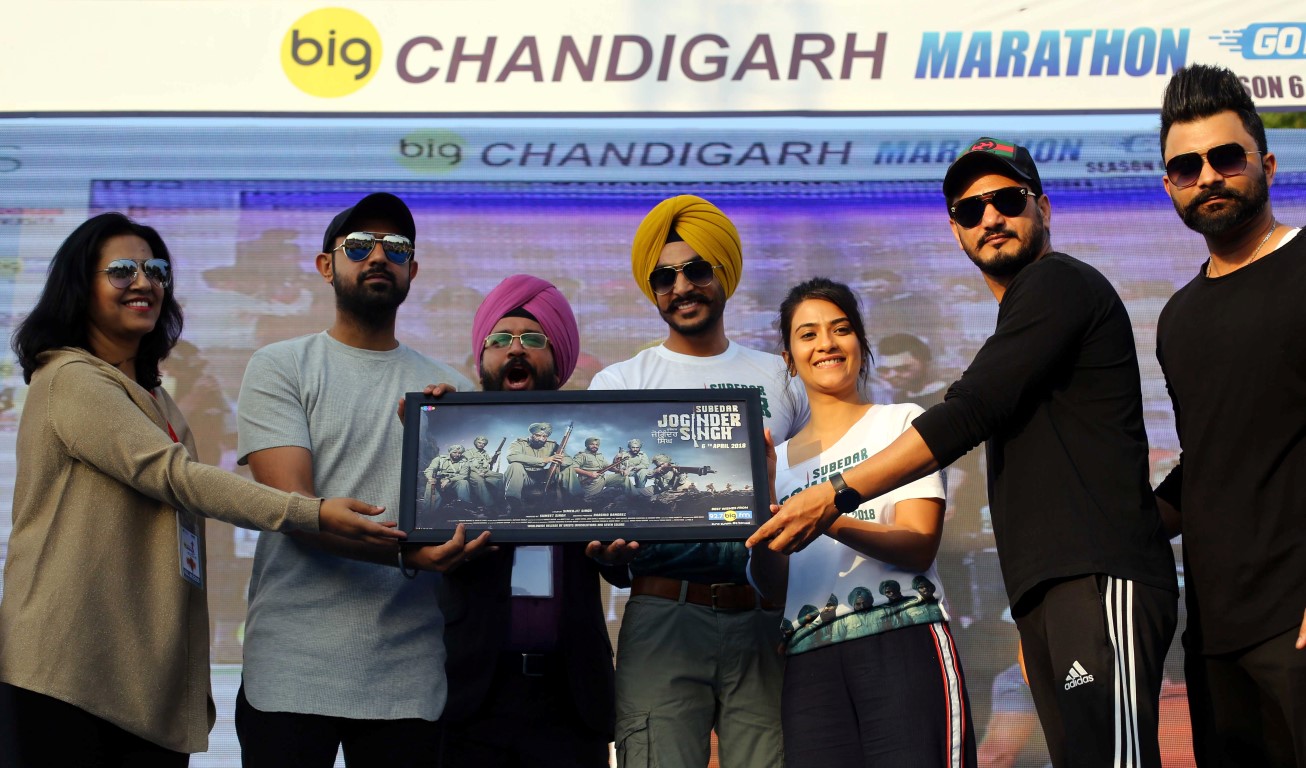 The Marathon generated tremendous response & wonderful life time experience for thousands of Chandigarhians. The highlight of the Big Chandigarh Marathon season 6 was the entertainment quotient added by the presence of Starcast of Punjabi Movie Subedar Joginder Singh starring Actor and Singer Gippy Grewal, Aditi Sharma, Kulvinder Billa & Jaggi Singh.
21.1 Km Half Marathon Professionals Race was Flagged off by Arjuna Awardee and Padma Shri Awardee Ace Athlete Sunita Rani (Gold medalist in the 1500 m and a bronze medalist in the 5000 m during the 14th Asian Games) & Sulakshna Bramta Regional Programming Head, Big FM, in the presence of local authorities, celebrities & dignitaries from Chandigarh Administration at Chandigarh Club Grounds. 5 km 'Run for a better future' was flagged of by Actor and Singer Gippy Grewal . Starcast of the Punjabi Movie Subedar Joginder Singh starring Actor and Singer Gippy Grewal, Aditi Sharma, Kulvinder Billa & Jaggi Singh provided audience heady dose of entertainment .
Over 1000 participants ran for the Half Marathon &  15000 Amateurs, Students from Schools & Colleges, Employees, Males & Females, General Public including Sr Citizens turned out in 5 km 'Run for a better future' as a part of biggest sports event of Chandigarh . Every kilometre in this 5km run was dedicated to a cause like Run For Fitness, Run For Safety, Run For Cleanliness, Run For Environment which are paramount in Tri-City and affect the society at large.  The event saw maximum turnout in the 5 Km FUN RUN with residents of Tricity and many more joining from other neighboring states.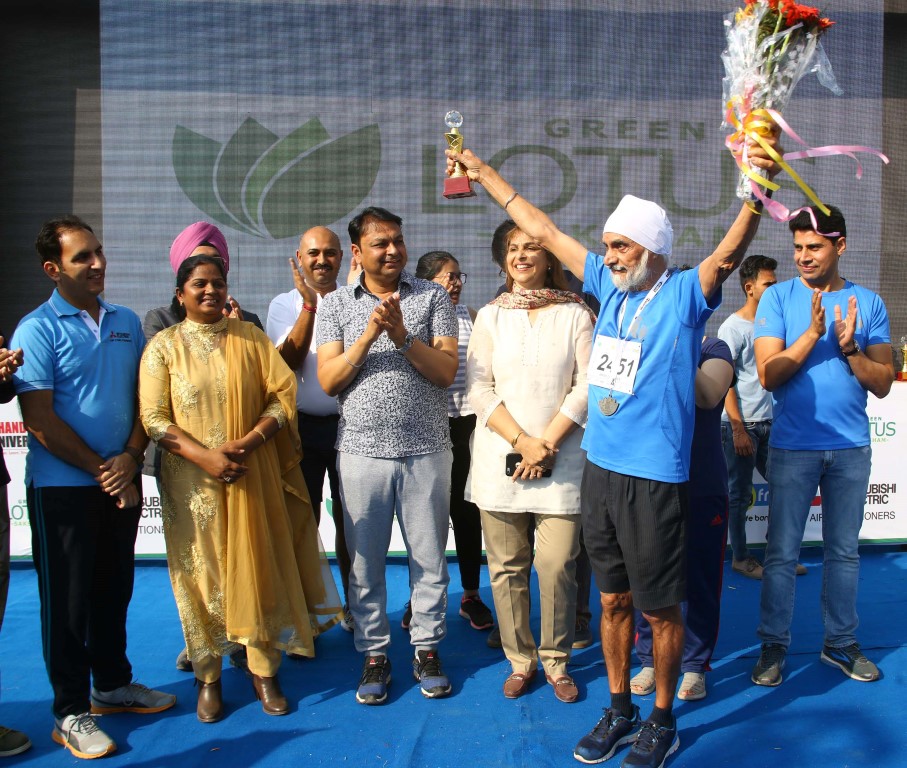 Big Chandigarh Marathon-Season 6 offered Prize money amounting to Rs 2.4 lakh for the winners in different categories in 21.1 Kms Half Marathon. The Half Marathon was a close race amongst elite runners. Finally winning top honors of Half marathon being picked up by:
In the Age category of 18-35 the winners and early finishers  in the Male category were 1st Jagmohan Singh who clocked 1hr:16min:08sec , closely followed up by Sunil Singh who finished in 1hr:16min:48sec and the 3rd position was won by Charanjeet Singh who finished the half marathon in 1hr:17min:07sec. In Females age category of 18-35 Varsha emerged as the winner  and finished in her best timing of 1hr:29min:40Sec, Arpita Saini finished very close on 2nd position with a timing of 1hr:29min:42Sec and Reenu came 3rd with her timing of 1hr:31min:06Sec.
Age Category
(MEN) 1st

RS 12000

(MEN) 2nd

Rs 7000

(MEN) 3rd

Rs 5000

(WOMEN) 1st

Rs 12000

(WOMEN) 2nd

Rs 7000

(WOMEN) 3rd

Rs 5000

18-35

 

Jagmohan Singh

1:16:08

HH:MM:SS

Sunil Singh 1:16:48

HH:MM:SS

Charanjeet Singh

1:17:07

HH:MM:SS

Varsha

1:29:40

HH:MM:SS

Arpita Saini

1:29:42

HH:MM:SS

Reenu

1:31:06

HH:MM:SS

35-45
Manjeet Singh

1:17:20

Harinder Singh

1:18:22

Sundar Pal

1:21:38

Renu

1:41:51

Simram

1:14:46

Archana Jain

2:05:18

45-55
Suresh Kumar

1:21:30

Charan Singh

1:27:46

Stephen

1:28:06

Neeru Kakkar

2:19:40

Harmanjeet

2:22:46

 
55-65
Balwant Singh

1:33:55

Angrez

1:35:29

Kamaldeep Singh

1:36:08

Bimla Sangwan

2:11:05

 
 
65 – Above
Justice Sat Paul

1:48:19

Amar Chauhan

1:49:01

 
 
 
 
Total 10 categories (including both Men & Women) further divided in various age groups winners were awarded with Medals, Certificates & cash awards of Rs 12000 for the First prize in each category, Rs 7000 for the Second prize in each category & Rs 5000 Third prize in each category.
Speaking on the occasion BIG FM spokesperson Gaurav Mahajan said that we as responsible corporate citizens are always at the forefront of taking such initiatives which bring about productive & noble social changes in the growth of the city. Managing Director, Green Lotus Saksham, Amit Mittal said that, "It is a matter of pride for us to get associated with Big Chandigarh Marathon, season-6. We have joined hands with them as there is a synergy in our thought process to promote the concept of creating eco-friendly homes that not only ensures to provide minimum carbon footprint but are high on energy conservation as well.
Elaborate traffic arrangements were made by Administration & Organizers for the event, also keeping every aspect in mind to make the marathon successful and flawless.
​