3 day's DELCON-2023 academic conference held at Chitkara University: Academic conferences play a significant role in research enhancement and promotion by offering knowledge sharing and networking opportunities for all stakeholders including students, academicians, industry professionals, scientists, researchers, etc.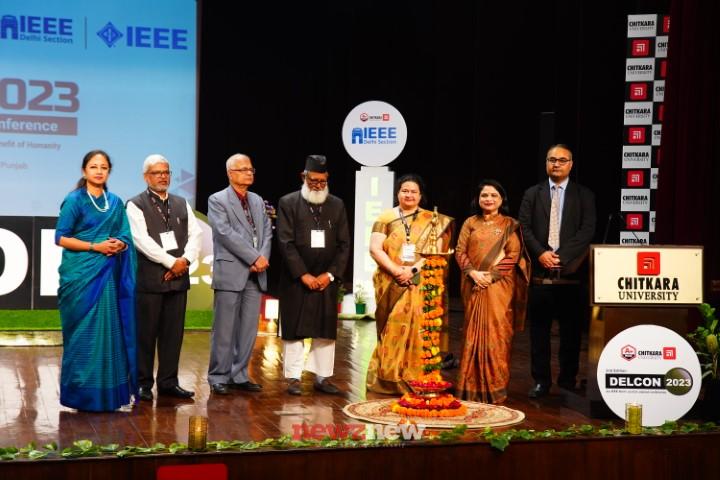 Chitkara University recently organized and hosted the flagship Institute of Electrical and Electronics Engineers (IEEE) Delhi Section owned conference – DELCON 2023, that was attended by over 350 delegates from different parts of the world.
IEEE is the largest organization of the world of technical professionals having more than 4 lakh members. IEEE Delhi section is one the 13 IEEE sections in India and Chitkara University has been associated with IEEE Delhi section since more than a decade.
DELCON 2023 was the 2nd Edition of the conference that was organized with a theme Technological Advancements in Current Times for the Benefit of Humanity, which drew inspiration from the tagline of IEEE.
The inauguration ceremony of the conference was attended by the leaders of Chitkara University headed by Dr. Madhu Chitkara – Pro-Chancellor, Chitkara University and Dr. Archana Mantri – Vice Chancellor, Chitkara University, Punjab, and stalwarts of IEEE Delhi section executive committee headed by Dr. Subrata Mukhopadhyay (Life Member, IEEE), Dr. Abdul Q. Ansari (Chair, IEEE Delhi Section), and Dr. Rachana Garg (Immediate Past Chair, IEEE Delhi Section).
Dr. Mantri welcomed all the delegates of conference to Chitkara University and gave them insights about the research ecosystem of the university, which is backed by robust intellectual property with over 4000 research publications, 2200 patents, huge research funding of over 80 Crores, and growing start-up system having close to 200 start-ups already incubated.
Prof. Ansari in his address, congratulated Chitkara University for putting up a fantastic show. He mentioned that he witnesses Celebration of AzadiKaAmritMahotsav and Celebration of India's G20 Presidency in the inauguration ceremony of DELCON 2023. Prof. Rachana Garg highlighted the activities of IEEE Delhi section in her address and mentioned that IEEE Delhi section is one of the most vibrant of the 13 IEEE sections of India. Mr. Deepak Mathur (Immediate Past Director, IEEE Asia-Pacific Region) mentioned that leadership team of IEEE Delhi section is doing an excellent job of conducting the professional activities of IEEE and management of Chitkara University always promote all IEEE initiatives and work closely with IEEE Delhi section.
Dr. Debabrata Das (Chair, India Council) highlighted the importance of conferences like DELCON for the delegates in enhancing their knowledge and he thanked Chitkara University for hosting DELCON 2023. The ceremony was concluded in the felicitation of all the invited guests, passing on the baton of DELCON 2024 to BVICAM, New Delhi by Dr. Madhu Chitkara, who in her concluding remarks encouraged students and young researchers to learn from the stalwarts of research through conferences like DELCON.
She highlighted that international participation in Chitkara University conferences is due to our partnership with over 200 foreign universities in different capacities including joint academic programs, research programs, students' exchange programs, etc. Finally, she congratulated the core local organizing team of DELCON 2023 from Chitkara University comprising Dr. Rajnish Sharma (Pro VC, Academic Affairs), Sagar Juneja (Assistant Dean, Research) and Dr. Rishu Chabbra (Dean, CSE) for putting together a wonderful conference.
The keynote address of the inaugural ceremony was delivered by Prof. Dr. Shiban Koul – Professor Emeritus, Indian Institute of Technology Delhi, New Delhi. He discussed cutting edge biomedical applications at very high radio frequencies of MHz to THz range.
These applications include non-invasive treatments, remote-drug delivery, wearable systems, etc. Additionally, the conference featured 5 invited talks by the leading researchers on Day 2.
A total of 288 papers were received in the conference from almost all states of the country as well as abroad, which were peer reviewed by experienced researchers coming in from 165 different institutions. Of these, 108 papers were shortlisted that were presented over the course of three days of the conference in 17 tracks.
Based on the evaluation of the 34 session chairs, one paper in each track was awarded the best paper presentation award. DELCON 2023 has touched and influenced more than 1000 individuals from over 300 different institutions of the world.