NewZNew (Chandigarh) : As many as 350 people took part in a free mass healing workshop at Law Bhawan, Chandigarh today. The workshop was organized by Bangalore based Yoga Prana Vidya (YPV) organization. During workshop, the session was held on power of YPV system besides how to change life through the understanding of energy surrounding us .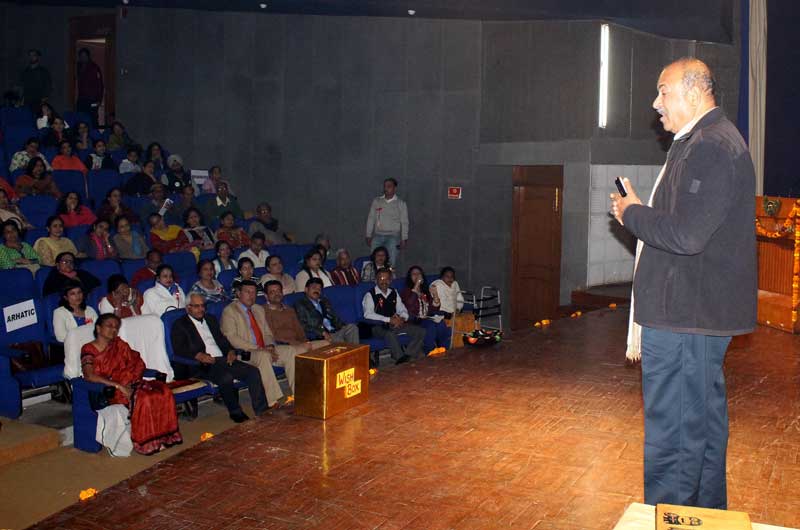 Mr. Rajiv Tewari, Additional Secretary , State Transport Authority  UT, Chandigarh and Mr. VS Kundu, Additional Chief Secretary, Agriculture, Haryana were guest honours during occasion.  Mr. RR Jowel , Additional Chief Secretary, ITI, Haryana was also presented during occasion.
During workshop, Wg Cdr ( Retd.) N J Reddy, Founder of YPV threw light on various aspects of YPV. He said ,it is an ancient powerful healing technique written in the holy books of various religions.It was earlier known to very few senior yogis and disciples. It has now been given to us by our guru in a modern, simplified, easy to use approach suitable to our times.
Prana also known by the Chinese word 'Chi', is the life force by which one controls his physical and mental self. Channelling the life force can heal physical injuries and also take away mental stress. Body has the ability to heal itself at a certain rate and this can be accelerated to a very great extent by giving prana to the affected part or to entire body, informed Mr. Reddy who is also a trustee of Karnataka Yoga Vidya Pranic Healing Foundation Trust and involved with YPV healing system for more than 20 years.
"Yoga Prana Vidya is a no-touch, no-drugs healing therapy using prana. The therapy is a way of healing the affected area by cleansing the area of diseased energy and providing it with fresh vital prana or life force. Anyone from fifteen years of age and older can use this method to heal oneself and others.The healing can be given in one or more sessions depending on severity of ailment.Time for healing varies case to case.Patient can learn to heal oneself"
Many people belief that medication is for old, retired people and the main benefit is peace of mind. However mediation is technique to tap into vast reservoir of energy which surrounds us for our personal development. A daily 20-minute mediation will help to improve health, lesser stress and increase tolerance, sharpen mind, increase intuitiveness, courage and confidence, maintained.
Meanwhile YPV also run Healing, Spiritual and Prosperity courses at different centers in tricity.