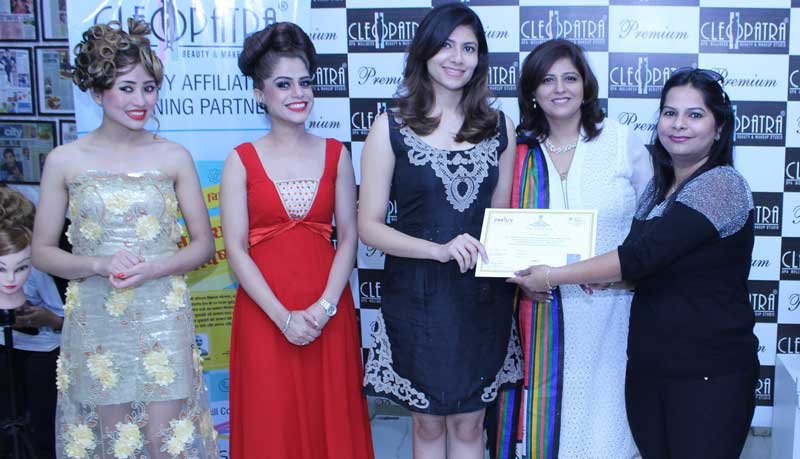 NewZNew (Chandigarh) : This was the day devoted to felicitation and certification that got progressed with magnificent show of aesthetics with royal dollop of glamour. Students of CLEOPATRA TRAINING ACADEMY showcased their skills by implementing creative ideas along with technical know how in a way of presenting makeovers in vivid themes.  Richa Aggarwal, beauty & makeover expert along with beauty expert Harveen Kathuria hosted the gala celebration that encouraged the students and provided them a platform to taste the beauty & glam world before they take actual step forward.
Students were pleasantly surprised and visibly jubilant when they got to receive the appreciation and certification by Beauty Queen and Former Miss India Vanya Mishra. The grand celebration took place at the Cleopatra Spa n Salon, sec 9 and got sweetened further by a cake cutting ceremony. Vivid looks displayed by the students manifested a spectrum of tradition and modern ferocity. The startling looks, comprised of four basic and inimitable themes : Roots of Republic, Warrior Women, Passion Insane and Eco friendly makeovers .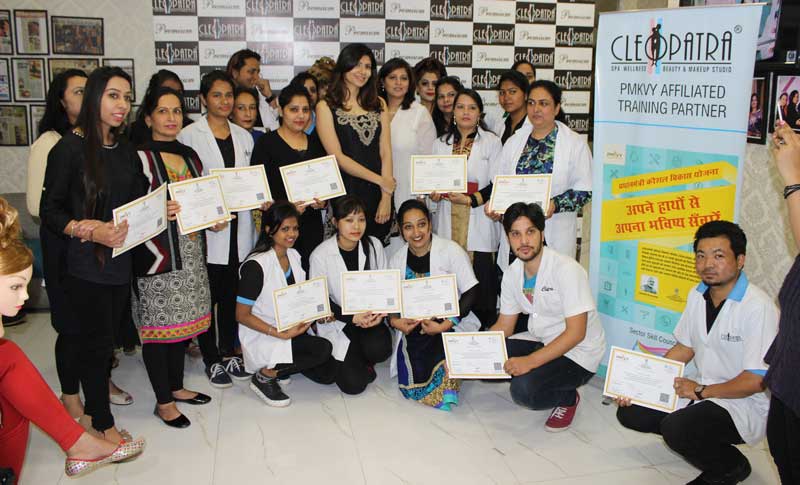 An Eco-friendly thought of students was the preview stealer. Richa Aggarwal also gave insight into latest trends in wedding makeovers. Vanya Mishra was all praise for the work of students as this was young in appeal and look. Vanya quoted ' The presentation by students was very young and vibrant and Cleopatra's training academy has done remarkable job by nurturing these students and unleashing their hidden talent, aspiring and upcoming beauty maestros are given ideal platform to prove their metal. Under the guidance, training and supervision of Cleopata's training academy these students today have become geniuses in thei own innovative and unique way. Vanya Mishra was yet again pleased when she was presented with the lifetime membership for beauty and spa services.
An innovative and stylish soiree came to an end with certification ceremony as students got rewarded and felicitated by Vanya Mishra.  Magnificent show also accentuated new trends in hairdos and stunning nails that caught the fancy of all and made everyone transfixed. The show was utterly enticing and bewitched by the overwhelming response.