To participate in National record-breaking Robotics Event
NewZNew (Panchkula) : While most of the well to do families can afford to get the best education for their children, this unique initiative is sure to bring a smile on the faces of slum children of Panchkula. A Chandigarh-based start-up, Robotics Education World supported by Chitkara University as Education Sponsor, will be giving free six-month robotics training to city slum children.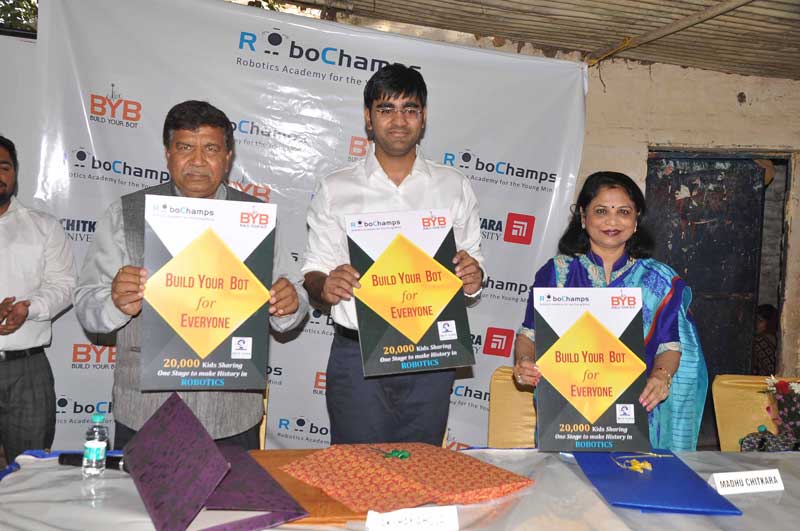 The initiative was today launched by MLA Panchkula, Gian Chand Gupta who was the Chief Guest on the occasion. The Guests of Honour were Dr. Madhu Chitkara, V-C, Chitkara University, and Niyati Chitkara, Principal, Chitkara International School, Chandigarh.
Their training will be supported by Chitkara International School which will provide the infrastructure to these children, who after training will be eligible to take part in the world record-breaking event at New Delhi where over 20,000 children will share the stage for the first of its kind event to be held in the country.
The event Build Your Bot (BYB) is scheduled to take place in July this year and RoboChamps a training academy being managed by Robotics Education World, engaged in providing Robotics and Technology based education to the young minds through schooling education in India.
Gian Chand Gupta, MLA, Panchkula, while speaking on the occasion lauded the initiative and said it is a well-intended project wherein slum children will get a chance to improve their skills at no cost. He said he will encourage such start-ups being run by a team of youngsters for the betterment of our nation and for taking forward the initiatives being taken by Prime Minister, Narendra Modi.
Akshay Ahuja, Director, Robotics Education World, said, "We don't want this knowledge to remain with private schools and government schools, and want to introduce this concept in slums also. We did one pilot project on one of kids Aakash from Sector 79 slums and today he is capable to earn his livelihood. In this campaign we will promote Skill India, Initiated by our Prime Minister, Narendra Modi. They are going to create some projects like battery will get charge by using cycle, Diwali lights, LDR based LED's Water alarm and many more. The training will be completely free and the equipment will be provided by us."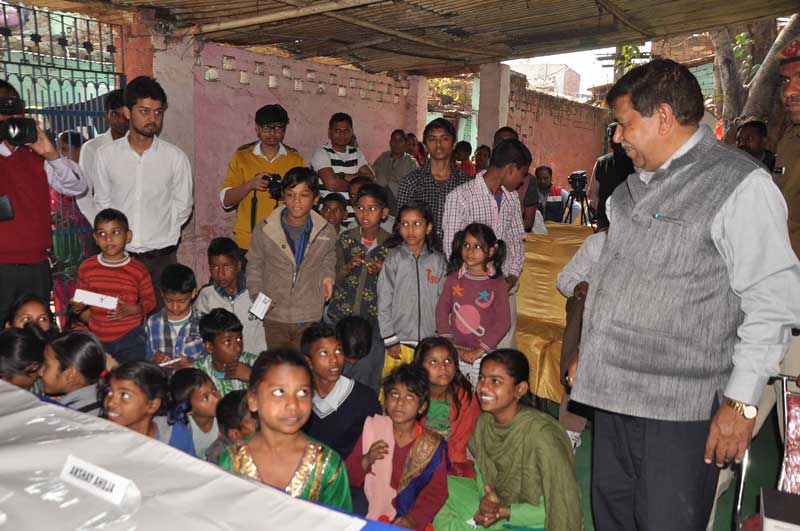 He said, "About 2000 slum children from across India will be taken and from Panchkula 500 slum children will be taken. MLA Gian Chand Gupta is kind enough to support the cause. Chitkara International School is providing us infrastructure for the same. Truck Suvidha, a venture deals with truck driver is going to provide us help to get children of Haryana's truck drivers."
Dr Madhu Chitkara, V-C Chitkara University said she was glad to be a part of the initiative which was for a noble cause, adding the university will give all support to the project.
The event will be held at Pragati Maidan, New Delhi and talks are on with the Prime Minister Office (PMO) for having Narendra Modi as the chief guest on the occasion. Over 500 children from other countries are also expected to be a part of the event. The academy has invited schools from Pakistan, China, Nepal, Bhutan, USA, and many more countries. Delhi based Young Edsplorer is also supporting the event.