420 devotees including 64 women donate blood at Sant Nirankari Satsang Bhawan : With the blessings of Satguru Mata Sudiksha Ji Maharaj, Sant Nirankari Charitable Foundation organised a Blood Donation Camp at Sant Nirankari Satsang Bhawan, Sector 15, Chandigarh. During the camp 687 devotees volunteered and registered to donate blood, 420 including 64 women.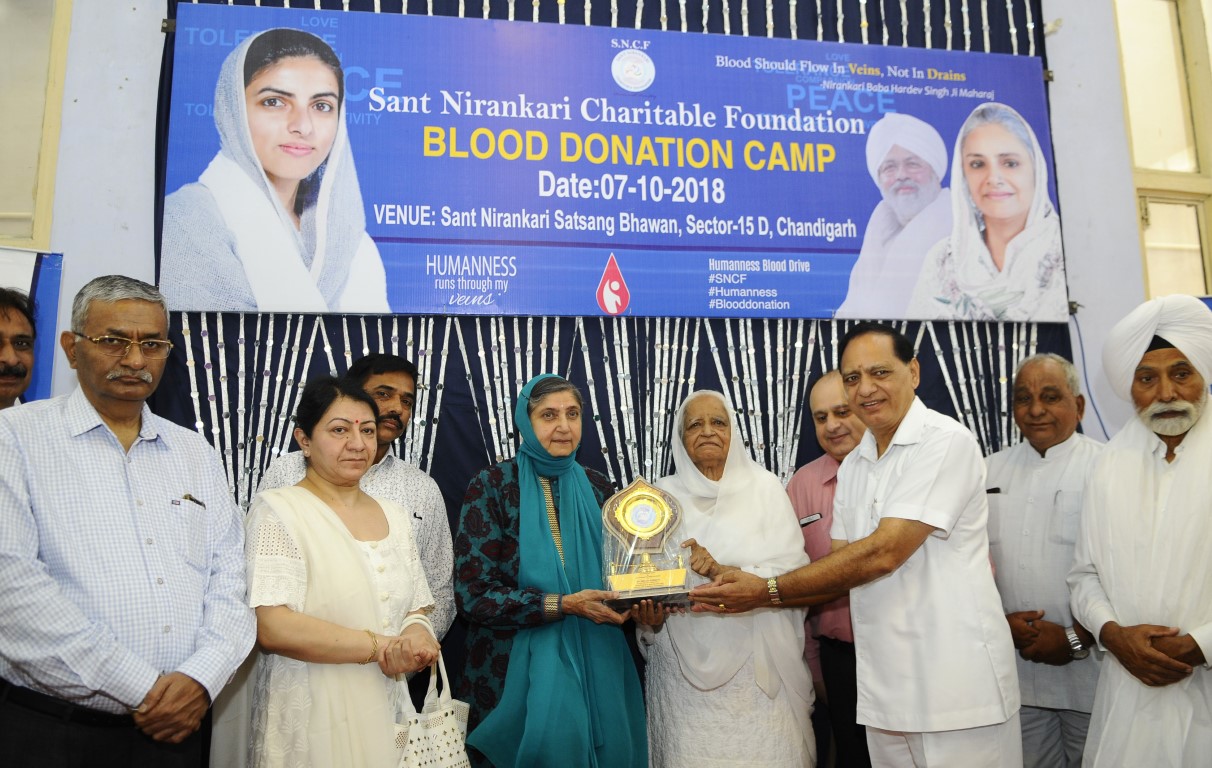 The camp was inaugurated by Dr. Neelam Marwaha Ji, Senior Professor and Head, Transfusion Medicine, P.G.I., and Shri Parminder Rai Ji, I.P.S, Chairman, Haryana Police Corporation.
Addressing the devotees and donors, Dr. Marwaha Ji said that Sant Nirankari Mission and P.G.I have been associated for the past 20 years. And the feelings of devotees during donating blood also passes on positive and healthy vibes to the one collecting it. Today, the field of science has contributed invaluably towards the human biology with regards to the medical field for organ transplants, but in order to cover the loss of blood in human body, blood donation is the only noblest way. Dr. Marwaha also gave assurance of cooperation for all future events.
Shri Parminder Rai Ji said that since blood donation is secretive, blood from Hindu, Muslim, Sikh, Christian or any other religion can be given to anyone in need, irrespective of the religion. Applauding the efforts of the Mission, Shri Rai Ji congratulated the donors on this noble cause and contribution towards humanity.
Shri K.K Kashyap Ji, Zonal In-charge, Sant Nirankari Mandal, Chandigarh zone expressed his gratitude to Dr. Marwaha and Shri Rai Ji. He highlighted several societal welfare tasks of the Mission, adding that in 2018-2019, a total of 22 Blood Donation Camps will be organised, and this is the 15th camp in that series. The blood donation camp was successfully organised under the guidance of Shri Navneet Pathak Ji, Sanyojak Chandigarh branch.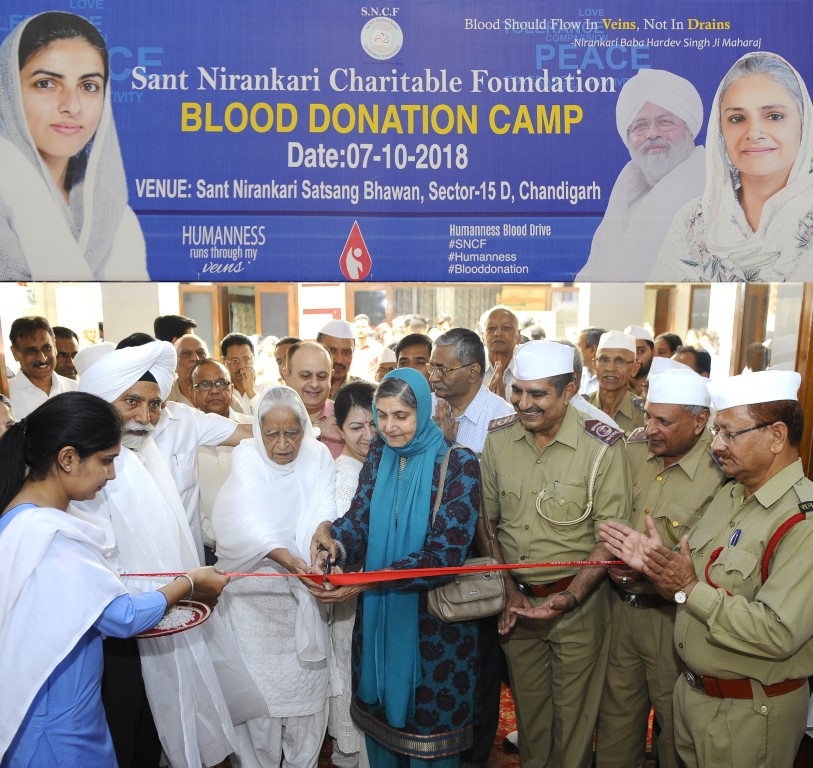 Shri Sohan Singh Banga Ji, Mukhi Chandigarh branch welcomed everyone and thanking all donors said that Baba Hardev Singh Ji Maharaj's dictum 'blood should flow in veins, not in drains' is beautifully accepted and adhered by all Nirankari devotees.
On this occasion, Dr. J.K Cheema Ji, Sanyojak  Mohali branch, and Shri Atam Prakash Ji, Khetriya Sanchalak, Sant Nirankari Sewadal, along with Mukhi Sector 45, Shri N.K Gupta Ji, Mukhi Sector 40 area, Shri Pawan Kumar Ji, and all areas Sewadal Sanchalak were also present.
The camp was successfully culminated with the help of Dr. Suchet Sachdev, Assistant Professor, Transfusion Medicine department, Blood Bank P.G.I and Dr. Ranjita, Demonstrator Paramedics, Government Medical College & Hospital, Sector 32, along with a team of doctors and paramedics.