The city's annual festival is all set to enchant the city residents again with an impressive line u of events. The three day Rose Festival will also be organised at open grounds, opportunity Museum & Art Gallery, Sec 10, Chandigarh from 23rd to 25th Feb 2018.
The varieties of activities are being organised during the activities during the Chandigarh Rose Festival.
Sh. Davesh Moudgil Mayor and Sh. Jitender Yadav, IAS, Commissioner, Municipal Corporation Chandigarh today addressed a press conference regarding 46th Rose Festival, scheduled to be held from 23rd February to 25th February, 2018 at Rose Garden, Sector 16, Chandigarh.
While addressing the media persons, the Mayor said that the Rose Festival is an integral part of the cultural calendar of the India and is held every year in the 3rd or 4th week of February. The 46thedition of the Rose Festival is being held from 23rd February, 2018 to 25th February, 2018 and it is being organized by the Municipal corporation, Chandigarh for the 7th time. It was being organizes by U.T. Administration till 2011.
He said that Rose Garden Sector 16, Chandigarh is one of the best and the biggest Rose Garden in Asia created in the year 1967 spread over an area of 40 acres. There are 829 verities of roses, over 1400 rose beds comprising of 42000 rose plants in the garden. The garden has been planned in such a manner that a walk through the garden is like reading a story. Rose Garden is one of the most frequently visited gardens of the city by both the domestic as well as foreign visitors.
He said that this year various competitions will be organized ranging from best garden/roundabout/campus/parks maintained by RWA's on M.O.U. basis, Rose Prince and Rose Princess Competition, Brass and Pipe Band Competition, On the Spot Painting Competition, Rose Quiz Competition, Folk Dance Competition, Photography Competition, Antakshri, Kite Flying Competition, Miss Rose & Mr. Rose, Newly Wed Couples, Floral Hat Display and Rose King & Rose Queen Competition (Senior Citizens) and Newlywed couple competition etc.
He said that the Festival will also showcase a wide array of flowers by way of flower competitions in different categories. Moreover, last year a new event Helicopter Joy Ride was introduced and seeing huge response from Public this year also it will be held with same fan fare. Kite flying will also be a special event this time with professional fliers from Ahmedabad with Kites of different colours, sizes and shapes. There will also be a workshop on kite making.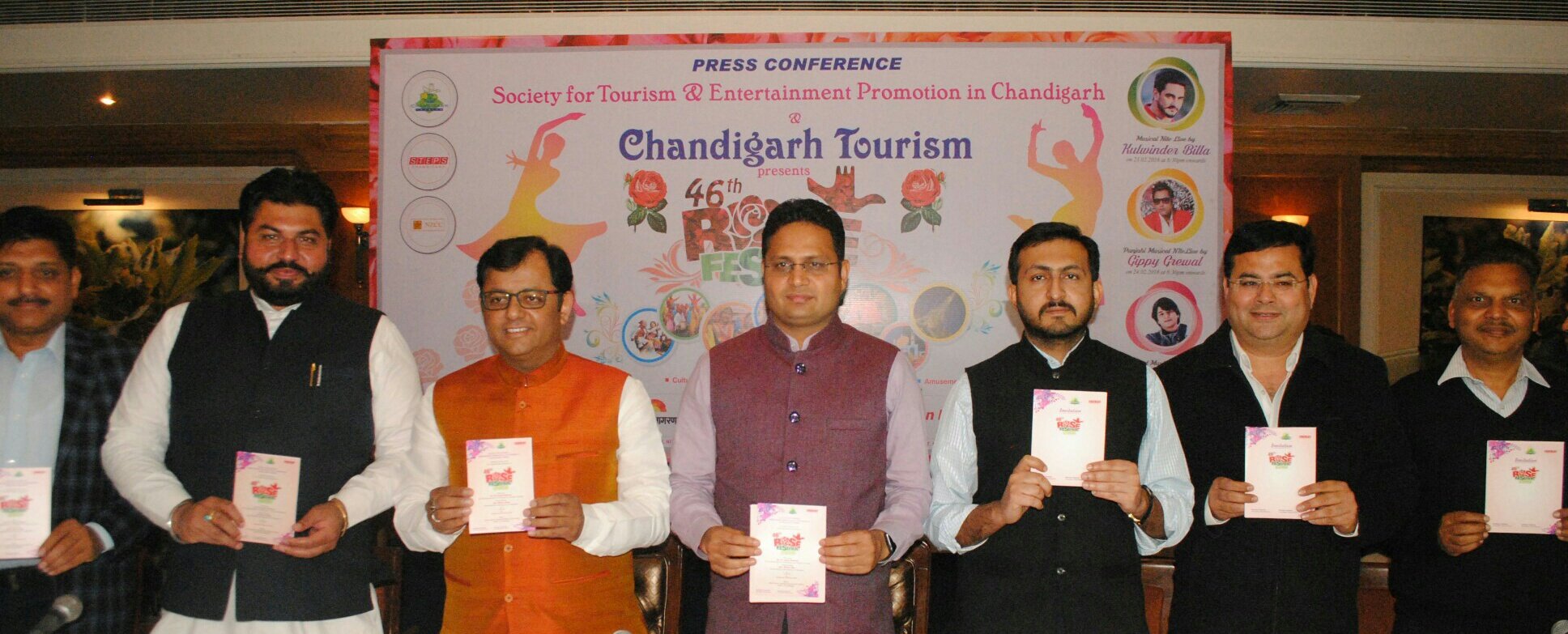 He further said that besides this, cultural evenings will also be organized during the Rose Festival in Rose Garden and Leisure Valley during which different renowned artists including Kulwinder Billa on 23rd February, Gippy Grewal on 24th February and Bollywood singer Ankit Tiwari will perform on 25th February. There will be daylong cultural performance also by the NZCC at the main stage in the Rose Garden and evening performances by renowned artists at the Leisure Valley.
Sh. Gurpreet Singh Dhillon, Senior Deputy Mayor, Sh. Vinod Kumar Aggarwal, Deputy Mayor, Dr. Saurabh Mishra, IAS and Sh. Anil Kumar Garg, Additional Commissioners, Sh. Tejdeep Singh Saini, Joint Commissioner, Sh. Manoj Bansal, Chief Engineer, Sh. N.P. Sharma, S.E. B&R and other concerned officers of MC and Tourism Department were present during the press conference.
The Mayor said that people from the transgender community and special kids will be part of the Rose festival and they will be given special space and respect during all the events. He said that a Wi Fi zone will also be created by one of Sponsors during the festival and each visitor would be able to access free Wi Fi.
The programme schedule on all the three days will be as under:
Programmes Schedule for 23rd February (Friday)
11.00 a.m. Inauguration of Rose Festival by the Chief Guest.
11.10 a.m. Brass & Pipe Band Competition
11.15 a.m. Flower Competition & Flower Hat Competition
11.25 a.m. Cultural Programme at main stage by various artists arranged by NZCC
12.30 p.m. Folk Dance Competition
3.30 p.m. Miss & Mr. Rose Competition
5.00 p.m. Cultural Evening (Old is Gold)
Programmes Schedule for 24th February (Saturday)
7.00 a.m. "Morning Raga" by Swar Ragni Mestro Pandit Subhash Ghosh
9.00 a.m. Rose Prince & Princess competition
10.30 a.m. Photography Exhibition
10.35 a.m. Traditional Folk Dance
11.00 a.m. Kite Flying Competition
11.20 a.m. Traditional Folk Dance
11.30 a.m. Rose King & Rose Queen competition (Senior Citizen)
2.00 p.m. Roze Quiz
3.30 p.m. Magic show
4.30 p.m. Newlywed Couple Competition "Hum Tum"
Programmes Schedule for 25th February (Sunday)
10.30 a.m. On the spot painting competition
10.40 a.m. Traditional Folk Dance
11.30 a.m. Antakshri
3.00 p.m. Closing Ceremony & Prize Distribution
3.10 p.m. Traditional Folk Dance
5.00 p.m. Cultural Evening (Punjabi Folk)