Annual journey of MISTER UNIVERSAL AMBASSADOR 4th edition travels to India this year for a stopover in the city of magnificence and royal grandeur , JAIPUR. The most sought after International Men's beauty & fashion pageant MISTER UNIVERSAL AMBASSADOR 2018 is all set to be unleashed in pink city in this year after being held in INDONESIA last year.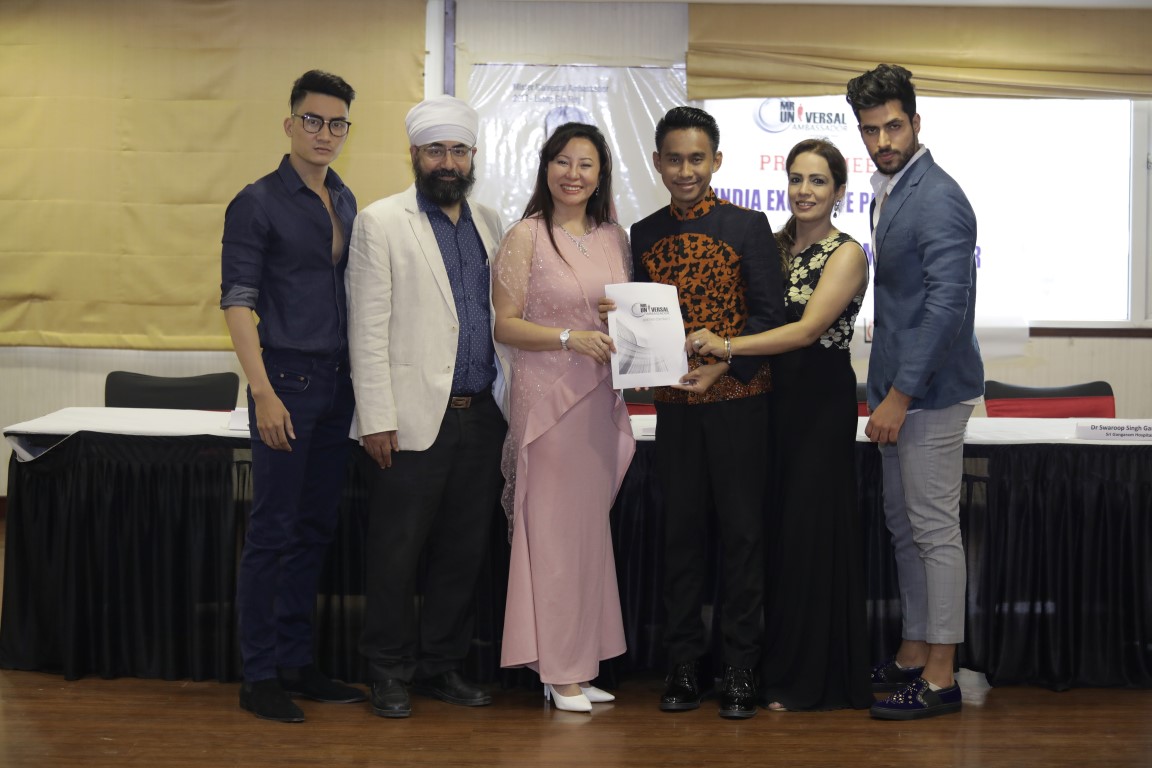 Press conferece transpired today to make official announcment by MR EDIN MUHAMMAD, Founder & President, Mister Universal Ambassador, RAJNI SUBBA, Founder Director of India Exquisite pageant and national director for Exquisite International, LUONG GIA HUY, The reigning Mister UNIVERSAL RAJNAMBASSADOR 2017 , Panel Experts, DR SWAROOP SINGH GAMBHIR, SIR GANGARAM HOSPITAL, MALLIKA GAMBHIR, Beauty & makeover expert, Persona spa & salon along with SHIVANI SINGH, Exquisite Goodwill Ambassador.
Delegates and participants from 40 plus countries will be charmed by hospitality of Jaipur and exchange rich cultural and fashion ethnicity of their respective countries. Contestants will be exhibiting their talent
and skill through this concourse in which they have to go through different rounds to prove their mettlle.Such events not only give the confidence to the participants but also would contribute to the Tourism industry to thrive', informed MR EDIN MUHAMMAD, Founder & President , Mister Universal Ambassador, Gala pageant will mark 4th anniversary and aims to increase cultural exchange and tourism.
The worldwide broadcast will unify the competitors as they will vie for the coveted title", added Rajni Subba, Founder Director of India Exquisite pageant and national director for Exquisite International. Eminent panelists related to different fields like Beauty, wellness, fitness, aesthetics, fashion, health, grooming are going to percolate down their knowledge through week long event during to hone overall personality development of participants.
The winners will be selected on the basis of intelligence, fitness,personality, talent and photogenic qualities and participate from 40 plus countries like Brazil, Indonesia, India, China, Canada, USA, Japan, Singapore etc. Mister Universal Ambassador 2018, 4th edition will unveil collage of talent, glamour and fashion. Eminent Fashion designers, aspiring models, show director, grooming experts will grace the occasion as all contestants will be groomed and transformed from raw to ravishing.
Grooming, skin & hair care and makeovers for all participants will be looked after by Dr Swaroop Singh Gambhir, Sir Gangaram Hospital and Mallika Gambhir, beauty & makeover expert, Persona. We will provide them looks in accordance to cultural ethnicity and weave in hint of contemporary silhouettes, informed makeover expert Mallika Gambhir. As special highlight of the press conference Vishal Meerchandani, top model event also graced the press conference.