Confederation of Indian Industry (CII) and Mehram Publications jointly organised 11th Progressive Farmers' Meet with the prime focus on Farmer Producer Organisation (FPOs) at CII Northern Region headquarters.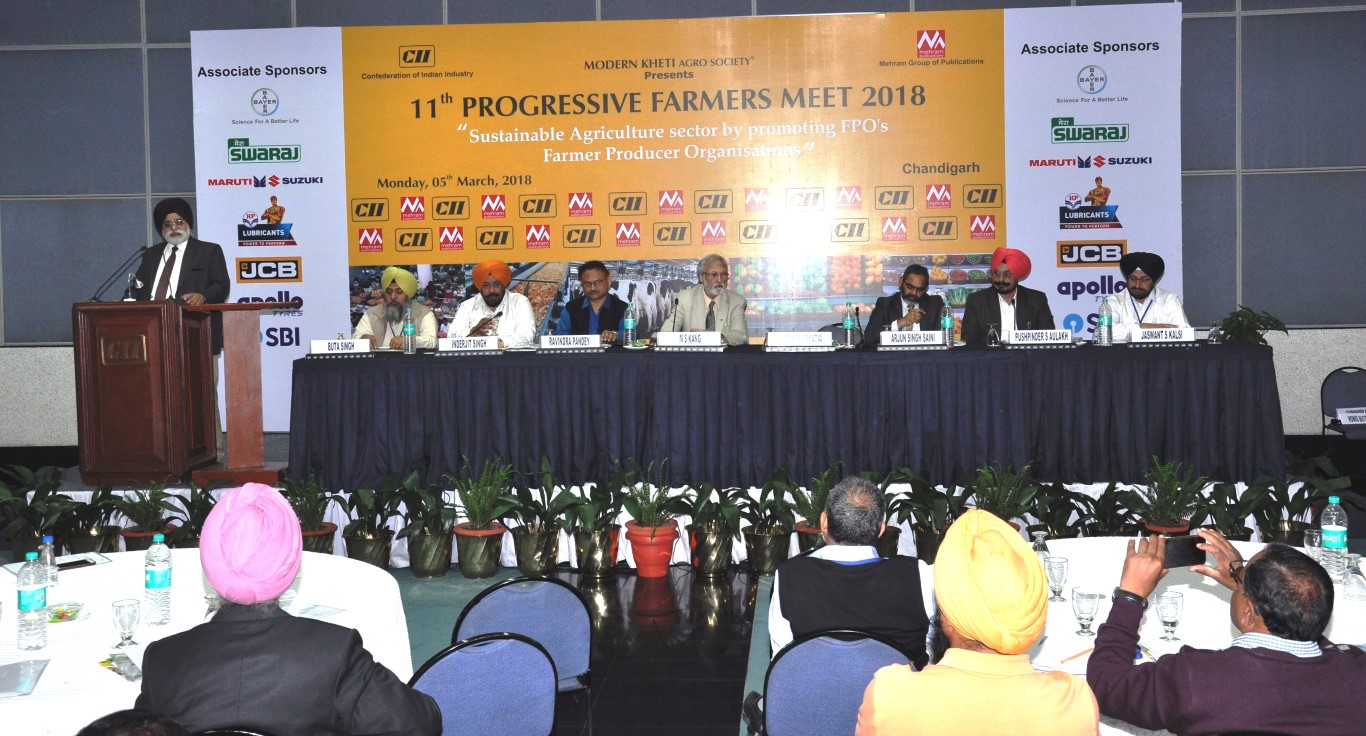 Dr Arjun Singh Saini, Director – Horticulture, Government of Haryana, said, to eliminate middlemen and double farmers' income in Haryana, Crop Cluster Development Programme has been launched by the Haryana Government. Grading and packaging of farmers' produce would be done at these cluster centres, besides providing fertilisers, medicines and seeds. Crop Cluster Development Programme is an ambitious scheme for horticulture farmers. Under this scheme, 140 clusters have been established in 340 villages of the State and one crop cluster centre each would be established at these clusters. These clusters would prove beneficial in selling farmers produce, he added.
Dr Saini said that farmers themselves should do marketing of their produce. By directly selling to the end-users, farmers would generate more income whereas end-users would get fresh vegetables and fruits.
Addressing the progressive farmers, Shri Pushpinder Singh Aulakh, Director – Horticulture, Government of Punjab elaborated on the importance of horticulture in agriculture diversification. He urged the farmers to adopt the technologies developed by the Punjab Agricultural University (PAU). Dr Aulakh also highlighted the developmental schemes of the Department of Horticulture.
He said that the Government of Punjab is trying to introduce assured Minimum Support Price (MSP) for crops like corn etc to encourage farmers diversify their produce. Farmers must be aware of their responsibility towards saving the future of the state by arresting the depleting underground water table. Out of the 146 blocks in the state, 105 block are witnessing extremely low water table. Farmers can help improve the situation by saving water through drip or sprinkler irrigation.
He also applauded CII's effort to introduce such a big platform for progressive farmers. With rising cost of production, farmers must start devoting area for crops under diversification. They must also go for value addition to their crops through packaging and direct marketing of good agri-products.
Shri Inderjit Singh, Director – Dairy Development, Government of Punjab said that Farmer Producer Organizations (FPOs) act as an intermediary or link between individual Producers/Farmers on the one hand and buyers or services providers on the other. FPOs bring together the business activities of many individual small-scale producer / farmers and thereby increase the overall scale of their joint business activities.
Dr Manjit Singh Kang, Former Vice-Chancellor, Punjab Agricultural University, said more than 50,000 dedicated agricultural scientists are working to address field level problems and to evolve technological solutions. However, all the technologies developed by these scientists could not reach all the farmers. Transfer of technologies from research institutions to the door step of the farmers is very important. Agricultural extension informs farmers about the benefits of developmental programs of government.
Shri Gurmeet Singh Bhatia, Chairman, CII Punjab State Council, said the concept behind Farmer Producer Organizations is that farmers, who are the producers of agricultural products, can form groups and register themselves under the Indian Companies Act. The aim is to enhance farmers' competitiveness and increase their advantage in emerging market opportunities. The year 2014 was observed as the Year of Farmer Producer Organisations, and slowly but surely, the concept is catching up. The FPO's major operations will include supply of seed, fertilizer and machinery, market linkages, training and networking and financial and technical advice. I can say it with conviction that it is high time to leverage the strengths of FPOs which would be self-sustaining and can contribute towards realizing the larger objective of Doubling Farmers' income.