NewZNew (Chandigarh) :  India is the only country in Asia, other than Japan, that has a well-established seed production programme. Many other commendable initiatives have been taken to increase productivity, seed quality, potato variety that could visibly take India at the forefront of potato production.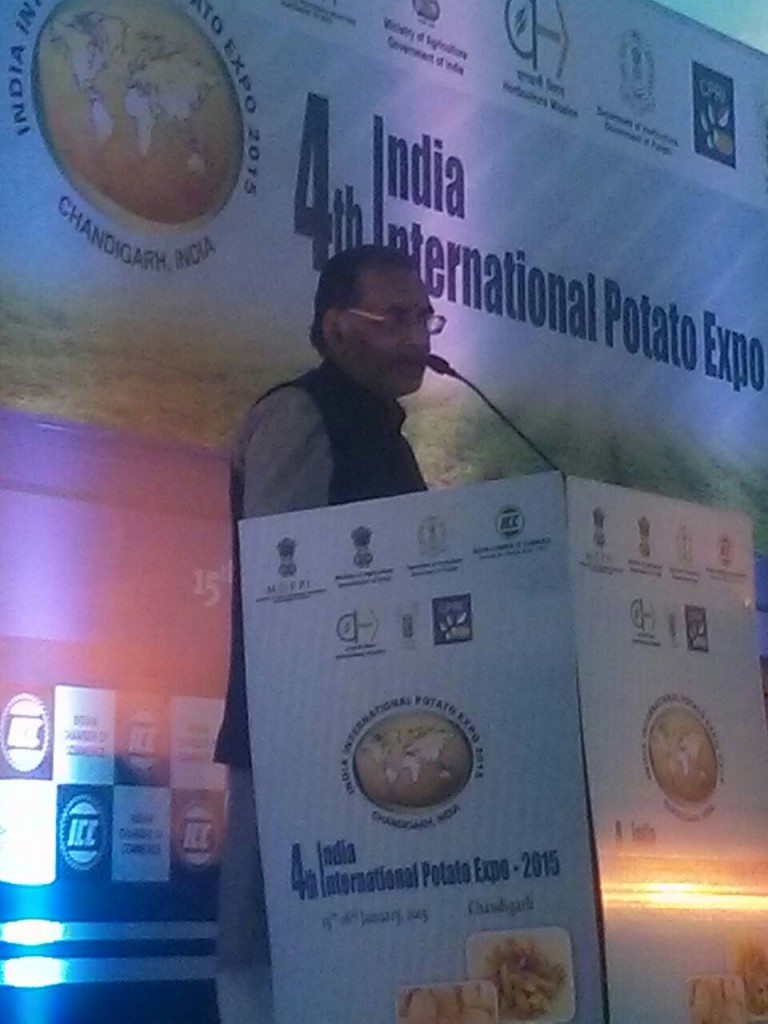 Nevertheless, the potato industry is bogged down with certain challenges that need serious intervention. These can be broadly categorized as lower potential yield, early harvesting, uneconomic landholdings, requirement of capital that is mostly unavailable with farmers, shortage of firm labour, wrong dosage of fertilizer, inadequate and inefficient transport infrastructure, enhanced pest resistance, global warming, and inefficient cold storage facility, among others. Several other issues related to Potato sector in India were discussed today by Government officials, scientists, industry experts and leaders in 4th India International Potato Expo 2015 organized by Indian Chamber of Commerce (ICC).
4th India International Potato Expo 2015 is supported by MoFPI, NCCD, CPRI, ICAR, Ministry of Agriculture, NABARD, FAO, Department of Horticulture, Government of Haryana, Government of Bihar, Government of Madhya Pradesh, Government of Uttarakhand, Government of Meghalaya, National Horticulture Board, UPL, New Holland, ITC, Pepsico and NAFTC.
Mr.  Om Prakash Dhankar, Hon'ble Minister of Agriculture & Horticulture Development, Government of Haryana
He mentioned that Excellency Centre in Every Districts for Horticulture in Haryana will be opened to provide better market to the farmers. Haryana will focus more on export by creating better infrastructure. He invited private players to come and invest in Haryana. He said that state support and all kind of subsidies will be provided.
Mr. Radha Mohan Singh, Hon'ble Minister for Agriculture, Government of India.
'New irrigation Policy by the government will be a gift to the Farmers of India"
He informed the gathering that the final draft of Irrigation Policy has been prepared and the same will be implemented in all the states. This policy will be able to provide water to every district and work for everybody.
Dr. Sanjeev Chopra, Joint Secretary, Ministry of Agriculture, Government of India
Market linkage is the only solution for the potato farmers in India. Hence, all effort should be given to develop better market for the farmers (domestically and internationally).
Mr. S B Mukherjee, President, West Bengal Cold Chain & Cold Storage Association
In his speech he mentioned that big private players are coming in and procuring potato from the farmers directly. He mentioned PEPSICO and ITC are two big firms procuring potato from the farmers. However, only 6 per cent of total production is used for processing. There is still a huge demand.
He also mentioned that planning of production is very important. Farmers should know their buyers, price, market and production patterns prior to cultivation. This will help them in the right kind out requirements and better pricing.
Finally he mentioned that selection of seed, water and pesticides are very important to generate good quality potato. This will help the farmers to get better market domestically and internationally.
Mr. Tapan Kumar Mohanty, Assistant Director, Department of Horticulture, Government of Orissa
He spoke about the state of Orissa and mentioned that Orissa government is coming out with patoto mission to increase the production of potato in Orissa and the make the state self sufficient.
He also mentioned that Orissa government shall welcome PPP partnerships with private companies to develop cold storages in the state. He informed that subsidy will be provided to the investors.
Mr. Jaideep Bhatia, Vice President – Agri business, PepsiCo
He said that processing of potato has huge demand globally and Indian potato farmers however, only 5 per cent is used for the same purpose. Therefore, farmers in India should focus more on producing quality potato which can be used for processed food industry.
Apart from that he mentioned that Indian farmers are suffering from poor technology and innovation. Better R&D is the need of the hour. He also mentioned that high quality cold storage should be developed all over the country to get better market and price.
Mr. Ramit Gupta, Head-Corporate Strategy, Wave Agro Products
He informed that his company is setting up an integrated potato industry. This will focus on end-to-end production starting from pre and post harvesting to end processed products.  In his opinion such industry would help the farmers to grow faster and get better market access.
Mr. Naresh Gupta, Chief General Manager, NABARD
He informed the gathering that NABARD will provide loan for producer organisation formation in India. He encouraged farmers to form such associations and take advantage of such loans.
He mentioned that with the help of other banks NABARD is providing loans for creating farmers club. He shared a few examples and suggested the farmers to create such farmer clubs.
With regard to knowledge development he has requested various agri institutes and research organisations to be in touch with NABARD as they will be provide fund through such organisations for skill and knowledge development.
Most importantly, he encouraged investors to come out with ideas of cold storage in different villages. He assured that a good proposal will certainly attract NABARD to provide direct loans.
Mr Gurkamal Singh, Director – Horticulture, Government of Punjab
He raised a concern that farmers in India only understand the production part of farming. He urged that they should also understand the marketing side of farming. He suggested that Government of India should develop a committee of experts to advise farmers on marketing strategy, global good practices and international demand and price.
He also mentioned that this is high time when farmers should connect with the market and consumers directly, so that instead of middlemen, the producers can get the benefit.