Knee replacement, also known as knee arthroplasty, is a surgical procedure to replace the weight-bearing surfaces of the knee joint to relieve pain and disability. It is most commonly performed for osteoarthritis, and also for other knee diseases such as rheumatoid arthritis and psoriatic arthritis. In patients with severe deformity from advanced rheumatoid arthritis, trauma, or long-standing osteoarthritis, the surgery may be more complicated and carry higher risk. Osteoporosis does not typically cause knee pain, deformity, or inflammation and is not a reason to perform knee replacement.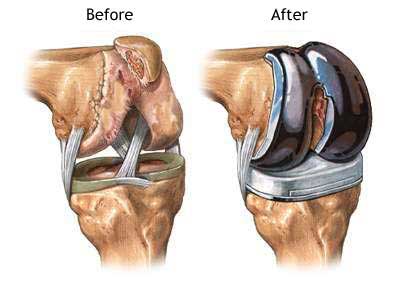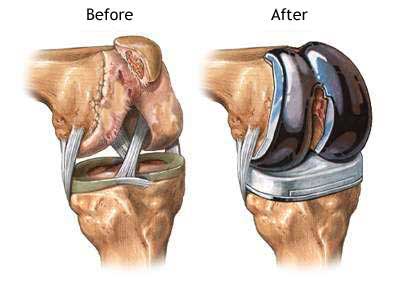 Other major causes of debilitating pain include meniscus tears, cartilage defects, and ligament tears. Debilitating pain from osteoarthritis is much more common in the elderly.
Knee replacement surgery can be performed as a partial or a total knee replacement. In general, the surgery consists of replacing the diseased or damaged joint surfaces of the knee with metal and plastic components shaped to allow continued motion of the knee.
The operation typically involves substantial postoperative pain, and includes vigorous physical rehabilitation. The recovery period may be 6 weeks or longer and may involve the use of mobility aids (e.g. walking frames, canes, crutches) to enable the patient's return to preoperative mobility.
Frequently Asked Questions on Knee Replacement
1. What is a knee replacement surgery ?
A  Unlike what the name suggests ,only the worn out surface of the bones is shaven, reshaped and resurfaced with a metal and plastic implant.
2. When should I consider this surgery ?
A  If you are above 55years with severe pain /deformity in the knees, not relieved by routine painkillers and physio , xrays show severe degenerative changes and you are severely incapacitated in your daily chores ,this is the treatment of choice for you .in some cases it has to be done earlier also if the knees are badly worn out.
3. Is it very painful ?how long does the implant last ?
A  not3. Is it very painful ?how long does the implant last ? at all !! it is a very quick ( avg 20-30 mts ) surgery , minimal or no post operative pain ,minimal blood loss, rapid recovery where the person walks the next day and is discharged on the 4-5th day. he or she might use a walker or stick for first few days . The modern implants have a life of 25-30 years.
4. What Are the possible complications?
A  With modern advancement and computerised techniques it is one of the safest surgeries with predictable results and infection rates of less than 1 percent.
5. How do I choose my surgeo?
A  Pick a surgeon whom you trust, one who has an extensive experience and performs this operation on routine basis. The hospital should also have a modern OT  and back up facilities and try getting this surgery while you still mobile
Dr MS Narula is a Senior Joint replacement surgeon, at Apollo clinics Chd, with more than 15 years extensive experience in performing routine and complicated Hip and Knee replacement surgeries.
For appointment call
Apollo Clinic Chandigarh at 9988448488