Sant Nirankari Charitable trust organized a massive "Cleanliness drive", in which 564 Government Hospitals and dispensaries were cleaned across 250 cities. In this cleanliness drive, about three lacs foundation, Sant Nirankari Sewa dal and other members of mission participated.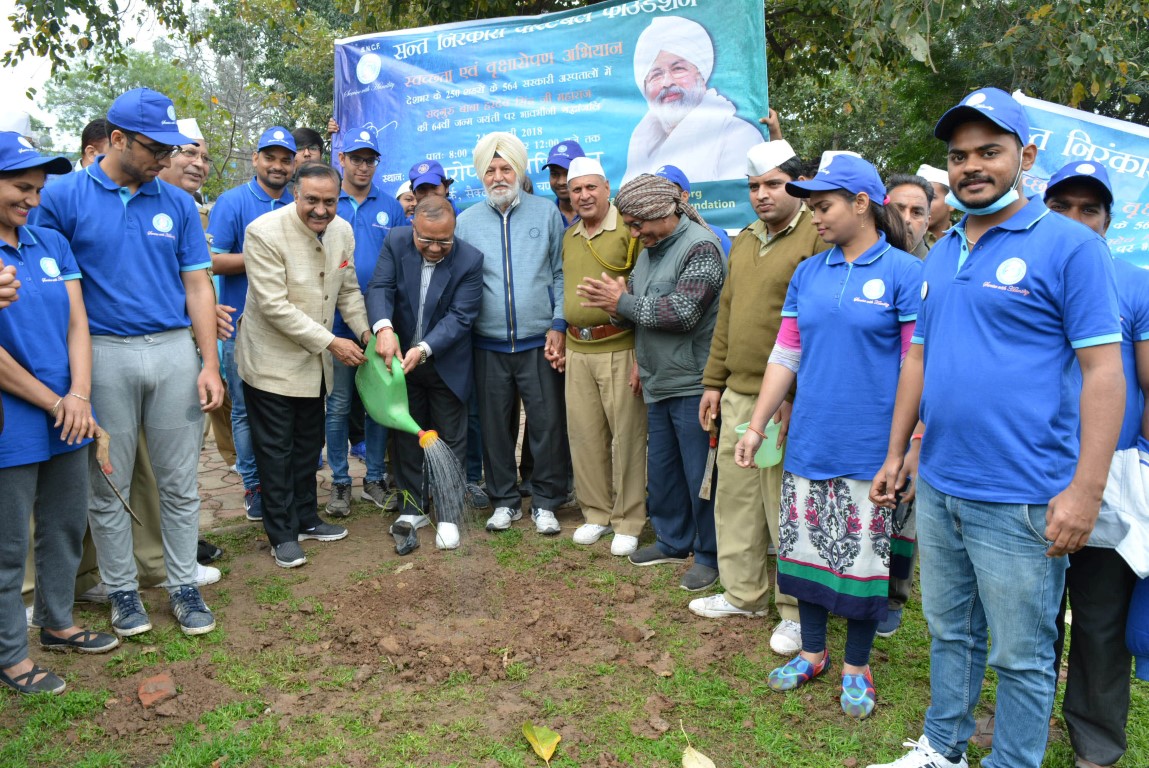 During this campaign; PGIMER-Sector 12, GMCH Hospital-Sector 32, ESI hospital-Ram Darbar, Civil Hospital Sector 22, Sector 45, Manimajra, Civil Dispensary Hallomajra, Ram Darbar, Sector 26,  Dadumajra, Maloya, Palsora, Maulijagran complex, New Indira Colony, Modern Housing Complex Manimajra, Ayurvedic Dispensary Sector  47 everybody contributed in cleaning campaign.
On this occasion, Sh Navneet  Pathak Ji Sanyojak, Chandigarh branch told that despite of continuous rain since morning, members of charitable foundation, Sewa Dal and Sadh sangat gathered early morning at 730 am. After performing Simran and Sewa Dal prayer, everybody participated in cleanliness drive; which continued till 10:00 am.
During PGIMER cleanliness campaign, Dr Yash Pal Sharma-Head, Cardiology Yog Department, Dr Pankaj Arora APHO, Dr Suchit Sehdev Assistant Professor Blood Blank, Smt Joginder Kaur from Sant Nirankari Mandal, Branch Incharge and Zonal Incharge Chandigarh Sh K. K. Kashyap, Sh Navneet  Pathak Sanyojak, Sh S. S. Banga Mukhi,  Sh N. K. Gupta Incharge  Area Sector 45, Sh Pawan Kumar Incharge Area  Sector 40 were also present. PGI doctors appreciated the social works being done by Sant Nirankari Charitable Foundation and Nirankari mission. Sh K. K. Kashyap-Zonal Incharge Chandigarh thanked all Doctors.
Dr B. S. Chavan-Director Principal GMCH Sector 32,  Sh Satish Kumar Jain-Additional Director, Dr Ravi Gupta-Medical Superintendent also contributed to cleanliness drive and appreciated Sant Nirankari Charitable Foundation and Nirankari mission.
After cleanliness drive, Zonal Incharge Chandigarh Sh K. K. Kashyap initiated Tree Plantation by planting a sibling at Sector 31-B, Chandigarh. In this series, Dr Arun Bansal SMO of Civil Hospital-Manimajra, MC Deputy Mayor-Sh Vinod Kumar Aggarwal and Area Councilor also planted siblings. This information was shared by Sh Devinder Bhajni Mukhi Manimajra Branch.
On this occasion, Zonal Incharge Chandigarh-Sh K. K. Kashyap said that members of Sant Nirankari Charitable Foundation and Sewa Dal Officials along with Sadh Sangat contributed a lot to make this campaign success.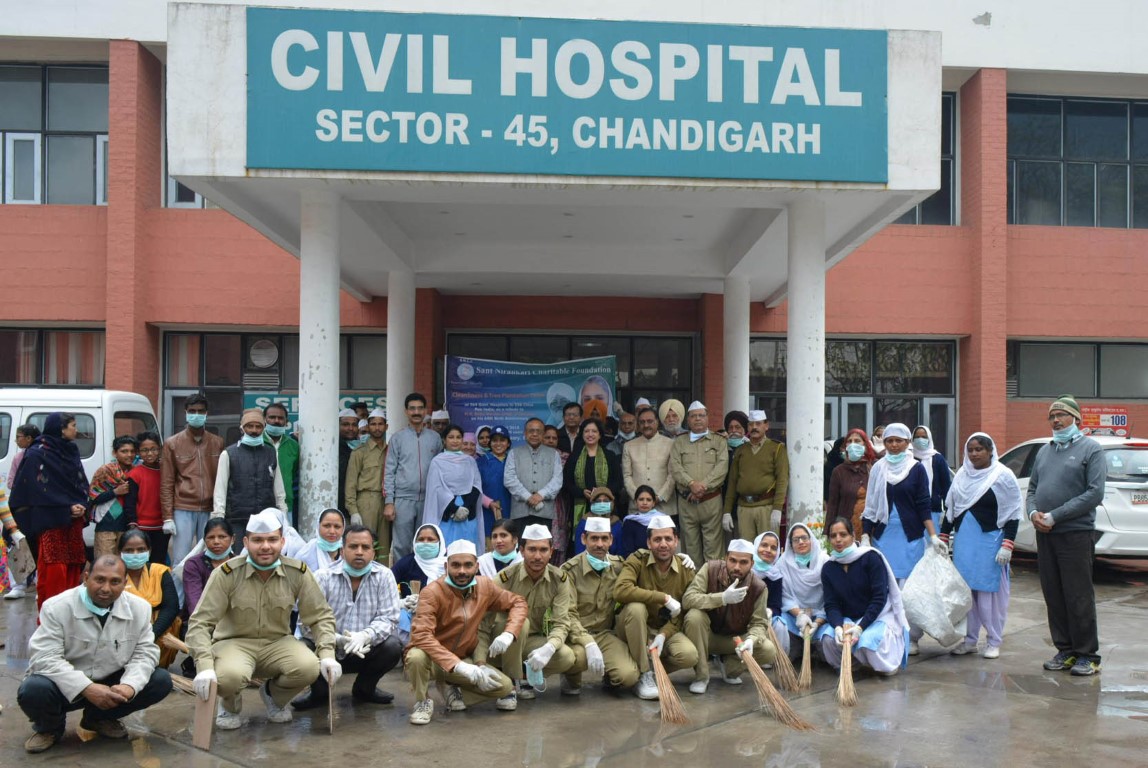 Sh Kashyap further said that Government of India has appreciated efforts of Foundation as a major contribution towards Sawach Bharat drive initiated by Prime Minister Modi since 2nd October 2014. Urban and Housing central minister department through a letter directed all related officials to extend whole hearted support to mission's drive and motivate local citizens also to participate in this drive.
The devotees of the Sant Nirankari Mission have been carrying out cleanliness drive across the country on February 23 every year since 2003. The campaign has been conducted under the auspices of the Sant Nirankari Charitable Foundation since it was established in 2010. The Foundation has been working in the fields of health, employment and education to heal, enrich and empower the society.
With the advent of the 'Swachh Bharat Abhiyan',the Foundation has been undertaking extra cleanliness drives every year, concentrating on the National Monuments, beaches, river banks, railway stations, hospitals, parks and other public places.
Appreciating the overwhelming response and the spirit of dedication to the service of humanity among the volunteers of the Mission, the Government of India declared the Mission as the Brand Ambassador of 'Swachh Bharat Abhiyan' in September, 2015. At the same time the Hon'ble Minister of Railways wrote to Baba Hardev Singh Ji Maharaj and invited the devotees to participate in the 'Swachh Rail – Swachh Bharat Abhiyan' on October 2, 2015. Baba Ji very kindly extended the support to the drive,and Sant Nirankari Charitable Foundation selected 46 major railway stations across the country for cleaning not only on October 2, but once   every month for one year. More than 20,000 volunteers of the Foundation and Sewadal participated in the drive every month.
On February 23, 2016, the Foundation's cleanliness drive covered, besides other places, 120 major hospitals in 108 cities and a large number of dispensaries across the country. This was also described by the Government of India as a significant voluntary contribution in their ongoing 'Swachh Bharat Abhiyan' with special concentration on Hospitals during the fortnight from February 15 to 29.
On February 23, 2017, the Foundation cleaned 264 Railways Stations selected in coordination with the Ministry of Railways across the country.
Besides these drives, the Sant Nirankari Charitable Foundation has been organizing blood donation camps as a regular voluntary movement, holding about 500 camps every year. Starting from 1986, it has already contributed 10,00,000 units of blood in more than 5000 blood donation camps so far.
There are 4 hospitals, 151 dispensaries and about half a dozen pathological laboratories run by the Foundation on charitable basis. Besides these, there are two Degree colleges and 24 schools. About 70 tailoring and embroidery training centres are also being run for widows and other needy women. A number of eye check-up and operation camps, health check-up camps, anaemia control camps are also organized from time to time.
The Foundation adopted 3 villages in Haryana – Panchi Gujran, Bhodwal Majri and Patti Kalyana for their overall development. Ever since, the Foundation has undertaken the much needed dewatering of large village ponds in order to eradicate animal diseases and for the better hygiene of the area. Cleanliness and tree plantation drives were undertaken repeatedly to the satisfaction of the villagers.
The Foundation launched a mobile dispensary in village Panchi Gujran and inaugurated a Tailoring and Embroidery Training Centre at village Bhodwal Majri on December 17, 2017. A mega free medical health check-up camp was also organized on the same day in village Patti Kalyana. More than 3,000 patients were treated in this camp.