6th Chandigarh Cyclothon on 11th November : The 6th Edition of the Chandigarh Sports-13 Cyclothon is being held on 11th November & 100 professional cyclists are coming from all over India to participate in this mega cycling event. Chandigarh Tourism in association with Avon Cycles is hosting the mega Cycling event; Sports 13 is the Company which has conceptualized the event.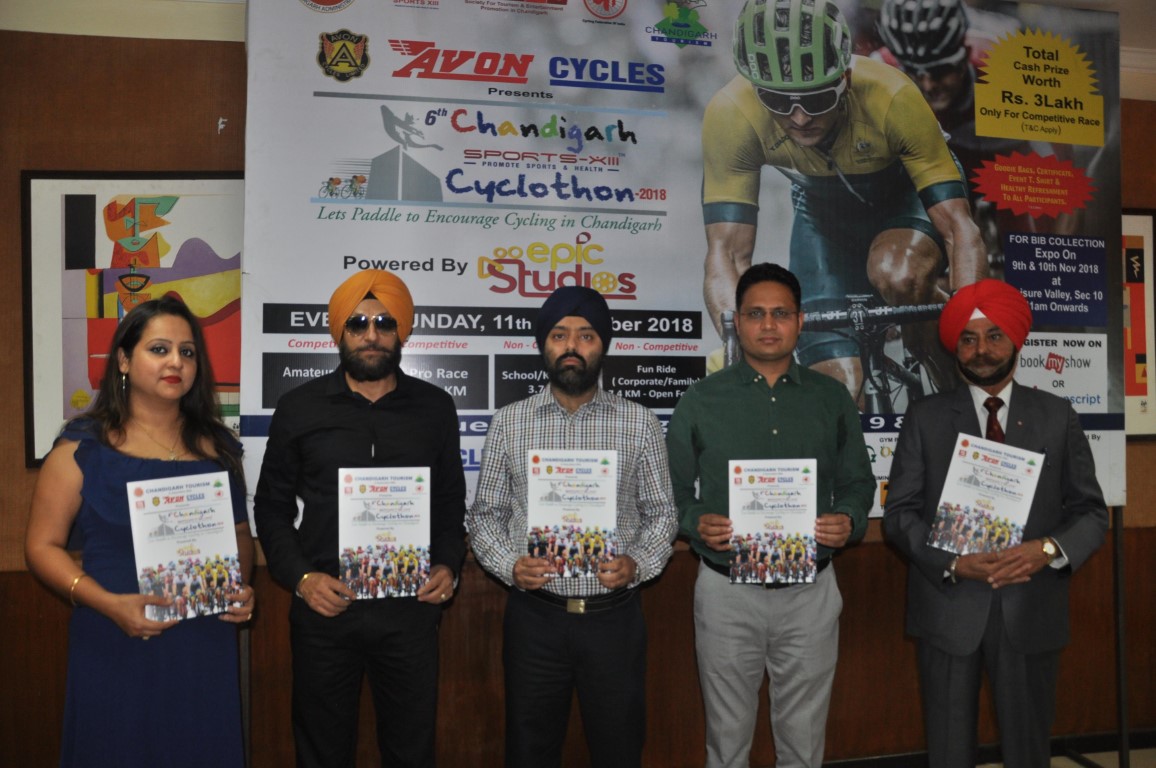 A Media Briefing was held to share information about the arrangements that have been made for the Cyclothon.  Mr. Jitender Yadav, IAS, Director Tourism,UT, Mr. Mandeep Pahwa , Executive Director Avon Cycles, Capt Narinder Singh, IAS, Advisor Sports 13, Mr. Yadvinder Singh, CEO, Sports-13 and Ms Kiran Kaur, MD,  Starbiz India Entertainment were present in the press meet.
Mr. Jitender Yadav, IAS, Director, Tourism UT, said "Chandigarh is a very cycle friendly city and has cycle tracks made along with the roads covering almost all sectors. These features make the city an ideal locale for hosting cycling eventsThe main attraction of the event will be the Pro Race, which is competitive in nature and it will cover a distance of 55.5 Km and an Amateur Race (competitive) which will be for 29.6 Km distance and people above 18 years can participate. In the Non Competitive section a 3.7 Kms 'School Ride' for School Children above  11 years and a 7.4 Km 'Fun Family Ride' for all men/ women above 18 years of age will be held."
Mr Yadvinder Singh, CEO, Sports 13 said "The race will start at 5.45 AM and the route taken in both the competitive as well as non competitive segments will be the same. The cyclists will be flagged off from Janmarg (Bus Stop), while the assembly point will be on Jan Marg (Pavement towards Matka Chowk). Before the main event on Sunday, 11 November, an Expo will be held on Friday-Saturday (9th and 10th November, 2018) at Leisure Valley, Sector 10 between 10 AM to 8 PM. Target audience for the event will be Youth, Kids, Defence, Senior Citizens, Tourists, Ladies, Corporate and Govt employees, General Public, Businessmen, Elite Families, VIPs, College/ University Students, Club Members and Celebrities."
Mr. Mandeep Pahwa , Executive Director Avon cycles said , "Avon Cycles is the leading bicycle company in India and at present we are manufacturing around 12,000 bicycles a day and a vast product range with 190 different models for everyone. Avon cycles always takes initiative to spread the message for clean environment through use of bicycles as a means of transportation and we are happy to be a part of the 6th Cyclothon."
6th Chandigarh Cyclothon Price Money
The participants will be provided first aid facility, give-aways and refreshments. The total prize money for the winners is Rs 3 Lakh (for Competitive Races Only). There will be proper security and utility arrangements during the event. Kiran Kaur, MD, Starbiz India Entertainment and Capt. Narinder Singh, IAS – Advisor Sports-13 also addressed the media. Capt. Singh said, "The event will be telecast on Epic TV. The Cyclothon is to present a platform to the people where they can show their concern for their Mother Nature moving away from their hectic lives. We want to encourage people to use cycles over motor vehicles to save environment.
A unique aspect about the Cyclothon is that it's theme will be against corruption, in keeping with ongoing Vigilance week.
How to register 6th Chandigarh Cyclothon

Click here to Register or get in touch on 9815409107