The Sant Nirankari Mission organized mass marriages here today, where 99 couples tied their nuptial knot in the presence of Her Holiness Satguru Mata Savinder Hardev Ji Maharaj and large number of devotees. The venue was the CIDCO Grounds in Kharghar, Mumbai. Where the 3-day 51st Annual Nirankari Sant Samagam of Maharashtra concluded.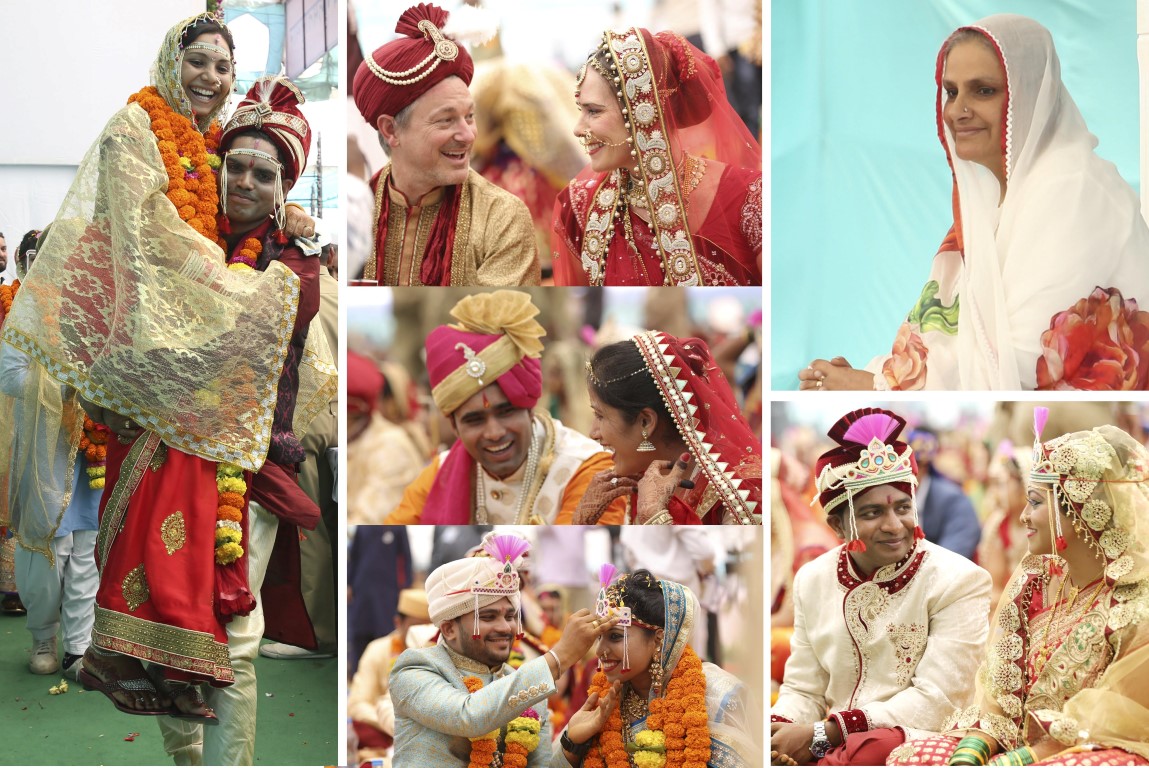 While 40 bridegrooms and 41 brides belonged to Mumbai, 44 bridegrooms and 46 brides came from other parts of Maharashtra. 14 bridegrooms and 11 brides belonged to  various States of India i.e. Delhi, Gujarat, Uttar Pradhesh, Himachal Pradesh,
Andhra Pradesh, Jharkhand, Hariyana, Madhya Pradesh, Punjab, Chandigarh, Rajasthan and Assam.  One bridegroom and one bride came from U.S.A.. The said information revealed by Sanyojak.
As regards their educational and professional qualifications, 31 bridegrooms and 25 brides are Graduates and 5 bridegrooms and 11 brides are Post Graduate. They include 6 Engineers, 2 MBA among bridegrooms and 2 Engineers, 2 MBA and 2 Doctors among brides.
Interestingly, 18 bridegrooms and 13 brides came from outside the Mission. It means 31 families preferred simple Nirankari Marriage ceremony. 3 bridegrooms and 3 brides are getting re-married.
The ceremony began with traditional 'Jaimala' followed by a common garland for each couple – special feature of Nirankari wedding. 'Lavan', the four sacred hymns were sung with music, each followed by showering of flowers by Her Holiness and devotees attending the ceremony.
The ceremony concluded with divine blessings from Her Holiness Satguru Mata Savinder Hardev Ji Maharaj.  She wished them a happy and prosperous married life while at the same time seeking company of saints (Satsang), remembering God (Sumiran) and doing selfless service (Sewa).